Americans are divided on the Dakota Access Pipeline project, but most approve of the Army Corps of Engineers' decision to deny a permit to the pipeline
The Standing Rock camp in North Dakota had become a site of regular violence between protestors seeking to protect the land of an Indian reservation and police officers seeking to clear them from it. The protestors won an important victory this past week as the Army Corps of Engineers denied a permit to construct a pipeline under a lake in the area, meaning that the land of the reservation will be protected.
YouGov's latest research shows that Americans are narrowly more likely to oppose (37%) rather than support (32%) the Dakota Access Pipeline, but 31% aren't sure either way. Most Americans (55%) do, however, approve of the Army Corps of Engineers' decision to refuse to grant a permit needed to cross a lake on an Indian reservation. This is a victory for the protestors and means that the pipeline will have to be re-routed.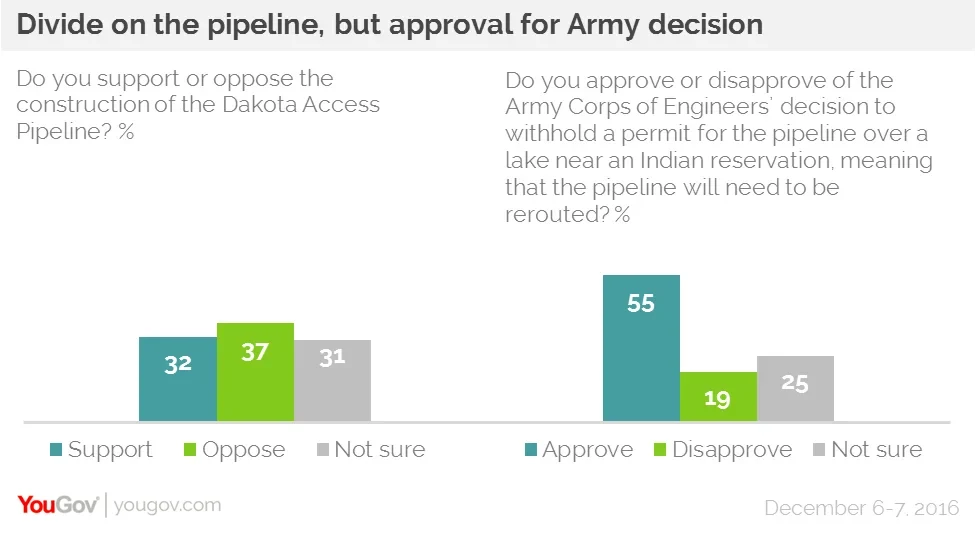 Republicans (60%) are significantly more likely than either Democrats (22%) or independents (25%) to approve of the Dakota Access Pipeline project.
This support for the Dakota Access Pipeline is likely connected to Republicans' greater likelihood of support for infrastructure over the concerns of local residents. Republicans are closely divided on the principle, with 39% saying that large projects should be supported; only slightly less than the 44% of Republicans who say that opposition of local residents should be accommodated.