While the President's airstrike hasn't changed his approval ratings, 62% of US adults now say Trump's likely to begin a war
President Donald Trump's decision to order an airstrike on a Syrian air base in response to Bashar al-Assad's use of chemical weapons against his own people gets support from Americans — though Democrats are divided about the rightness of this decision. But as for impact on opinion of the President, the latest Economist/YouGov Poll finds the public's overall perception of Mr. Trump unchanged from a week ago, with one exception: More now think the President is likely to get the United States in a war than thought that last week.
Concerns about the possibility of US involvement in another war have risen among both Democrats and Republicans. In the past, most Democrats have expressed this view, while large proportions of Republicans have not. This week, members of the President's own party are as likely to say they expect him to get the US into a war as they are to say the opposite.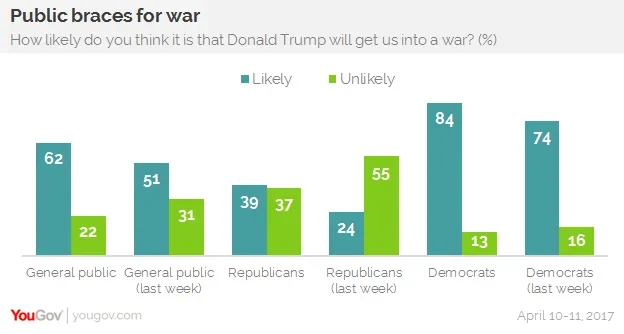 Since last week, there has been an 11-point jump among the public on this question. Among Democrats, the proportion saying it was likely that the President would get the US into a war rose 10 points. Among Republicans, the increase was higher: 15 points. Last week, by more than two to one, Republicans said the President was unlikely to get the country into a war.
The decision that might have caused this increase in concern about the future — the airstrike in Syria — wins favorable marks overall. Republicans overwhelmingly support the decision to bomb a Syrian air force base, while Democrats are closely divided. Independents approve of the strike.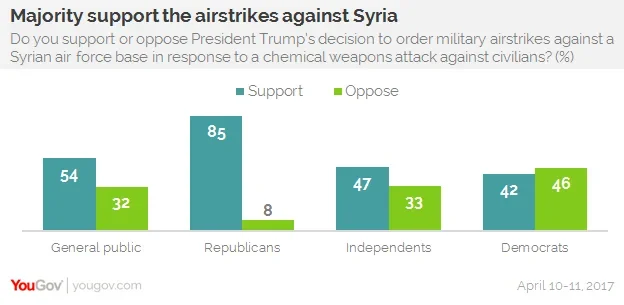 Only 27% of Democrats say they approve of the way President Trump is handling the situation in Syria. But that percentage is higher than the level of approval Democrats give the President for his performance on 17 other specific issues, and is far higher than the 11% rating Democrats give the President's overall performance. Among the public as a whole, 45% approve of the way Donald Trump is handling the situation in Syria, while 38% disapprove.
Support for the Syrian airstrike doesn't necessarily mean support for other sorts of military action in Syria. Even though only 6% of Americans have a favorable opinion of Bashar al-Assad, just 28% overall say the US has a responsibility to do something about the fighting in Syria, while 42% say it does not. Republicans are slightly more likely than Democrats to see any US responsibility.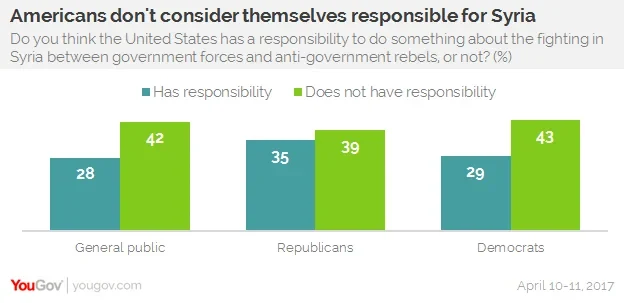 This feeling could change if the target of any military action became ISIS, as opposed to the ongoing battle between Syrian government forces and anti-government groups. 57% say ISIS is an "immediate and serious threat" to the United States — around twice as many as those who think that about Iran, Russia, or Syria. Nearly twice as many US adults favor cooperating with Russia to fight ISIS than don't. More than a third would even cooperate with the Syrian government.
Republicans are especially willing to cooperate with both countries in the fight against ISIS, even though they see both of these nations as unfriendly to, or an enemy of, the United States. 62% of Republicans would cooperate with Russia; 43% would cooperate with Syria.
Most Republicans would take even stronger actions as long as they were aimed at ISIS. Majorities would support sending weapons to moderate groups fighting ISIS, flying additional US airstrikes in Iraq and Syria, and even putting US troops on the ground against ISIS. Americans overall favor airstrikes by a wide margin, but their support for sending weapons is lower, while they are divided on sending troops.