46% of Americans think Donald Trump's decision to fire James Comey was hasty
Americans in the latest Economist/YouGov Poll react negatively to the President's firing of FBI Director James Comey, though their disapproval is by a relatively small margin. That may be due to the fact that many don't really like Comey. Many disagree with Comey's actions while he was serving as FBI Director, and many don't like him. However, the nature of his firing and Americans' beliefs about why it happened may have eroded some key perceptions about the President who fired the Director.
This poll was completed mostly before the report that the President had mentioned highly classified information to Russian officials at their meeting, and finished before reports that the President had asked Comey to end the investigations into former National Security Advisor Michael Flynn's dealings with the Russians.
Still, there are ominous signs for the President in the public's assessment, though perception of the Comey firing may have more to do with how and why it was done than what was done. The public has criticisms about Comey and his actions. Overall opinions about Comey are negative: more have an unfavorable opinion of him than a favorable one, and while Democrats are more favorable than unfavorable, Republicans are decidedly unfavorable.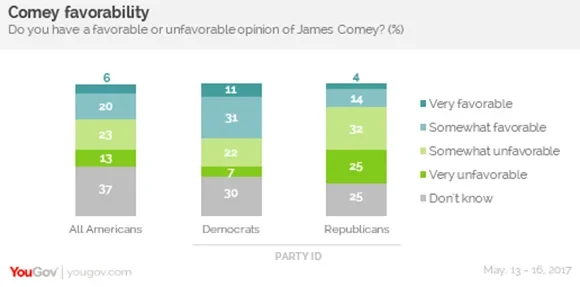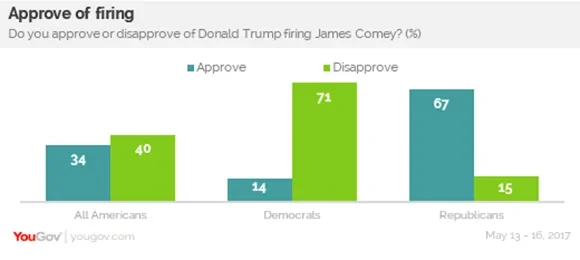 34% approve of the firing; 40% do not. Responses on this question were also partisan. Two in three Republicans support firing Comey.
However, Americans don't see the President's decision as one that was well-thought out. Just 28% say it was, and 46% describe it as hasty. Nearly a quarter of Republicans also say it was a hasty decision.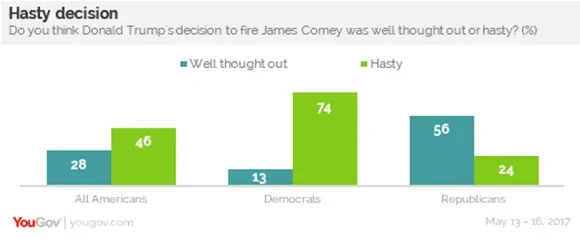 The public is evenly split when it is asked to assess some of Comey's actions during the 2016 election campaign. As many disagree as agree with Comey's decision last summer not to bring criminal charges against Hillary Clinton for her use of a personal email server while Secretary of State. Just about as many disagree with the then-Director's decision to send a letter to Congress just before the election saying the FBI was reviewing more emails.
Still, it was not the email investigation that Americans believe were the major reasons for Comey's firing. Just about half think the major factors were the FBI's investigation into the current Administration's contacts with Russia, and Comey's refusal to pledge his loyalty to the President. One White House explanation – that morale at the bureau was low – finds fewer than one in four believing that was a major factor.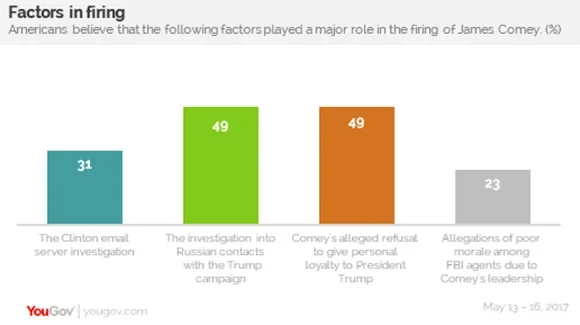 The public may not like Comey, but it generally sees him as not ideological. Just 12% say Comey is liberal, 21% call him a conservative. The rest view him as a moderate, or don't know how to categorize him ideologically. But by more than two to one, Americans think Comey's actions during the election campaign generally favored President Trump over Hillary Clinton. Even Republicans are closely divided on this, though most Republicans say his behavior gave no advantage to either major party candidate.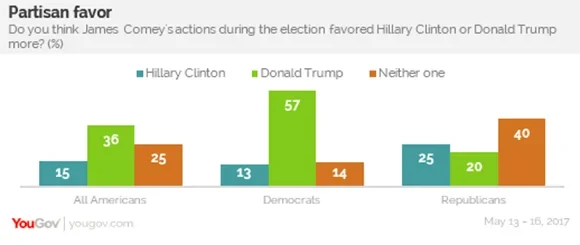 51% continue to support the appointment of a special prosecutor to investigate contacts between members of the Trump Administration and Russian officials before the Inauguration. One in four oppose that appointment.
President Trump's Friday tweet about the former FBI Director also may have affected responses, Trump wrote: "James Comey better hope that there are no "tapes" of our conversations before he starts leaking to the press!" That tweet received the worst rating of 427 tweets tested between February 4 and May 14 in the YouGov TweetIndex. Just 11% called it "great," while 42% said it was "terrible." Republicans, who can usually be counted on to give the President's tweets high scores, weren't impressed. 23% of Republicans called that tweet "great," but more than a third said it was "bad" or "terrible."
When it comes to the President's tweeting in general, this week only 23% say his use of Twitter is appropriate. 57% say it is not.
In this week's poll, the President's approval rating is at a low point. 39% approve, and 51% disapprove. The disapproval percentage is at an all-time high, and matches the level of disapproval expressed last week, the first time in the Economist/YuuGov poll more than half the public disapproved.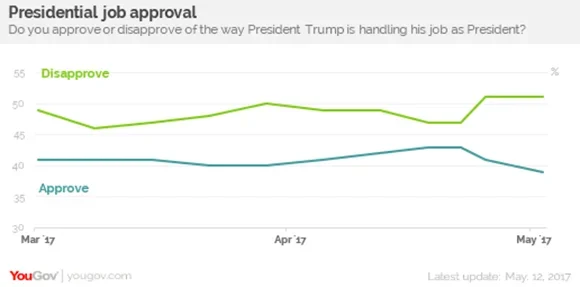 Several other evaluations have slipped in the last week to apparent new lows in the Trump Presidency.
The proportion who say Donald Trump is honest and trustworthy is down to 29%.
Just 30% say he has enough experience for the job.
Only 35% say they are optimistic about the next four years with Donald Trump as President, a drop of four points in the last week.
Republicans continue to take a different view: just over two-thirds of Republicans believe the President is honest and has enough experience. Three in four Republicans are optimistic about the next four years.
See the rest of this week's YouGov/Economist Poll