57% of U.S. adults think that it was not appropriate for President Trump to tell other world leaders to call him on his personal cell phone
Not much went well for Donald Trump this week: in the latest Economist/YouGov Poll Americans continue to oppose his budget proposal and the GOP health care plan, and to disapprove of his firing former Federal Bureau of Investigation director James Comey, who testifies to Congress Thursday. Many believe someone in the Administration did something illegal in their dealings with Russia – all things true last week as well.
But the public's assessment of the President was negative in other areas this week: Americans disapprove of withdrawing the United States from the Paris climate accord, and they even think the President is careless in dealing with classified information. Many wouldn't even talk to him if they had the chance.
One might say Donald Trump had a "terrible, horrible, no good, very bad" week. To add to the bad news, more Americans disapprove of how Mr. Trump is handling his job than ever before.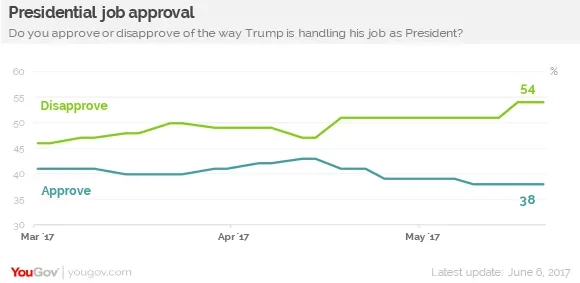 54% in the latest poll disapprove, the highest percentage ever in Economist/YouGov Polls, and three points higher than the President's disapproval rating for the last four weeks. 38% approve, the same percentage that approved last week.
Republicans, as might be expected, approve of their party's President. But the GOP rank-and-file's 75% approval rating is lower than all but one previous rating, and just 41% of Republicans say they "strongly approve," the lowest figure ever for them. Democrats disapprove 86% to 12% (with three in four saying they "strongly disapprove"). Independents also are negative: 50% to 33%.
Pulling out of the Paris accord definitely didn't help the country's evaluation of the President. There is a majority consensus that humans have a major role in causing climate change (63%) and nearly everyone (92%) agrees that the world's climate is changing, whether or not that is due to human activity. 84% of Republicans agree, too, though they are divided when it comes to human impact on the climate.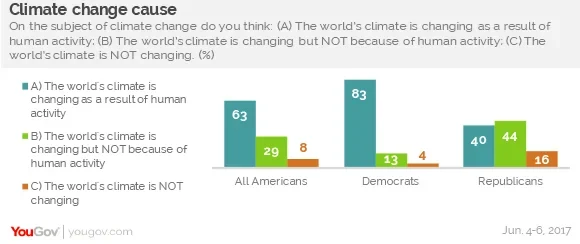 More Republicans today say the climate is changing due to human activity than did when the accord was signed. Then, only 27% thought that.
Party dominates, as it does on so many issues, when Americans are asked directly to judge the climate accord withdrawal – 60% of Republicans approve of the President's withdrawal, though a majority of the public overall does not. However, Republicans see downsides to the President's action. Like the rest of the public, Republicans want the United States to be the world's most important leader, but many fear that the U.S. will be less respected in the world because of the withdrawal and that it will make it harder for the country to negotiate future treaties.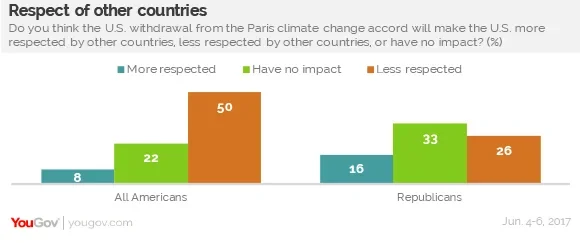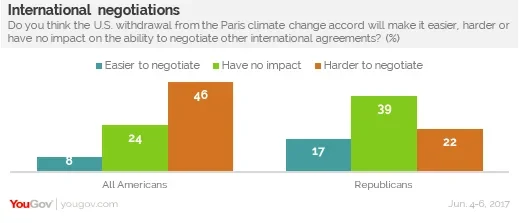 By three to one, Americans see a special role for developed countries, like the United States, in combatting climate change. Republicans agree. But the GOP is evenly divided when it comes to balancing U.S. competitiveness with its responsibility for climate change. Overall, Americans choose the country's responsibility for dealing with climate change even at a risk of lessening its competitiveness in the global economy.
Climate change may simply have become more visible. 43% say they already have felt its effects, and more than half expect they will in the course of their own lifetimes. But there are still partisan differences. One in four Republicans say they have seen the impact of climate change, and only a few more (30%) say they expect to. Age affects expectations. Overall, a majority of those under 65 say they will see climate change effects – while just 47% of those 65 and older agree.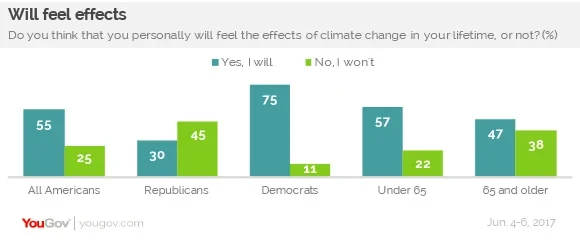 The public had other concerns in this poll, too, especially security. One in three say there is "very likely" to be a terrorist attack in the U.S. in the next twelve months. That fear changed little from last week, thought the poll was conducted mostly after the attacks in London that killed seven people.
There is concern about the President and security, too. By 51% to 29%, Americans think Donald Trump is careless about classified information. By 47% to 35%, they say his actions have jeopardized national security. Majorities have consistently found his use of Twitter inappropriate, but this week, by more than two to one, they say it was inappropriate for him to tell some world leaders to call him on his personal cell phone.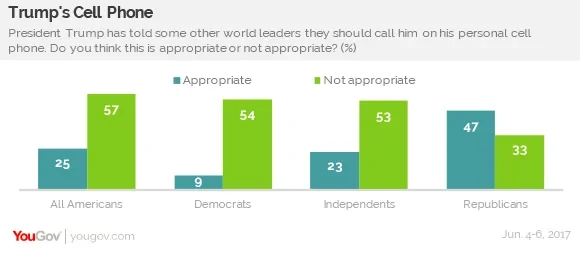 By two to one, Americans believe this jeopardizes his own security.
But would Americans call Donald Trump if they had his cell phone number? Most – both Democrats and Republicans – would not.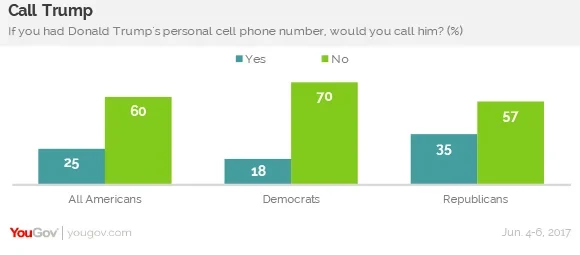 Some surely think it's wrong to disturb the President, others may not be sure what they would say to him, but others many base their decision on whether or not they like the President "as a person." Overall, nearly half say they don't like him.
64% of those who would call President Trump if they had his cell phone number like him; 60% of those who would not call him don't. ​
See the rest of this week's YouGov/Economist Poll