28% of U.S adults support the health care solution offered by the GOP
Whatever happens to the Senate health care bill after the July 4th holiday break (up, down, or no vote at all), it's clear that the Republican plan isn't gaining public support. Americans in the latest Economist/YouGov Poll believe staying with what exists today (i.e., Obamacare) is preferable to any current GOP option.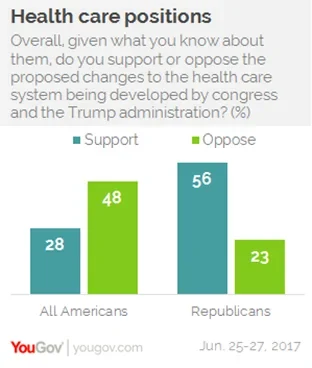 Just over one in four Americans support the Republican bill and its proposed changes to health care. Nearly half the public opposes it. Republicans continue to give the GOP proposal majority support, but the 56% approval recorded in this poll among Republicans for their party's plan this week is the lowest percentage in Economist/YouGov polls this year.
Meanwhile, the much-criticized Affordable Care Act (more commonly known as "Obamacare") gets the support of nearly half the public, with 42% disapproving. Democrats overwhelmingly favor the ACA, Republicans do not, and independents divide evenly. On another question, more say they would rather expand the ACA or keep it as it is than would repeal it now.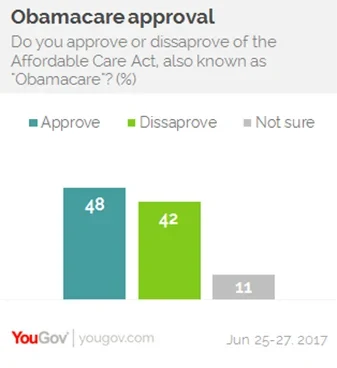 Americans are attentive to the Congressional debate on health care – two in three say they are following news about the Republicans plans closely, and one in four are following it very closely. But what happens to health care appears to matter more to Democrats: 35% of them are following the news very closely compared to 26% of Republicans. Six in ten Democrats report being "very concerned" about health care reform, compared with just 39% of Republicans. However, similar percentages in both parties describe themselves as "concerned."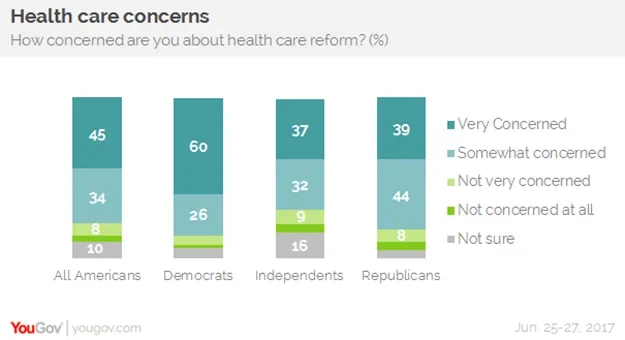 By a nine-point margin, Americans prefer what they have today to what the Republicans are proposing. In March, Americans were divided whether they wanted change or not. As many said they preferred that Republicans repeal and replace Obamacare as favored the status quo. But by early May, as the House passed its health care reform bill, and the Congressional Budget Office projected the plan would cost 24 million Americans their health care coverage, attitudes changed. For the last two months, Americans prefer not to adopt the GOP plan, but to stay with what they have.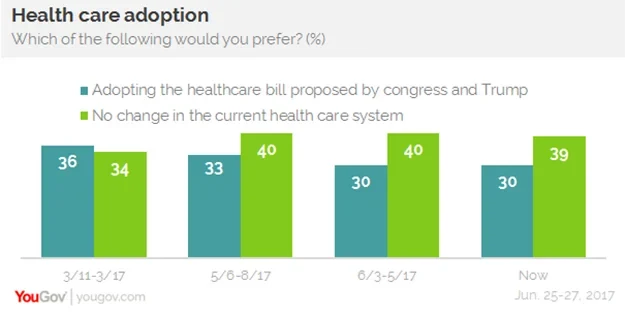 Only Republicans remain clearly committed to the GOP plan. This week, they want change by 64% to 13%. At the start pf the process, independents favored change 35% to 26%. Today those figures are just about reversed. 24% of independents today would choose the GOP health care plan, 33% would stick with the status quo, or Obamacare.
Despite the public's attentiveness, there's not a lot Americans understand about the difference between the House bill and the current Senate bill. Three in four aren't sure whether the House-passed bill or the current Senate version is more generous. Four in ten aren't sure about President Trump's claim that the House bill is "mean." But those with an opinion agree with the President.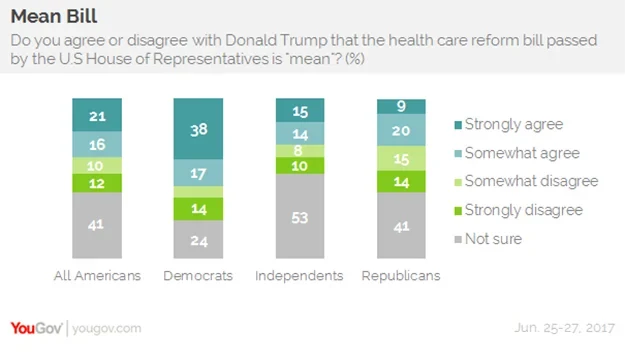 Republicans, ordinarily the President's strongest supporters, aren't quite sure what to think about the presidential criticism of a Republican measure. Democrats have no problem agreeing with the President most of them dislike – at least on this one issue.
For many people, the GOP plan won't help and may even hurt. Just over one in ten say they personally would be better off if the GOP plan passes, while three times as many say they will be worse off. While Republicans are more positive, only a third of them think they personally will be better off. Even more Republicans expect nothing will change, while 16% think things will be worse for them under their party's plan.
The concept of single-payer insurance, something rejected at various times by both parties, now gets significant public approval – perhaps because of the latest debate about what are and will be complicated changes in health care. 44% of the public favor a system where all Americans would be covered by a single government plan, financed by taxes. However, single-payer remains a partisan issue, with Republicans in opposition by about two to one.
Whatever happens, the President gets relatively low approval ratings for what he has done about health care. Only 34% -- just over one in three – approve of how Donald Trump is handling health care, making it one of his lowest rankings on the specific issues asked about in this poll, and below his overall approval rating of 39%. 49% disapprove of his handling of health care – more than disapprove on any other of the 17 issues about which the Economist and YouGov polls regularly asks the public to judge the President.
See the rest of this week's YouGov/Economist Poll