A majority of Americans agree that a police officer is unlikely to be convicted of a crime committed on duty.
A new study from YouGov about how Americans feel about their law enforcement in 2017 found that respondents' trust in American law enforcement varied significantly by race.
For example, 13% of all respondents said they have been mistreated by a police officer more than once. This number doubled to 26% among black respondents.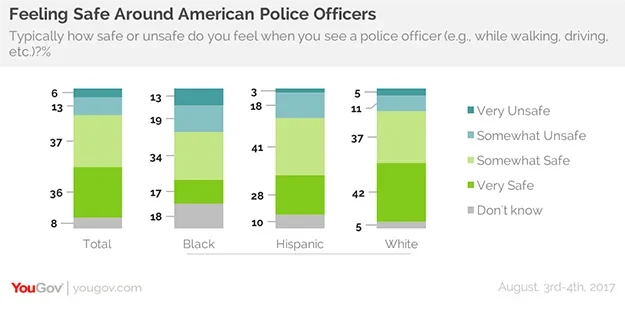 YouGov asked respondents how safe or unsafe they typically feel when they see a police officer while walking, driving, etc. Respondents' sentiments varied greatly by race. 42% of white respondents said they feel 'very safe' around police officers, but only 17% of black respondents and 28% of hispanic respondents agreed.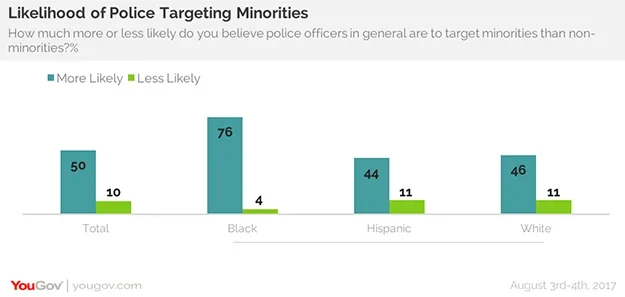 50% of all respondents agreed that police officers are more likely to target minorities. 46% of white respondents shared this opinion, as compared to 76% of black respondents.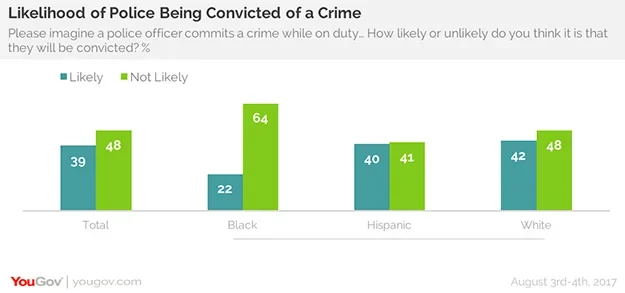 We also asked respondents how likely they think a police officer who commits a crime is to be convicted. White respondents were somewhat evenly split – 42% said 'likely' and 48% said 'unlikely'. Hispanic respondents were similarly split at 40% to 41%. Among black respondents, 64% said that a police officer would be unlikely to be convicted of a crime they committed, while only 22% thought it was likely.