Presidents get blamed when the economy is bad, and Barack Obama's ratings have been hurt by economic worries. However, Americans don't necessarily blame him for what's going on in the Stock Market — in the latest Economist/YouGov Poll, 28% say he is responsible for recent market fluctuations, but 49% disagree.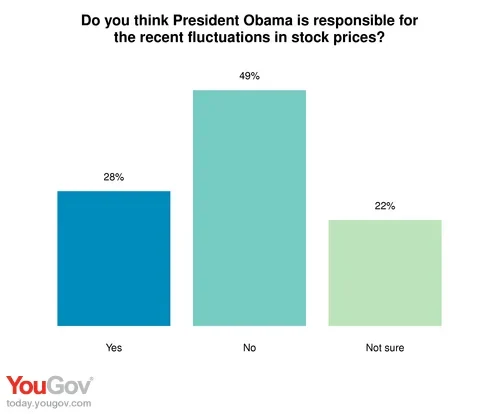 Most Americans claim not to pay direct attention to stock market prices: just 21% say they actively check on the market, while the rest of the public hears indirectly about the market from the media.

But Americans do pay attention to the state of the economy, and that perception continues to be poor. In fact, nearly two-thirds say the economy is in a state of recession or even depression. Most of the rest say it's slowing down, with just 4% thinking the economy is growing.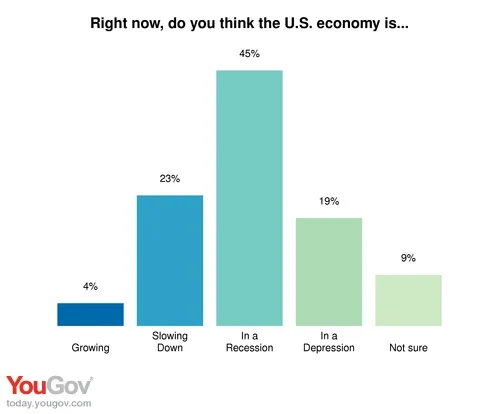 And only 30% approve of the way Barack Obama is handling the economy, among his lowest ratings on this issue.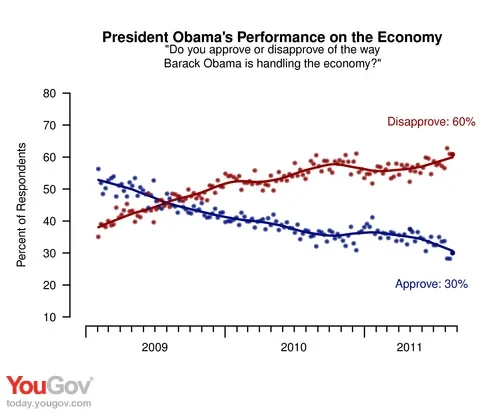 Overall, the President's ratings are as low as they have ever been in this poll. This week 39% approve of how Barack Obama is handling his job as President overall and 52% disapprove.

But President Obama still runs ahead of the leading potential Republican nominees when it comes to the fall match-ups — and by double digits. Former Massachusetts Governor Mitt Romney fares best, but still trails the President by nine points among registered voters. Governor Rick Perry of Texas, this week's Republican frontrunner for the nomination, and Minnesota Congresswoman Michele Bachmann, run less well in this week's poll.