But 20% of liberals think there will be fights about politics at the table
Most likely, you won't have an argument with someone at your Thanksgiving dinner. In fact, maybe the decibels at dinners across the country will be a little more muted this year than they were after last year's presidential election. At least they might not be too much worse.
In the latest Economist/YouGov Poll, 41% of those who celebrate Thanksgiving say that someone at their table will discuss politics, about the same percentage who said so last year. But fewer expect that there will be more arguments this year that usual than felt that way a year ago.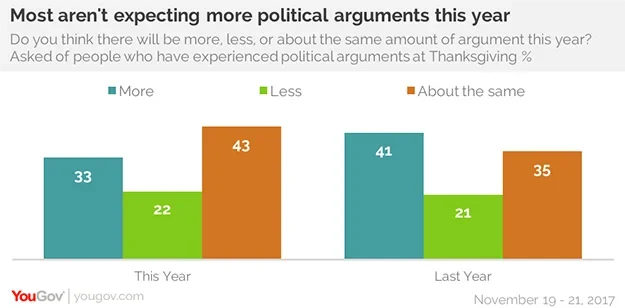 Republicans in particular expect fewer arguments this year. That's a change from last year; after President Trump's Electoral College victory, both Republicans and Democrats were expecting more arguments.
Arguments aren't all that common – just 14% this year say there have ever been arguments over politics at the Thanksgiving table. Thanksgivings may be getting more contentious. Among those 65 and older, who have been celebrating Thanksgiving longer than the rest of the public, only 7% report ever having an argument on Thanksgiving. Who argues the most? Liberals are more than twice as likely as conservatives to say there have been arguments: 20% of liberals have had arguments over the turkey compares with only 8% of conservatives (and 44% of those liberals expect even more arguments this year).
That's not a matter of having nothing to argue about. There is almost no difference between liberals and conservatives on the question of whether most people at their Thanksgiving celebrations agree or disagree about politics.
Of course, there are other things to argue about at the table – like football. More than a third of the public plan on watching football on Thanksgiving day, and half of that group will be watching while they are eating.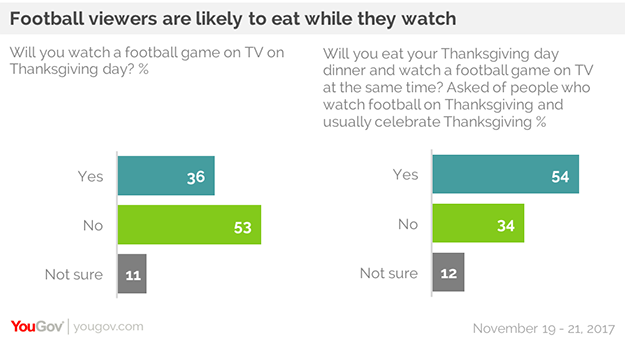 There may also be arguments over the turkey itself. Americans are twice as likely to say they prefer the turkey's white meat to its dark meat, so there may not be enough of the former to go around.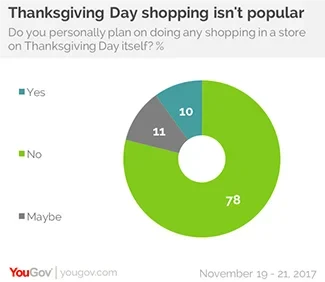 And when it comes to shopping, that could disrupt some dinners. Most Americans want stores to be closed on Thanksgiving Day. Only one in ten say they will shop on Thanksgiving – and that percentage is no different between those who celebrate the day and those who do not. There's no political division here, but those under the age of 45 are more likely to shop on Thanksgiving than those who are older. The age gap also exists when it comes to shopping on Black Friday.
The new tradition of shopping on Thanksgiving Day isn't welcomed by most of the public. By better than three to one, Americans think that businesses should close on Thanksgiving so their workers can have the day off.
But politics intrudes even when it comes to the reason we celebrate Thanksgiving. As a group, Americans are thankful this year, but Republicans are a little more likely than Democrats to say that: 96% of Republicans are thankful compared with 85% of Democrats. Being thankful has to do with many things and not just politics, but, like last year, GOP thankfulness is still increasing. Only 2% of Republicans are less thankful than last year. 11% of Democrats are, though that is an improvement over last November, just a few weeks after the election.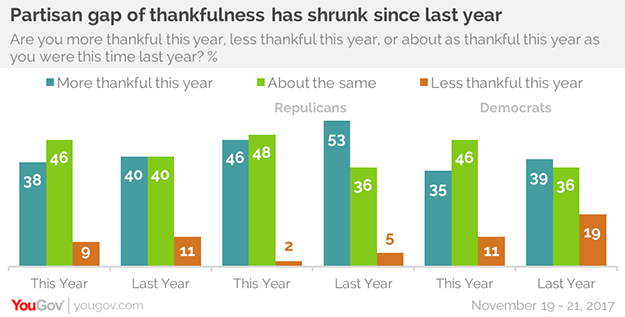 Image: Getty