Winfrey leads Trump by 4 percentage points in hypothetical 2020 race
Last week, after Oprah Winfrey gave a stirring speech at the Golden Globe Awards, some Democrats thought they had found their candidate for 2020. On January 9, 2018, we asked 865 American registered voters who they would vote for if the choice were between Donald Trump and Oprah in the 2020 Presidential election. Despite the President's confident boast that he would beat Winfrey, our poll suggests that if the election were held today he would lose by a 47-43 margin among those who would vote. We also ran trial heats with Bernie Sanders vs. Trump (Sanders does a point better than Winfrey, leading 48-43) and Kirsten Gillibrand vs. Trump (who trails Trump 41-43, though that's mostly because more people don't know who she is).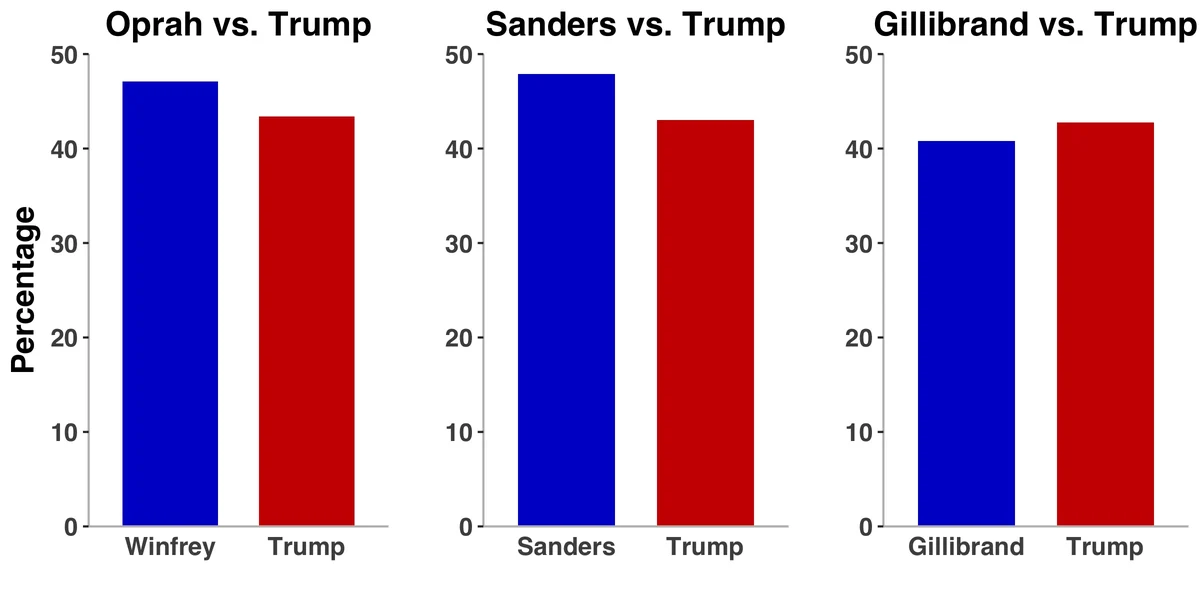 Winfrey's Golden Globes speech attracted praise from some unexpected quarters, including a tweet from Ivanka Trump. However, Democratic hopes that Winfrey might appeal to voters unlikely to support conventional Democratic candidates appears unfounded. She attracts only 7% of Republicans in a trial heat with Trump and actually does a little worse among independents than Bernie Sanders. Sanders leads Trump 47-40 among independents, while Oprah leads by only 44-43 among independents.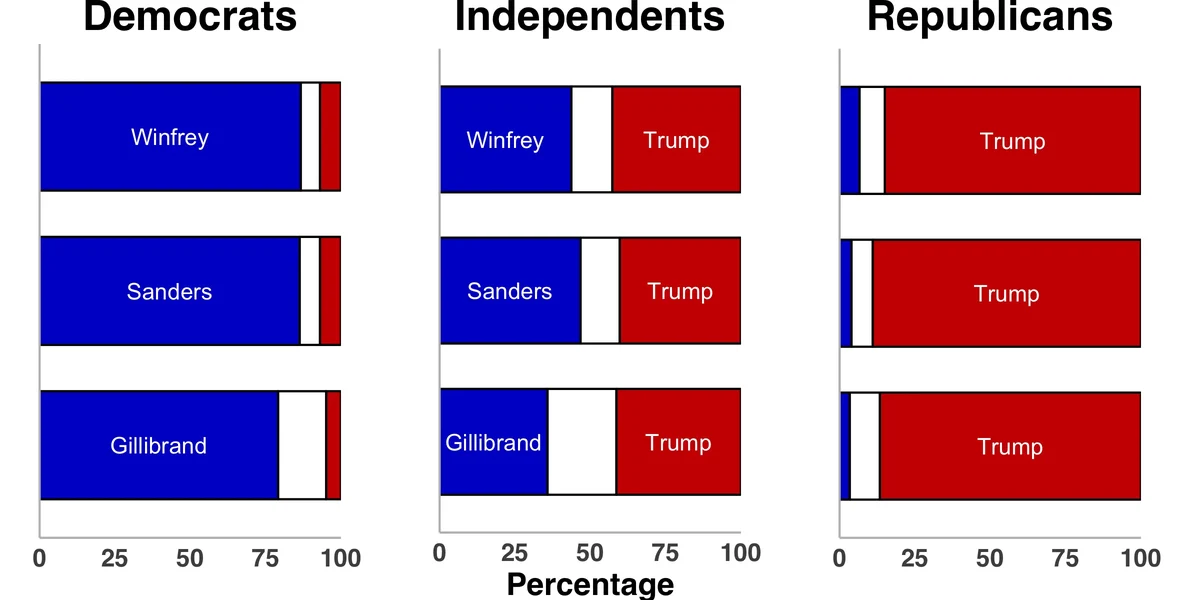 There are some good signs in Oprah's favorability ratings. We asked respondents to rate eight possible Presidential candidates on a four point scale (very favorable, somewhat favorable, somewhat unfavorable, very unfavorable) with the option of saying "don't know." Oprah has the highest percentage of favorable (combining "very favorable" and "somewhat favorable") at 57%, of any of the eight we asked about. She also has the lowest percentage of unfavorables (except for Gillibrand) at 39%. Donald Trump has far more unfavorable ratings than anyone else (at 53%), though he also manages to obtain a "very favorable" rating from his relatively small (29%), but intensely loyal base.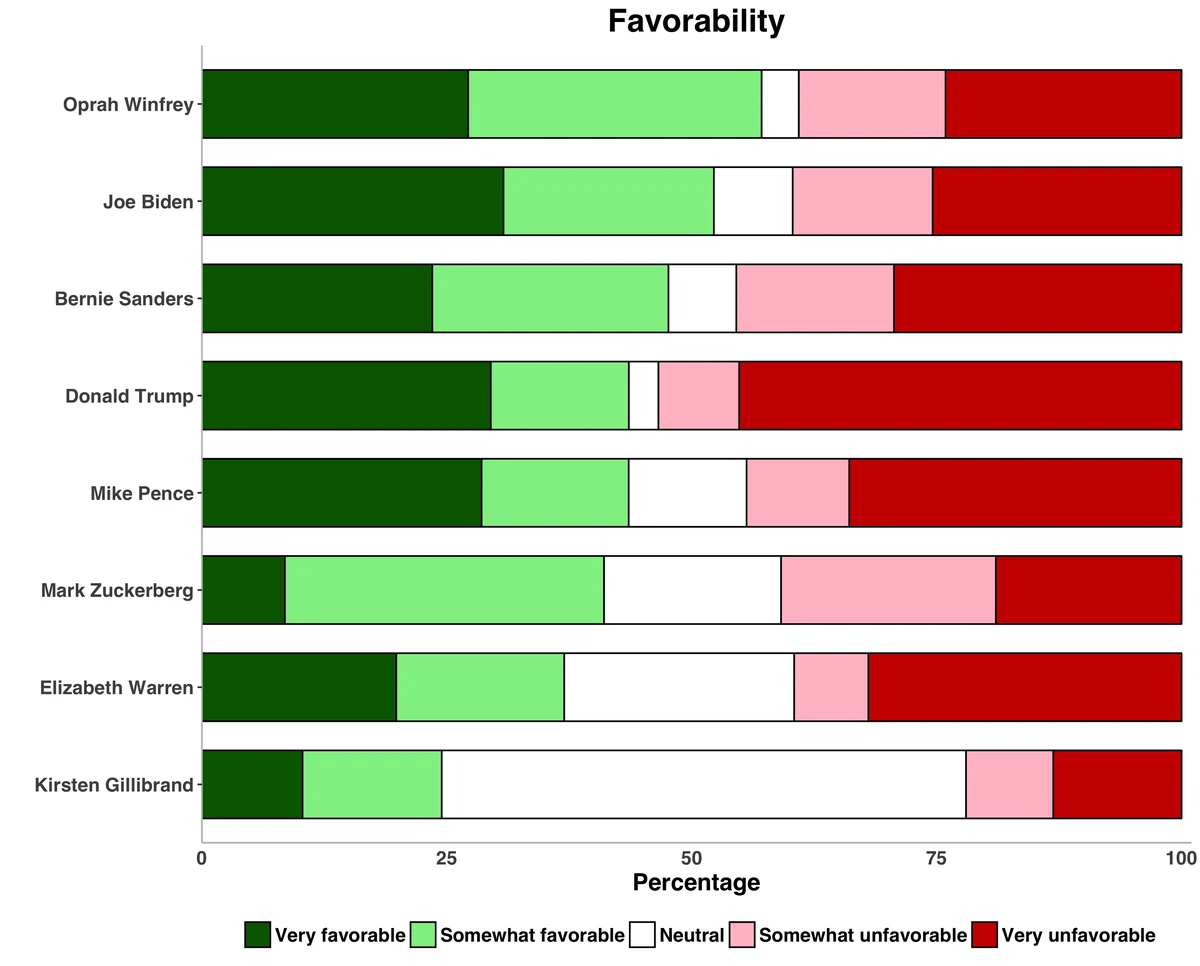 Feel free to explore the data on your own here: