More Americans now say that Brett Kavanaugh should not be confirmed to the Supreme Court than say he should
Allegations about Supreme Court nominee Brett Kavanaugh's behavior towards women decades ago have tarnished his image with some Americans, as women and men in the latest Economist/YouGov Poll take very different views about the Judge and his accuser, Professor Christine Blasey Ford.
Though much may change after tomorrow's scheduled Senate Judiciary Committee hearings, the poll documents a growing division in the thinking of men and women that has taken place over the last few weeks. At the same time, Americans are revisiting the confirmation of Supreme Court Justice Clarence Thomas, whose confirmation hearings in 1991 raised similar questions about whether long-ago charges about sexual harassment were believable and whether they should matter in confirmation hearings. Americans, including a plurality of Democrats, believed Justice Thomas (and not his accuser, Anita Hill) in polls conducted after those hearings, though many now do not.
This week, more would not confirm Judge Kavanaugh to the Court than would confirm him, a turnaround in the last two weeks. The Kavanaugh nomination was always beset by partisan differences, but the response from women has become more dramatic. Their close split two weeks ago is now clear opposition to his confirmation.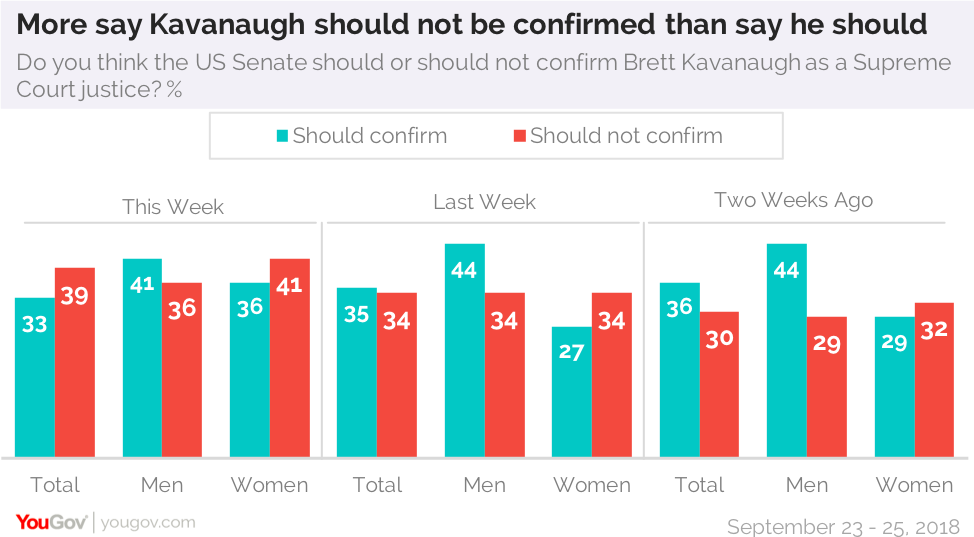 Republicans, both men and women, strongly favor confirmation, while Democrats of both sexes overwhelmingly oppose it. But the gender gap among independents is particularly striking: currently, independent men favor the confirmation of Judge Kavanaugh 43% to 38%; independent women oppose it 38% to 28%. Two weeks ago, independents were closely divided.
The reaction to Judge Kavanaugh's nomination appears to depend on whom you believe. More believe Judge Kavanaugh's accuser than believe the Judge, though this is driven by the responses of women in the poll. By a wide margin, women believe Professor Blasey Ford; by a similar margin, they do not believe Judge Kavanaugh's denials.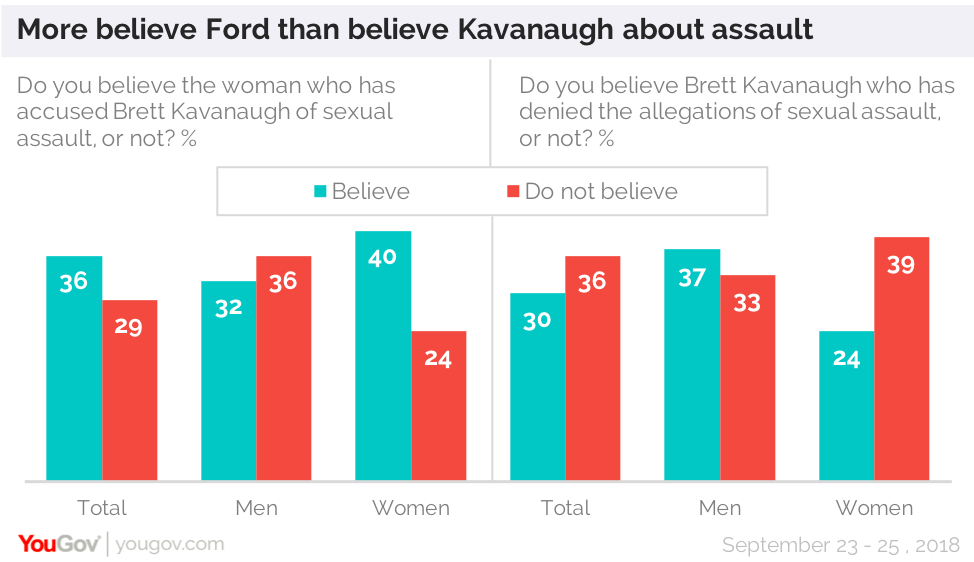 The genders also give different responses when asked if it is appropriate even to bring up these allegations 36 years after the alleged behavior occurred. Yes, say women, 44% to 36%. But men aren't so sure. 39% of men say it is appropriate to bring up that behavior, but 43% say it is not. More than half of women (55%) say they personally have been sexually harassed at some point in their lives, and these women are especially likely to say that it is appropriate to bring up the allegations today, even after so many years have passed. Women who have not experienced sexual harassment disagree.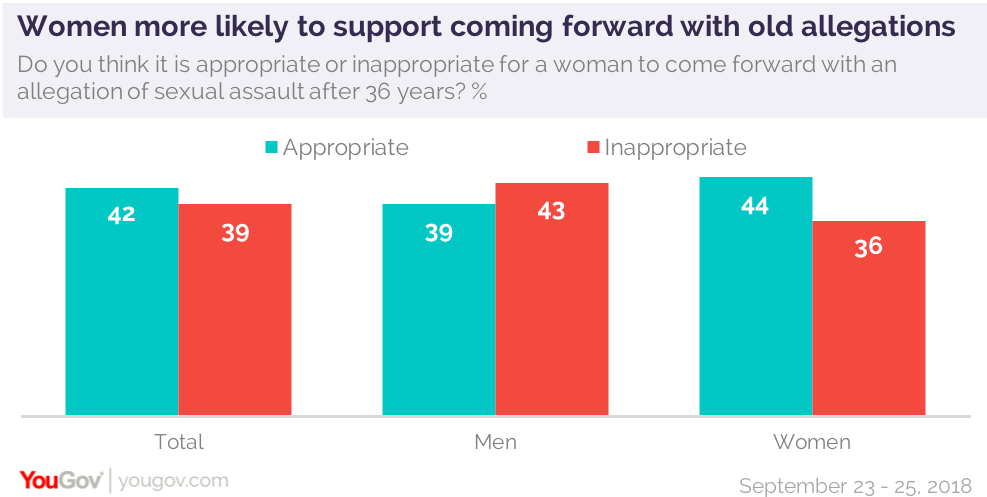 Democratic and independent women are more likely to report having been sexually harassed. But nearly half of all Republican women also report personal experience with harassment.
According to the public, if the allegations are true, they need to be taken seriously. By 48% to 28%, Americans say they would be disqualifying. Men and women agree on this. But Republicans (men and women) aren't so sure. By two to one, 55% to 27%, they think that even if the allegations are true, they should not be disqualifying. Republicans also reject an investigation of the charges by the Federal Bureau of Investigation. The public overall supports an investigation, 48% to 34%. But Republicans reject one by nearly three to one, 65% to 23%.
The charges about Judge Kavanaugh have reopened consideration of what happened in 1991 during Senate Judiciary Committee's hearings about current Justice Clarence Thomas and Anita Hill, who accused the nominee of sexual harassment in the workplace. Immediately after those hearings, Americans said they were more likely to believe Thomas than they were to believe Hill. That was true of Republicans and Democrats alike. A CNN/Gallup Poll in 1991 found Americans believing Thomas's testimony over Hill's by 55% to 28% (Democrats also believed Thomas 46% to 38%). But today, perceptions have changed. Americans are more likely to believe Professor Hill than to believe Justice Thomas.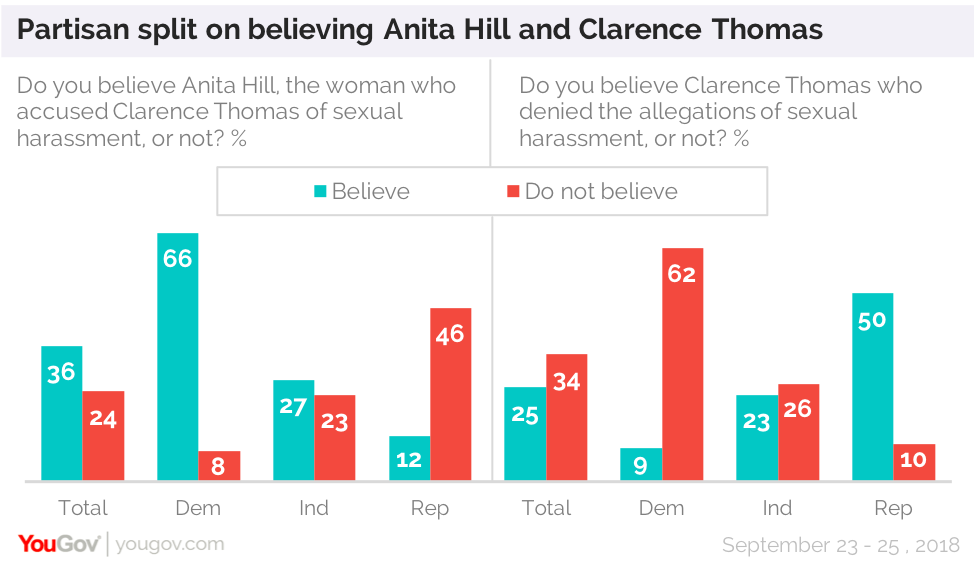 Republicans maintain their belief in Thomas' truthfulness. Men are conflicted, dividing closely on each question. By two to one, women believe Hill and don't believe Thomas. As in the current situation, the public (except for Republicans) are okay that charges emerged years after the alleged incidents took place. But times change. Looking back at 1991 the public now disapproves of the way the Senate Judiciary Committee handled those allegations by two to one (Republicans also narrowly disapprove).
More critically, when looking back, the public – narrowly – would not have confirmed Justice Thomas to the high court. 29% would, but 36% would not. Independents illustrate the split: by two to one, independent women would not have confirmed Thomas, while independent men are divided.