60% of Republicans approve of the way Mitch McConnell is handling his job as Majority Leader of the US Senate
One big winner from the Senate's confirmation of Supreme Court Justice Brett Kavanaugh was Senate Majority Leader Mitch McConnell.
Up until the successful (though narrow) vote on Kavanaugh's confirmation, Republicans were not happy with their Senate leadership. Although the GOP controlled the upper chamber, there was significant opposition to McConnell among members of his own party. But in the Economist/YouGov Polls since the confirmation, Congressional Republicans and McConnell have experienced a burst of support from partisans: Republicans now overwhelmingly approve of how McConnell is handling his job, and for the first time, want him to remain as Senate Majority Leader.
From the inauguration of Donald Trump in January 2017 until last week, Republicans were divided on whether or not they approved of the way McConnell was handling his job as Senate Leader. Up until two weeks ago, fewer than half said they approved of how he was handling the job. But despite the controversy over charges of sexual assault made against Justice Kavanaugh (which he denies), Republicans rallied to Kavanaugh – and McConnell. In the two latest polls, six in ten Republicans approve of McConnell performance.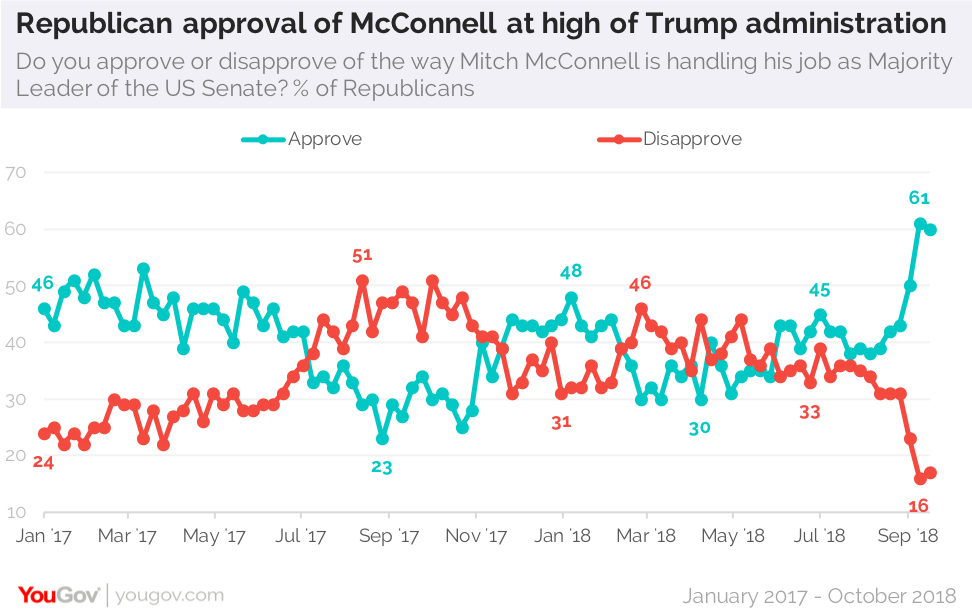 Among the public overall, 42% disapprove of McConnell's performance. Just 26% approve. But given Congress's low approval ratings (14% approve, 54% disapprove), that is not a surprise. The other Congressional leaders (House Speaker Paul Ryan, House Minority Leader Nancy Pelosi and Senate Minority Leader Chuck Schumer) have higher disapproval than approval ratings from the public overall (though members of their own parties approve of them).
For the first time ever in Economist/YouGov Polls, more Republicans now say they want McConnell to be Majority Leader, and not anyone else. Although more than a third of Republicans don't have an opinion on this (or don't care), support for McConnell has increased in the last month. 34% of Republicans today want him to stay on, twice the percentage who said this three weeks ago.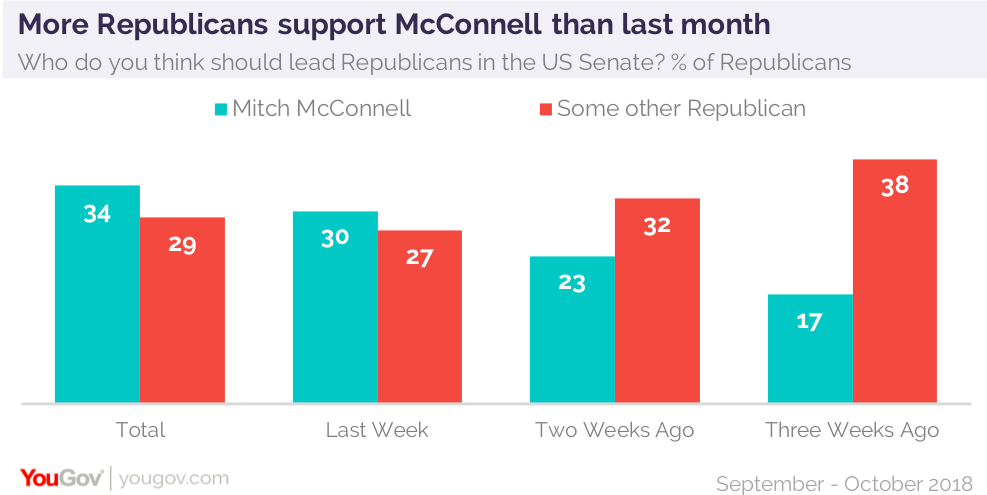 Throughout most of the Trump Presidency, Democrats have been more satisfied than Republicans have been with their representative in Congress, and with their party itself. This week, that has changed. Republicans and Democrats are equally likely to have favorable opinions of their party in general and of their party in Congress. Democrats haven't become less favorable now, but Republican favorability towards the Republican Party has risen eight points in the last three weeks. GOP opinion about the party in Congress has jumped 12 points in the same period.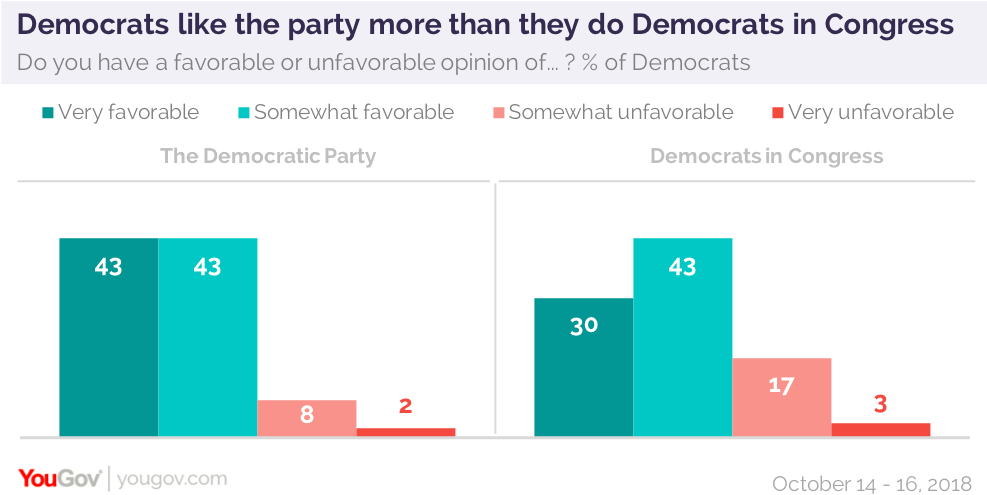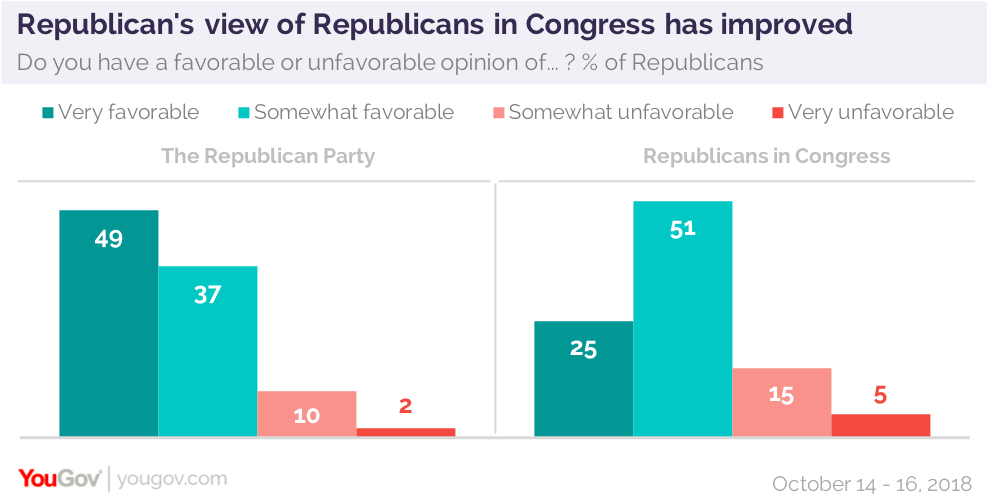 Republicans are now just as likely to believe this Congress has accomplished more than usual as to think it has accomplished less. While that may not be much of a positive assessment, it is an improvement. For most of the last two years, twice as many Republicans believed that this Congress had accomplished less than usual than thought it had accomplished more. Americans overall continue to be negative on this question: three times as many say this Congress has accomplished less than usual as to believe it has done more than a typical Congress does.
Democrats continue to have an edge when it comes to predicted vote among all registered voters. In this week's poll, three weeks before the midterm elections, when asked what party they will vote for in their district, 46% of registered voters say they will vote Democratic, 41% say they will vote Republican. Some of the demographic differences are striking: women give the Democrats a nine-point lead, men are evenly divided. Democrats lead with all age groups except the oldest: those 65 and older favor the GOP by 18 points.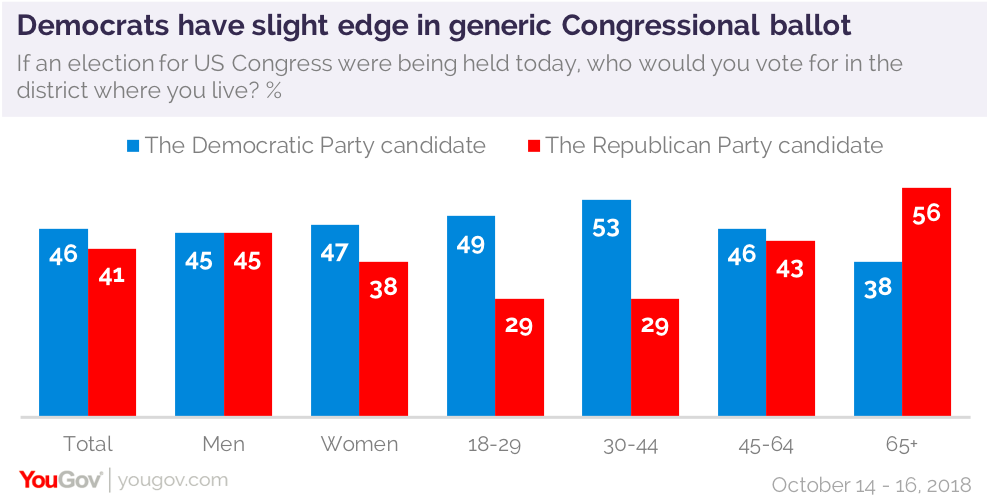 Historically, the oldest voters are the ones most likely to turn out. In this poll, 88% of them say they are "definitely" planning to vote. 71% say they are more enthusiastic than usual about voting. Both of those percentages are higher than that for registered voters overall.
Last week, Republican men were especially energized by the Kavanaugh confirmation. This week, the parties appear to have similar levels of voter enthusiasm. This is a gain for Republicans who were had been suffering from an enthusiasm gap before the confirmation. There are still three weeks to go before the election to measure whether the change will last, and how – or whether – it will advantage either party.
See full toplines and tables results
Image: Getty