Less than half of Americans (44%) support the historic treaty
As the North Atlantic Treaty Organization treaty reaches its 70th anniversary on Thursday, support for the international alliance has fallen among key Western nations, and less than half of Americans (44%) support the United States' place in the agreement once designed to provide collective security against Russia, formerly called the Soviet Union.
One in ten (10%) Americans oppose NATO membership and 29% are unsure of their position, according to new YouGov RealTime data that surveyed key NATO countries and several prospective members.
Among fundamental European allies, support for NATO membership has decreased significantly since 2017—including in Great Britain (73% to 59%), Germany (68% to 54%), Denmark (80% to 70%), and Norway (75% to 66%)—but a majority of Europeans in those countries still support their country's membership in NATO. The only nation surveyed with less enthusiasm for NATO membership than America is France, where fewer than four in ten (39%, down from 54% in 2017) now support its NATO association.
Fortunately for NATO, the drop in overall support is not matched by an increase in opposition. Instead, the majority of movement appears to be from people going from supporting NATO membership to neither supporting nor opposing it, or responding "don't know". The proportion of people actively opposing their own country's NATO membership has remained consistent overall.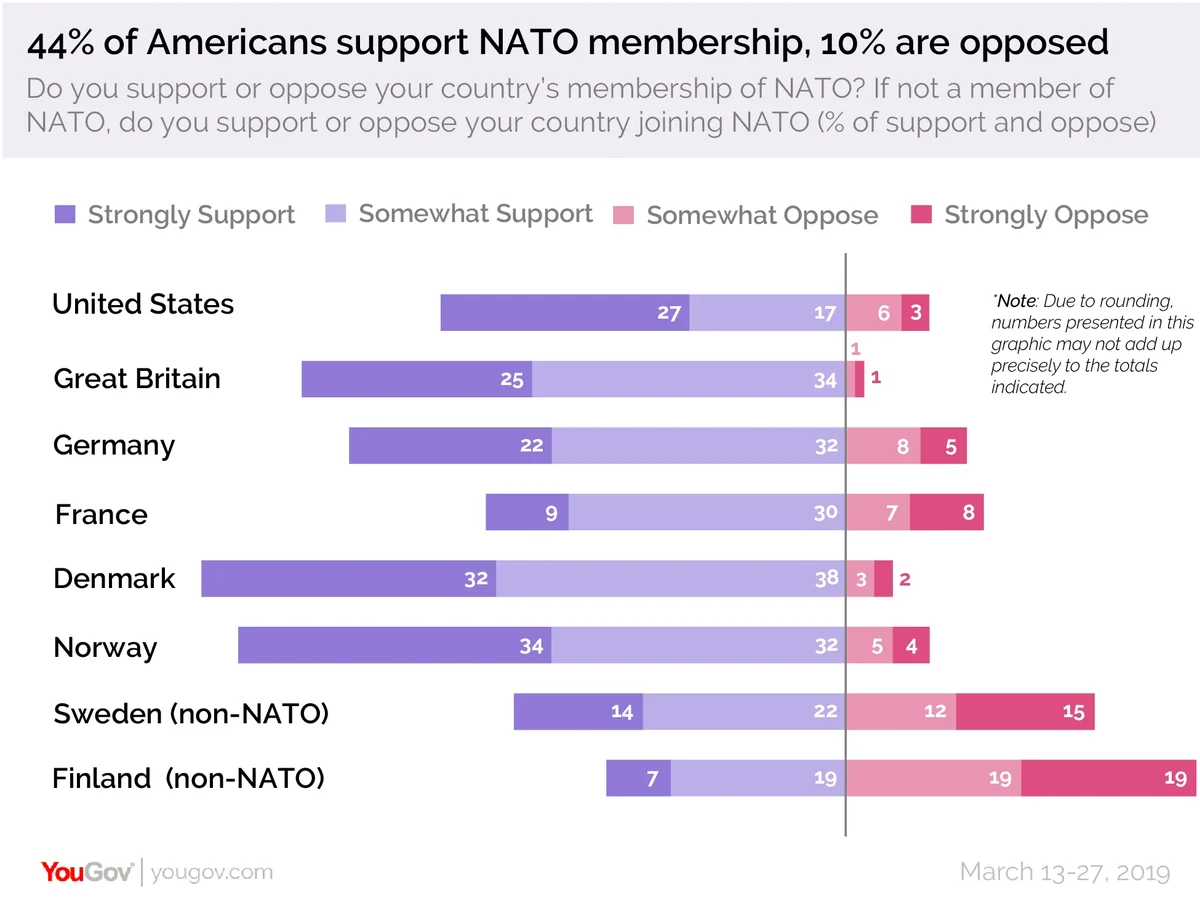 How Americans view NATO across political parties and generations
President Donald Trump, a Republican, has called into question America's responsibility to protect Europe. The Commander-in-Chief previously remarked that NATO is "unfair" to America, "costing us a fortune," and has become "obsolete." By 2017, he reversed his statement by saying: "I complained about that a long time ago, and [NATO] made a change, and now they do fight terrorism. I said it was obsolete. It's no longer obsolete."
That inconstancy is mirrored in American opinions of NATO, as well. When asked whether NATO continues to serve an "important role in the defense of Western countries," just 38% of Republicans agreed. Members of the GOP are outsized by Democrats (60%) and independent voters (45%), who are also more likely to support the international alliance.
More than half of baby boomers (58%) — who grew up at the beginning of The Cold War — support America's continued participation in NATO. Another 56% of baby boomers believe the treaty continues to serve an important role in defending Western nations. Closer to one-third of Millennials (35%) and Gen X (33%) agree with that statement, making older Americans significantly more supportive of NATO overall.
Americans with higher education are more likely to support the US' partnership with Europe. Eight in ten (81%) Americans with post-graduate degrees believe the US should maintain its commitment to NATO. Six in ten (61%) Americans with four-year college degrees believe the same, with 59% of people with associate degrees or some college experience echoing that belief. Less than half (47%) of people with a high school education or less agree.
Would Americans defend other countries against Russia?
A key tenant of the NATO treaty is Article 5, which outlines that an attack on one NATO ally is an attack on all, obliging all member countries to defend one another. Clear majorities of Americans (57%), Britons (66%) and Germans (58%) back the pledge, with around half of French people (53%) also being willing to come to the defense of their allies. Hypothetically, most citizens in key NATO countries believe in the promise—until they are asked about their willingness to defend specific nations.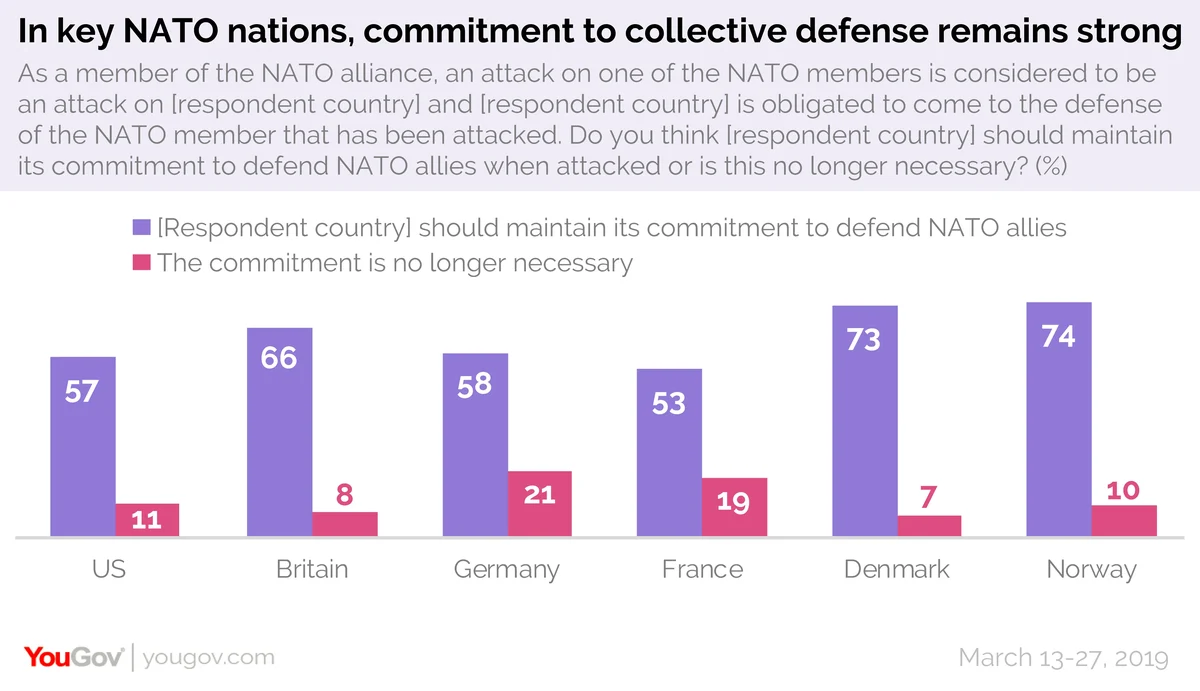 More Americans are willing to use military force to defend other countries against Russia than those who don't wish to get involved—making it one of the only key NATO allies to uphold the same defense for each nation listed. While pluralities in each country tend to support coming to the aid of most nations, there is particular ambivalence about defending Turkey, despite its status as a NATO member. In fact, only in the US do people tend to think Turkey should be reinforced (36% vs 22%).
Of the countries surveyed, Germany, Sweden, and Finland concluded that they should not use military force to help the US if Russia attacked. A majority of citizens in Denmark (56%), Great Britain (54%) and Norway (50%) would help America, while a plurality in France (41%) agreed. By contrast, 54% of Americans say they should defend Germany should it find itself besieged by Russia.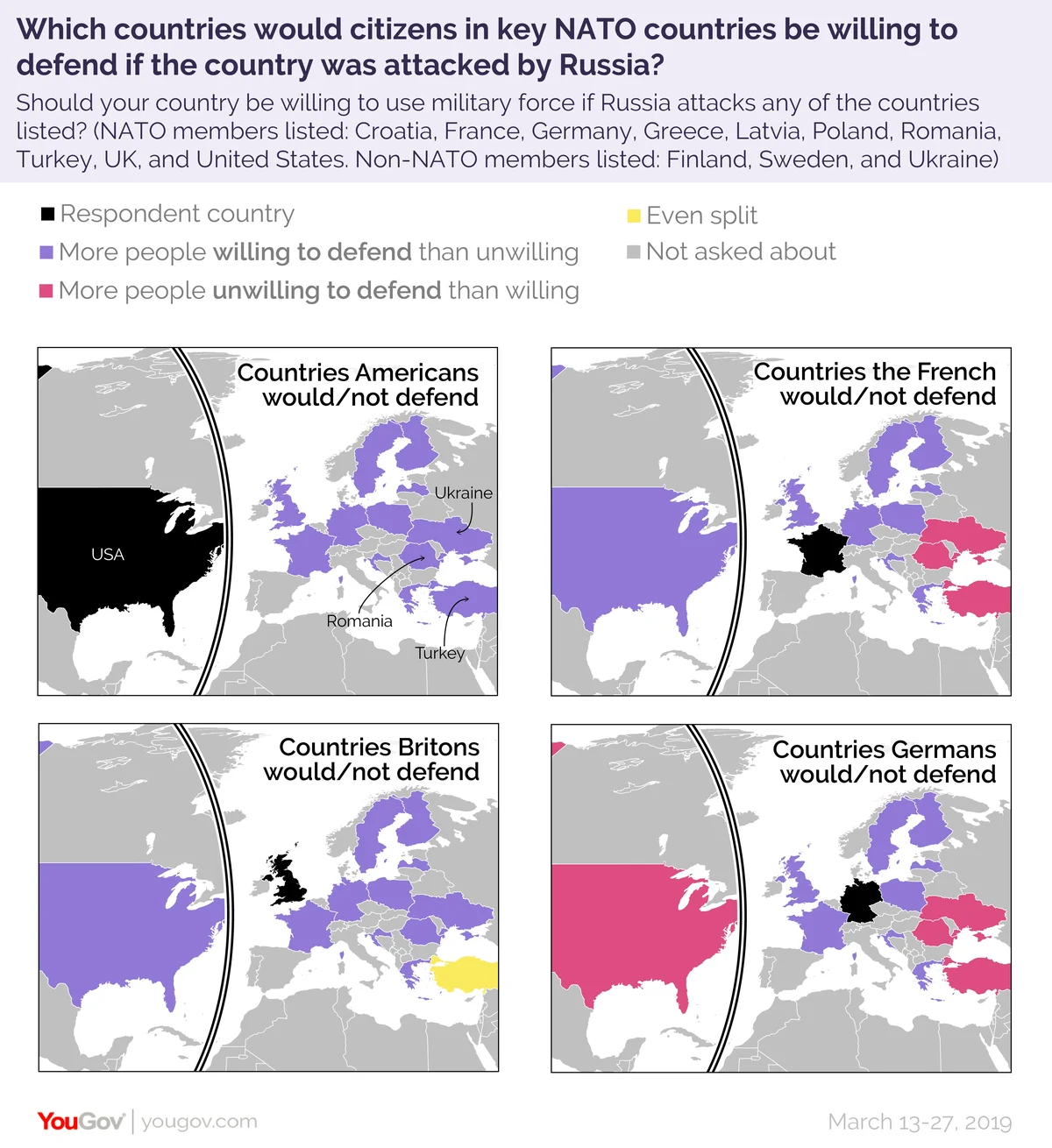 Related: Jimmy Carter is the longest-lived US president but America's second favorite
See the full YouGov RealTime results from the US here, compare to the 2017 results, and sign up to be a panelist and share your own opinions.
Methodology: In the US, the total sample size was 1,209 US adults aged 18+, including 427 Democrats and 318 Republicans. The responding sample is weighted to the profile of the sample definition to provide a representative reporting sample. Interviews were conducted online between March 19 - 20, 2019. For the European survey, the sample size was 1697 British adults, 2034 German adults, 1029 French adults, 1008 Danish adults, 1005 Swedish adults, 1006 Finnish adults, and 1008 Norwegian adults.
Image: Getty