Democratic voters say the words "old" and "experienced" come to mind when thinking of Joe Biden
Yes, Joe Biden is the most popular Democratic candidate. In the wake of his official announcement last week, Democratic voters in the latest Economist/YouGov Poll give the former Vice President a clear lead over Vermont Senator Bernie Sanders when asked which of the announced candidates they are considering supporting in next year's primaries and caucuses.



Voters could choose as many or as few of the candidates as they wished.

For the first time, a majority of Democratic voters now say they are considering a candidate, and that candidate is Biden. For the last few weeks, he and Sanders were being considered by similar numbers of voters; this week, the share of potential Democratic voters considering Biden is 12 percentage points more than those considering Sanders. Nearly as many are considering Massachusetts Senator Elizabeth Warren as they are Sanders; California Senator Kamala Harris and South Bend Mayor Pete Buttigieg also are being considered by a third or more of potential Democratic voters. Buttigieg has generated more interest than either former Texas Congressman Beto O'Rourke or New Jersey Senator Cory Booker.

However, a lot can happen before the 2020 primaries. Only 16% of those considering Biden say they are only considering Biden. Most are thinking about other candidates as well, with (as he does among all Democratic voters) Bernie Sanders leading the rest of the pack, Warren, Harris, Buttigieg, O'Rourke, and Booker following. While 16% of those only considering Biden seems like a small proportion, it is larger than the share of those considering any of the other Democrats who say they only have one choice.

As in 2016, younger voters are the only likely group where those considering Sanders outnumber those considering Biden. As in previous Economist/YouGov polls, there are not many gender differences (though more men than women say they are considering Sanders). 57% of African-Americans are considering Biden, far more than any other candidate mentioned.

Biden has strengths among the public overall. 45% view him favorably, 40% do not. Three-quarters of Democrats have a favorable opinion of him. That's better than overall evaluations of President Donald Trump, though the president receives stronger positive ratings from Republicans than Biden does from Democrats.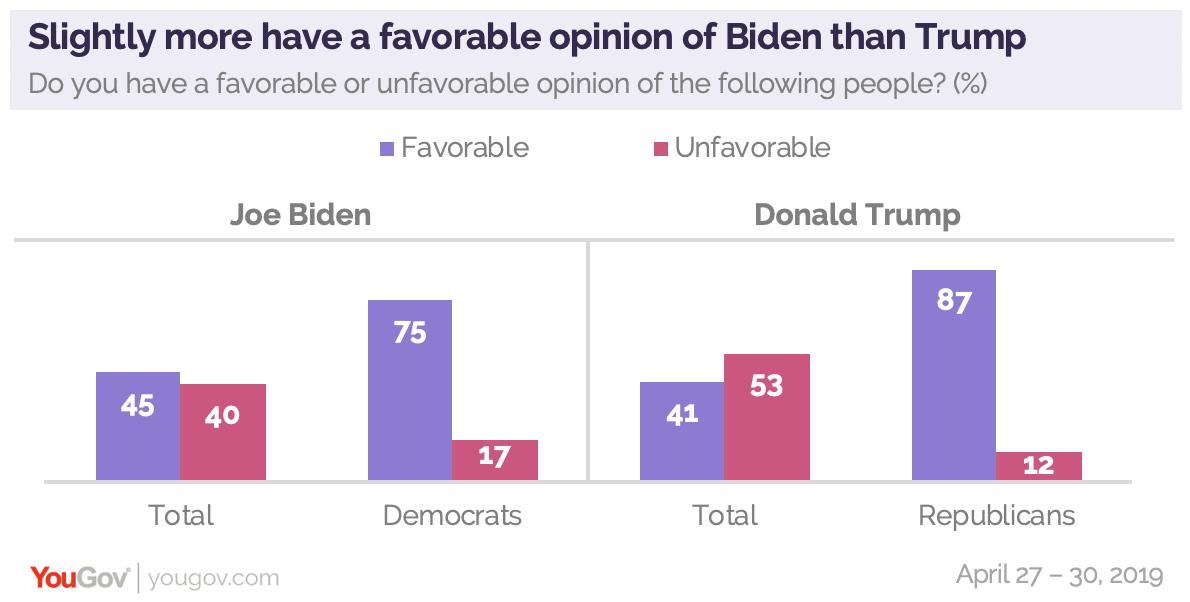 Slightly more Americans view Biden (54%) as a strong leader than say the same about President Trump (50%), though the differences are marginal. Half the public—including 81% of Democrats and 29% of Republicans—views Biden as qualified to be the president. 29% overall disagree. By 40% to 35%, Americans are confident in his ability to handle an international crisis. He is, however, viewed as a liberal. In fact, 52% of Republicans regard him as too liberal.

There is concern about his age, even among Democratic primary voters. 7% of them say "old" is the first thing that comes to mind when they think of Biden. About the same percentage of the public overall say that. It is perhaps the most common answer.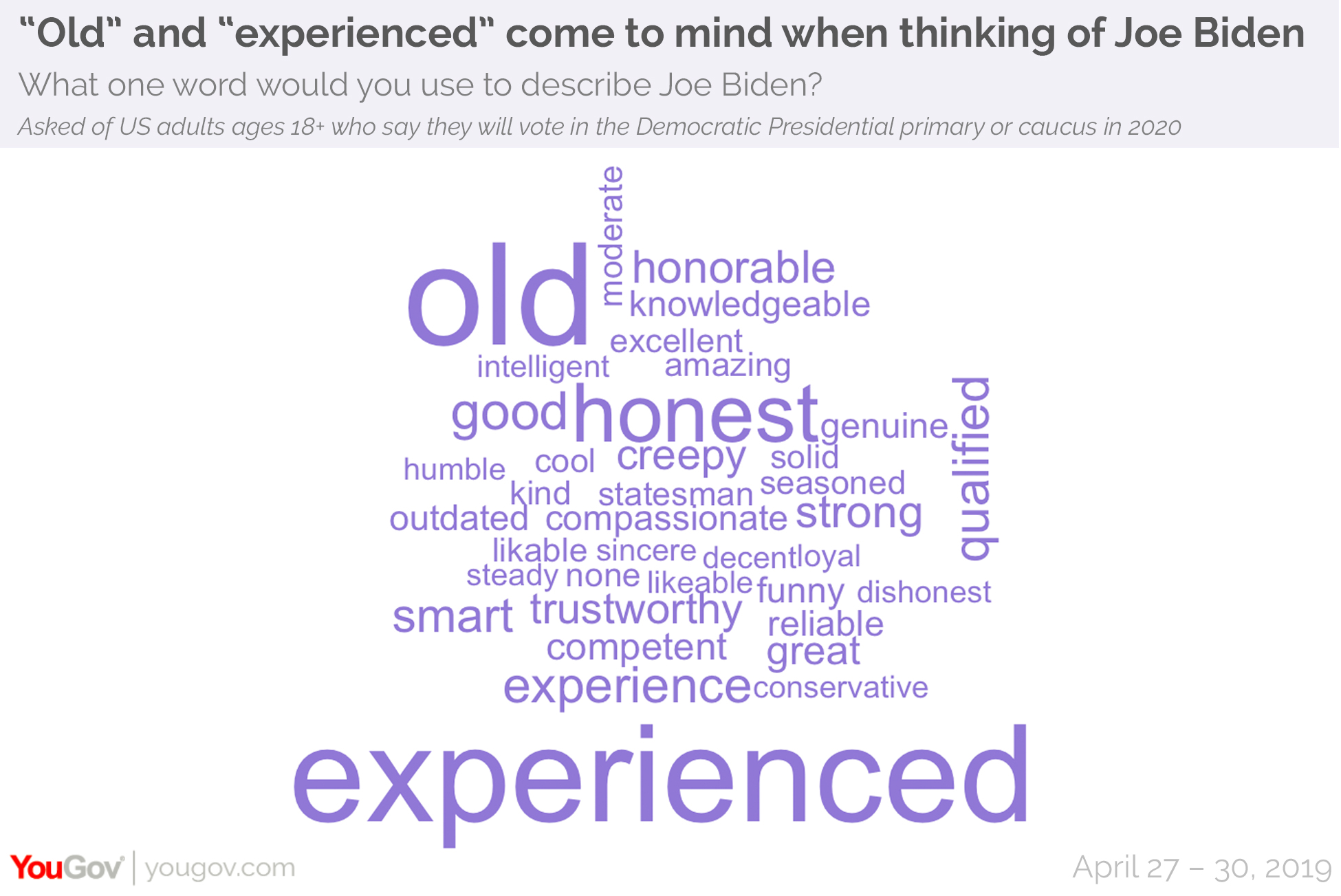 Despite that negative, Biden is looked on as a potential winner. Nearly half (49%) the public overall say it is likely he will win the Democratic nomination.But Democrats (64%) are more likely than Republicans (18%) to believe he will win the general election if he is the candidate.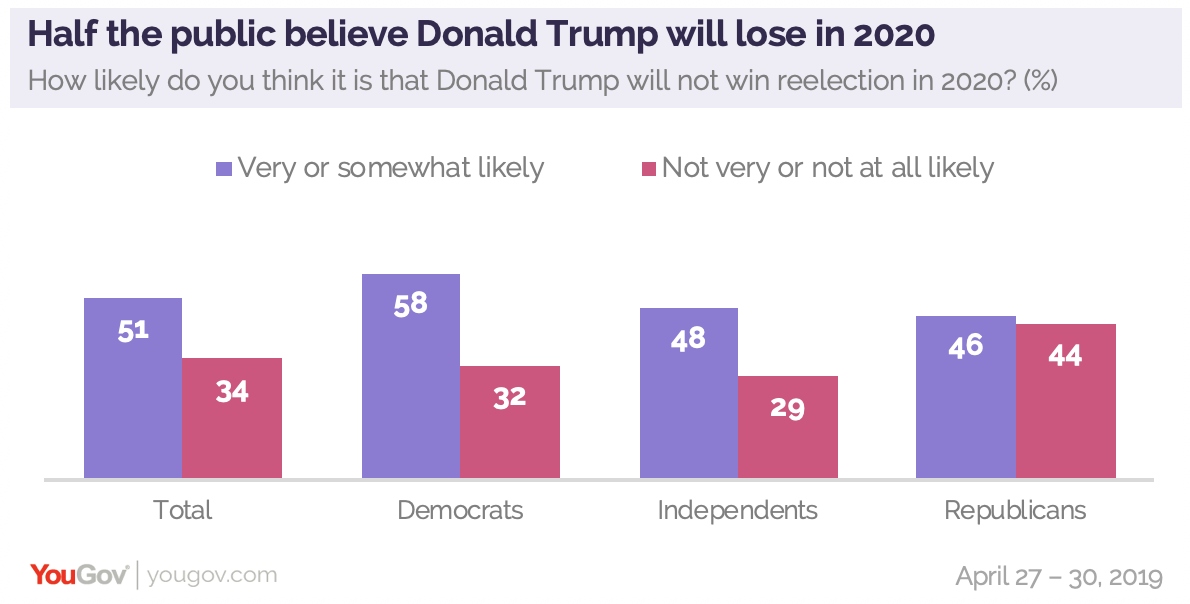 That's not necessarily only because of Biden himself. Half (51%) the public—and even more Democrats (58%)—believe Donald Trump will lose in 2020. Republicans are closely divided on this: 46% say it is likely the President will lose, 44% disagree.

Read the full toplines and tables results here

Photo: Getty