51% of Americans overall say the landmark Supreme Court decision should not be reversed
A handful of state legislatures have challenged abortion standards in recent weeks, with some states passing the nation's most restrictive laws. A shift in the Supreme Court balance appears to have emboldened lawmakers to test the legacy of Roe v. Wade, the landmark abortion ruling that established a constitutional right to abortion access.
The debate has led states like Alabama and Georgia to approve further restrictions on abortion access, but a majority of Americans continue to support the law. YouGov Plan & Track data shows that 51% of Americans say they "would not like to see it overturned," while 28% would support its reversal. Another 21% of Americans responded "don't know" to the question.
The bulk of Americans say they don't want to see Roe v. Wade overturned, but responses vary by region.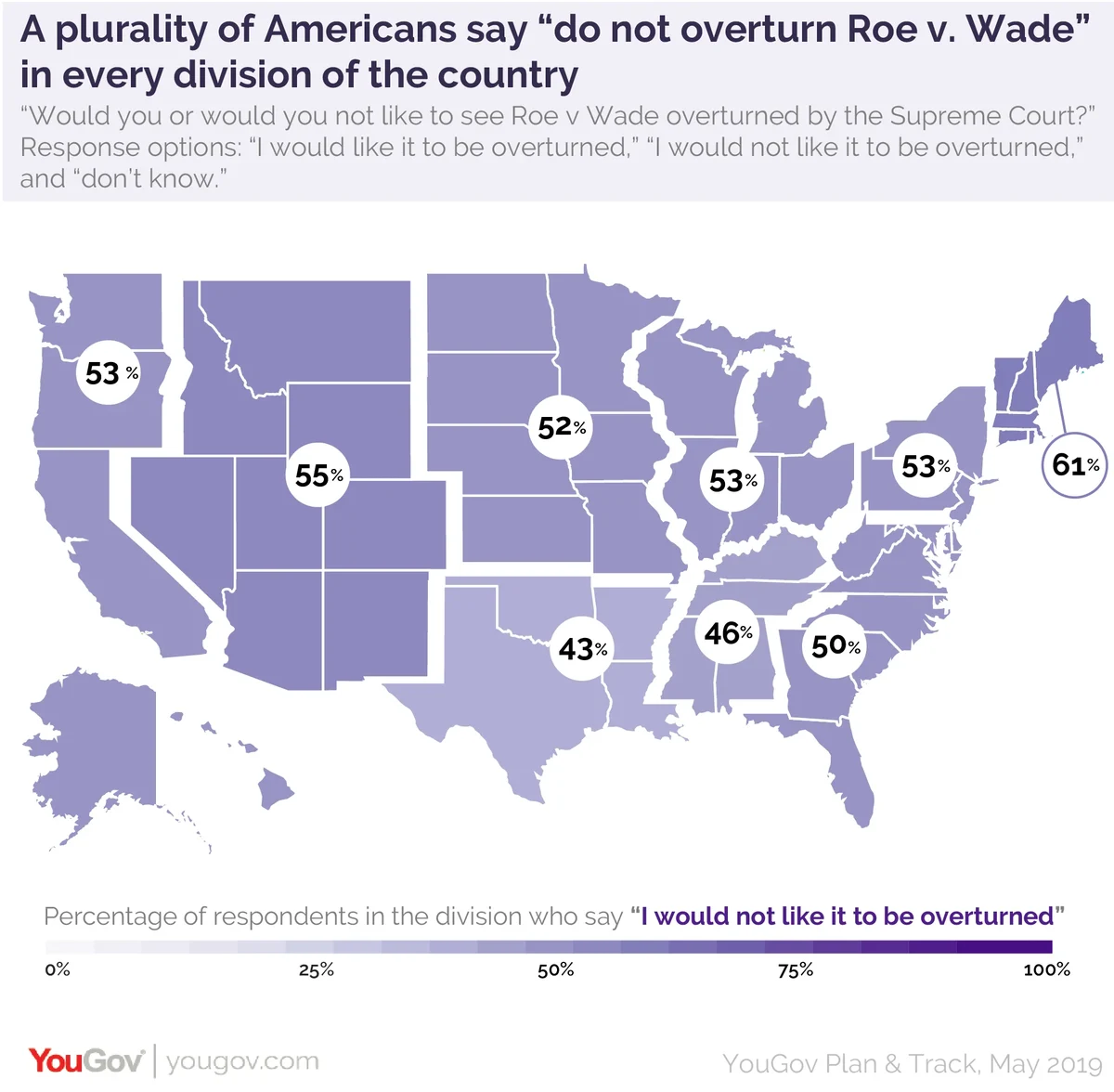 Americans who live in New England (61%) and the Mountain region (55%), which are Census-designated regions, are the most likely to oppose the overturning of Roe v. Wade. The East South Central region — which contains Alabama — is among the most likely to support overturning Roe v. Wade (31%), though a larger representation of people (46%) in the region still do not want to see it overturned.
Alabama Governor Kay Ivey signed the nation's most severe abortion law on Wednesday. The law bans nearly all abortions and makes performing the procedure a felony. The law is slated to go into effect in six months, but it is anticipated to be tied up in lengthy court battles over its constitutionality.
Meanwhile, Georgia Governor Brian Kemp recently signed an abortion law, which is not slated to go into effect until 2020, that would outlaw abortion after a fetal heartbeat is detected, about six weeks into pregnancy. Data from YouGov finds that 43% of Americans support this law, while 40% are opposed. Women (46%) are considerably more likely than men (35%) to oppose this legislation. In the South Atlantic region where Georgia is located, 27% say they would like to see Roe v. Wade overturned while 50% would not.
The two states are a part of a larger movement to limit abortion access and challenge Roe v. Wade. According to The New York Times, seven states have passed abortion restrictions in 2019 that could set up a court challenge to America's national access to abortion.
Related: White men believe it's a more dangerous time for men than women in America
Methodology: Total weighted sample size was 10,172 US adults. Interviews were conducted online between January 22, 2019 and May 8, 2019. The weighted sample size in each Census-designated division contains 402 US adults from New England, 1,444 US adults from the Middle Atlantic division, 1,437 US adults from the East North Central division, 644 US adults from West North Central division, 2,105 US adults from the South Atlantic division, 665 US adults from the East South Central division, 1,204 US adults from the West South Central division, 979 US adults from the Mountain division, 1,732 US adults from the Pacific division.
Learn more about YouGov Plan & Track and sign up to be a panelist here.
Image: Getty