Most Americans are confident that the world order would hold steadfast if there was a global conflict that demanded international cooperation—but that doesn't mean people are convinced such collaboration won't be necessary in the near future.
As America approaches the 75th anniversary of D-Day — when Allied troops landed on the beaches of Normandy and changed the trajectory of World War II — a majority (59%) believe another world war is likely to take place in the next 40 years, which is slightly fewer than agreed (64%) with the same statement in 2018.
By comparison, 40% of US adults say America and its counterparts could effectively collaborate in order to make D-Day possible today. More than a third (36%) say that same collaboration would not be possible.
Most Americans (66%) regard the nation's intervention in World War II as "completely justified" or "somewhat justified." It's the most well-supported major military engagement since the country's original break from England (61%), which sparked the American Revolution.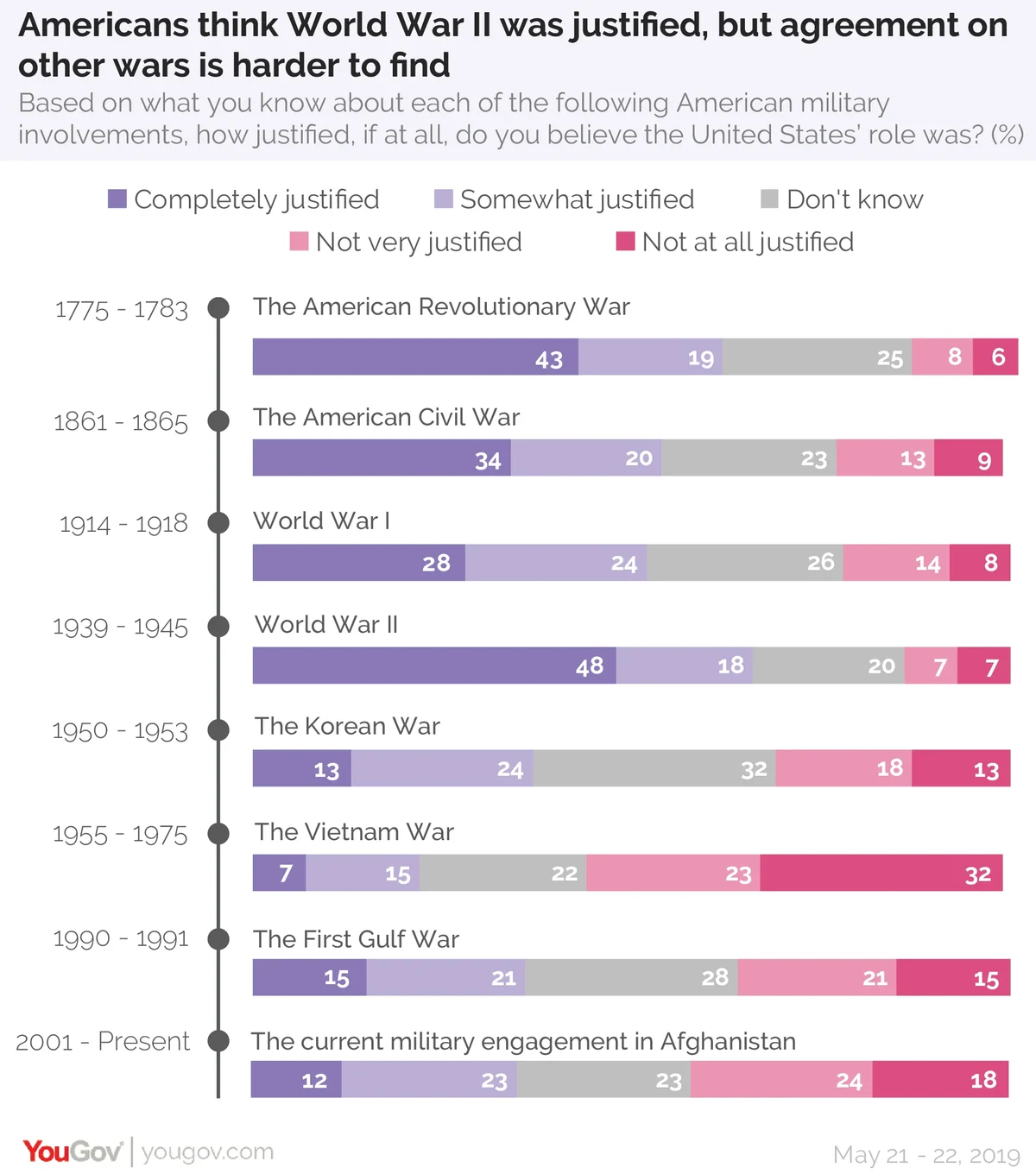 But, the general public isn't convinced that America's military involvement is always warranted. The Vietnam War is regarded by a majority of US adults as "not very" or "not at all" justified (55%), though that sentiment increases based on generation. Baby Boomers are the most likely (64%) to consider the Vietnam War unjustified, compared to 52% of Gen Xers and 43% of Millennials.
America's longest ongoing military action, the War in Afghanistan, is regarded as reasonable by 35% of adults, but 42% say it's unjustified. There is a clean political split regarding the current military engagement in Afghanistan: a majority of Republicans (56%) consider it justified compared to a majority of Democrats (55%) who say it is not.
See full poll results here. Learn more about YouGov RealTime and share your own opinion by signing up to be a panelist here.
Methodology: Total unweighted sample size was 1,214 US adults ages 18+. The responding sample is weighted to the profile of the sample definition to provide a representative reporting sample. Interviews were conducted online between May 21 - 22, 2019.
Image: Getty