Millennials would like the next president to be a young, political insider with experience in government and law. That's according to a YouGov RealTime poll that asked about ideal traits of the next occupant of the White House.
The research offers a different perspective on voter ideals to analyze how different cross-sections of America feel about which traits could create the perfect commander-in-chief. We've trained our focus on Millennials for this piece in an ongoing series highlighting how different slices of America describe their ideal presidential candidate.
The poll surveyed all Americans, not just registered voters, and Millennials are less likely than Gen Xers and Baby Boomers to cast a ballot overall. The Millennial generation—which will comprise individuals between the ages of 24 and 39 on Election Day 2020—may not be the most active at the voting booth, but they are one of America's larger voter-eligible generations.
Those Millennials who are considering their archetypal president are clear about one ideal trait: relative youth. As it stands, President Donald Trump is the oldest serving president in US history at 73. Democratic front-runner Joe Biden is 76 and Bernie Sanders is 77.
Though older candidates lead in current polls, half of these younger Americans (51.6%) say their ideal president is under 50. Within that group, about one-third (31%) want a candidate who is between 41-49 and one in five (20%) want someone who is between 35-40.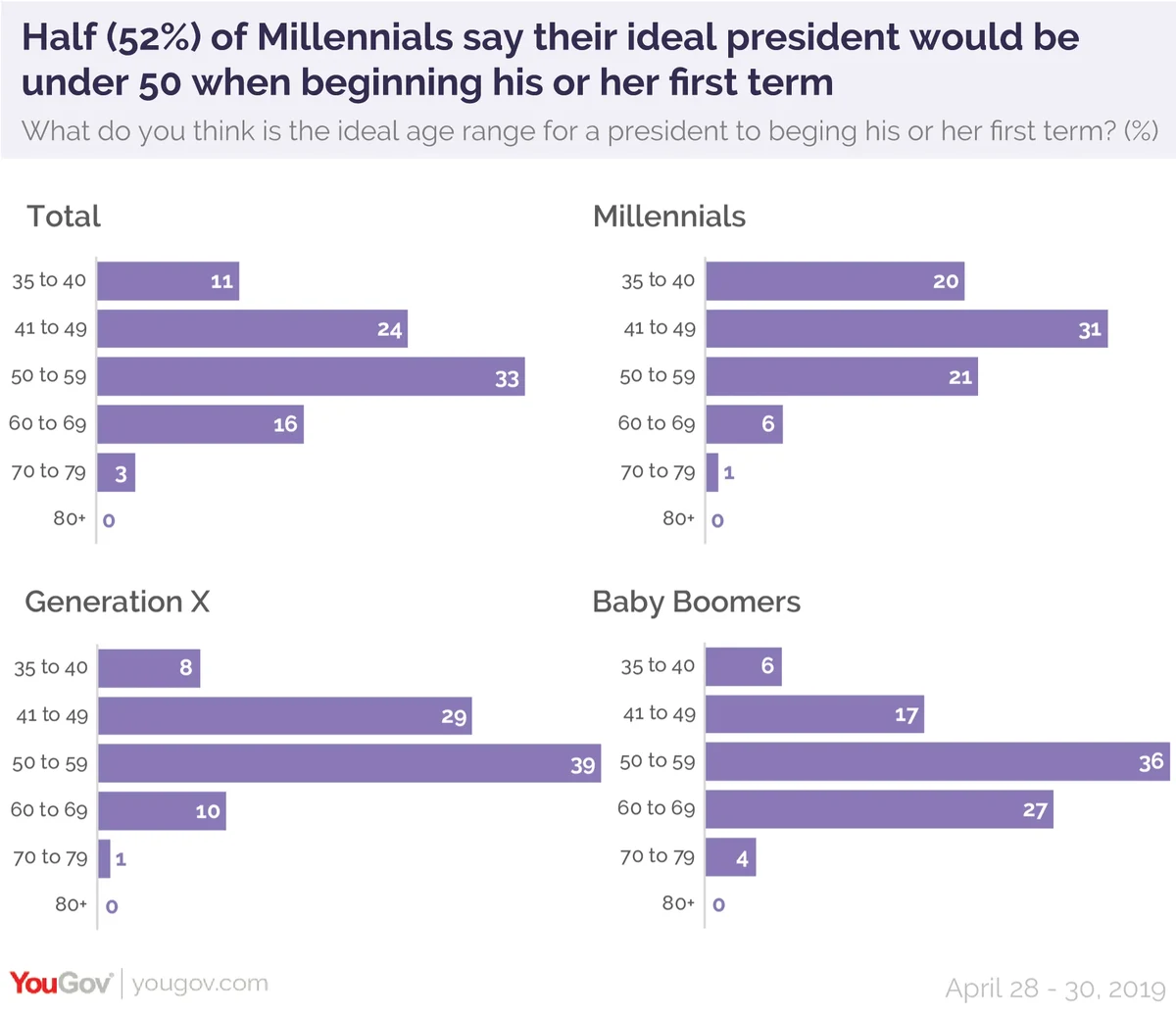 If America selected a commander-in-chief under 40 years old, he or she would make history as the youngest president in history. The only two presidential candidates who currently meet this youth threshold are South Bend Mayor Pete Buttigieg and Hawaii Representative Tulsi Gabbard. Three early presidential front-runners—President Donald Trump, former Vice President Joe Biden, and Vermont Senator Bernie Sanders—would be among the oldest to ever occupy the White House.
Age may not be a dealbreaker at the ballot box, but just 1% of Millennials say their ideal president would be in his or her 70s.
Half of Millennials say that a candidate with government experience (56%), legal experience (53%), business experience (50%), or social activism experience (50%) appeals to them. A plurality says fame and media experience (37%) would have no impact on their view of a candidate.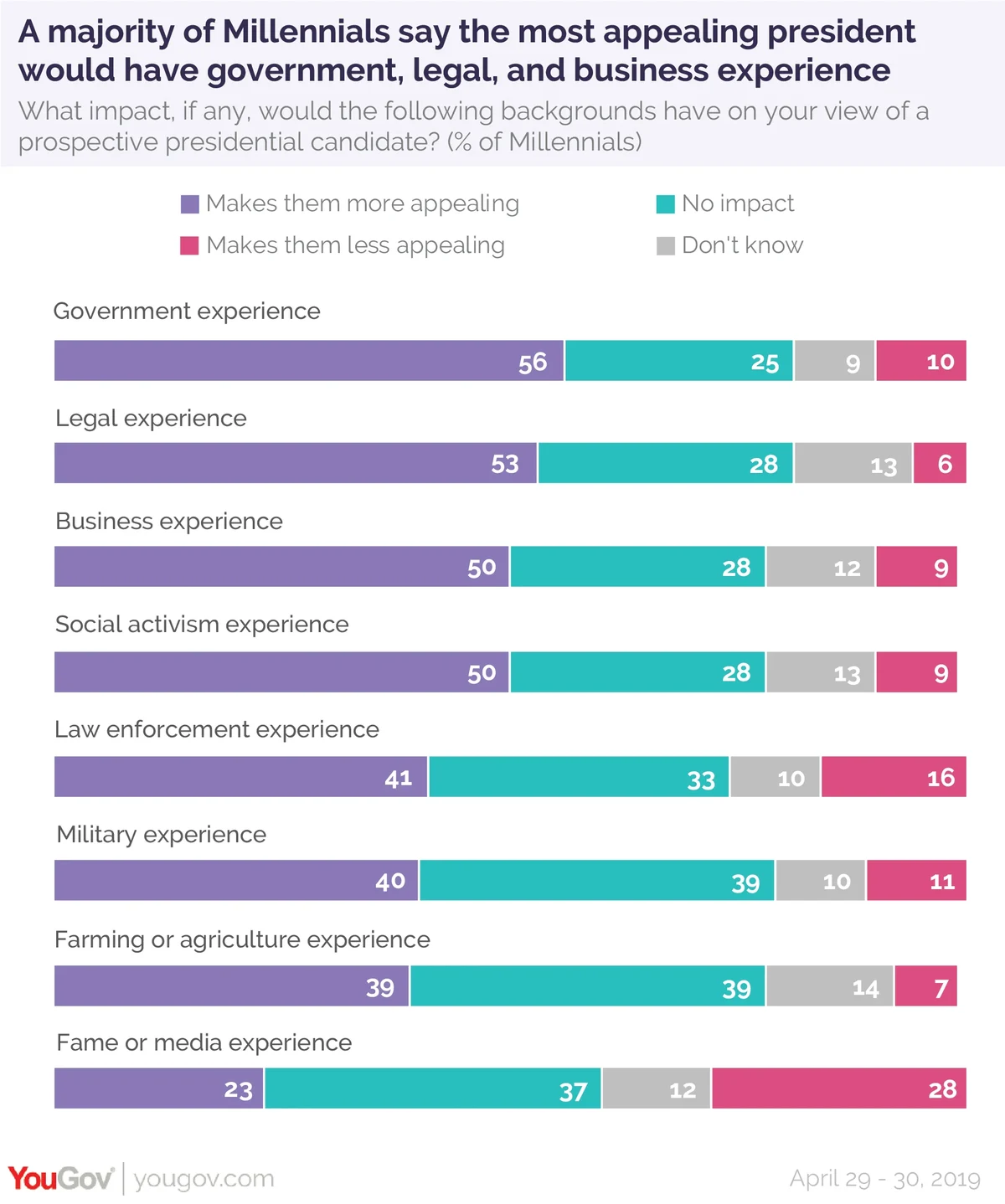 Seven in 10 (70%) Millennials say they would vote for a male candidate, compared with 63% that say they would vote for a female candidate.
Millennials express the most interest in white (73%) or black (61%) candidates, though each race was selected by at least half of Millennials polled. There are 15% of Millennials who say they "don't know" if they would vote for a hypothetical candidate of any race.
Three in 10 (32%) Millennials say they would vote for a transgender presidential candidate compared with a quarter of Gen Xers (25%) and Baby Boomers (25%). Nearly seven in 10 (70%) Millennials would vote for a heterosexual candidate, and around four in 10 would vote for a gay (42%), lesbian (41%) or bisexual (43%) candidate. Millennials are more likely to be open to a candidate being bisexual than Gen X (38%) and Baby Boomers (33%).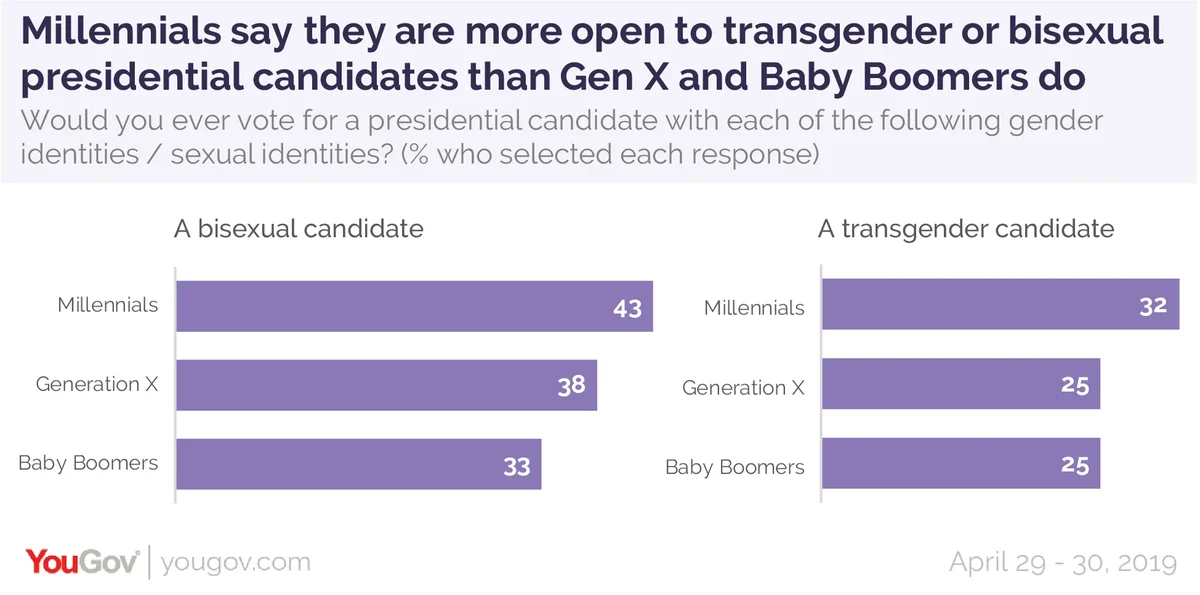 Millennials are the only generation where nearly one in five (19%) say candidate identifying as an atheist makes them more appealing. That's compared to 8% of Gen X and 5% of Baby Boomers. One in five (21%) of Millennials say a candidate identifying as an atheist would make them less appealing, compared to three in ten (31%) Gen Xers and half (51%) of Baby Boomers.