One in five registered voters who plan to vote in a GOP primary or caucus next year support businessman Herman Cain as their choice for the party's presidential nomination, a drop from 26% last week. In this week's Economist/YouGov Poll, there has been yet another shift in GOP presidential preference: after leading the field for the last few weeks, Cain now trails former Massachusetts Governor Mitt Romney.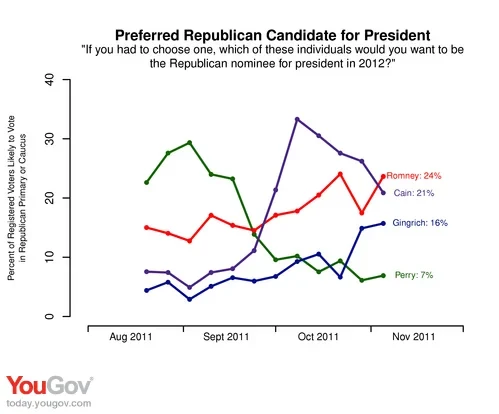 Former Speaker of the House Newt Gingrich remains in third place, with 16% support. The former frontrunner, Texas Governor Rick Perry is far back in the pack. Perry fares about as well in this week's poll as two other candidates do – Minnesota Congresswomen Michele Bachmann (herself once a frontrunner) and Perry's fellow Texan Congressman Ron Paul.
In fact, Perry has the dubious distinction of being the only well-known Republican candidate who receives as many unfavorable as favorable mentions from the voters who will likely participate in next year's delegate selection process. Nearly all Republicans voters had an opinion of Perry; half were negative. (Former Utah Governor John Huntsman also gets negative assessments from GOP voters, but far fewer have an opinion of Huntsman than have an opinion of Perry.)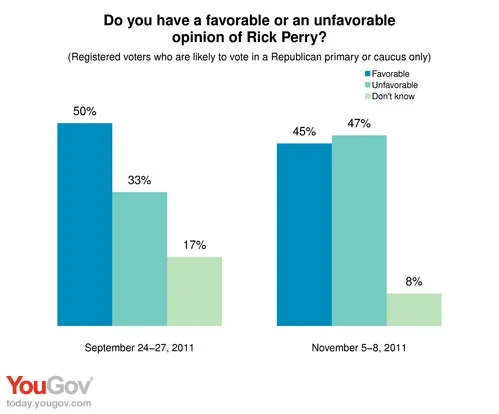 Less than two months ago, Republican voters had a different image of Perry: half were favorable, and only a third were not. At that time, Perry was at the top of the GOP field — along with Romney and the then-yet-to-announce-his-non-candidacy New Jersey Governor Chris Christie.
Herman Cain is still the most popular Republican for those voters. Two-thirds of them have a favorable opinion of him, more than say that about any of his opponents. Six in ten GOP voters like Gingrich and Romney.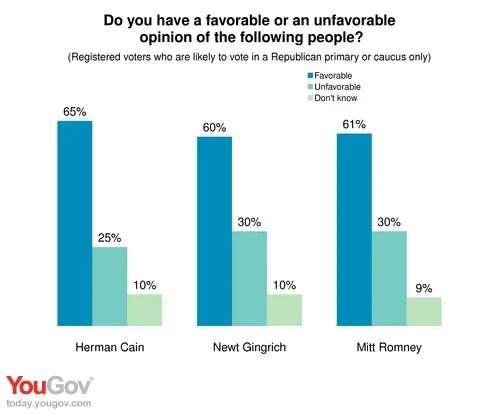 Those three men fare similarly against President Barack Obama in fall 2012 match-ups. The President continues to lead all three among all registered voters.