The federal government recently decided to resume executions of death row inmates following a 16-year hiatus.
"Under administrations of both parties, the Department of Justice has sought the death penalty against the worst criminals," Attorney General William P. Barr said in a statement. "The Justice Department upholds the rule of law — and we owe it to the victims and their families to carry forward the sentence imposed by our justice system."
New data from YouGov finds that 46 percent of Americans support the federal government's decision to resume executions.
LIVE SURVEY RESULTS
Republicans are especially likely (86%) to support the government's decision. Close to half of Independents also support (48%) it, while Democrats (28%) are the least likely to support it.
Men are considerably more likely than women to be in favor of the federal government's decision. While a slight majority (53%) of men are in favor, women are almost evenly split: 39 percent are in support, 40 percent are opposed.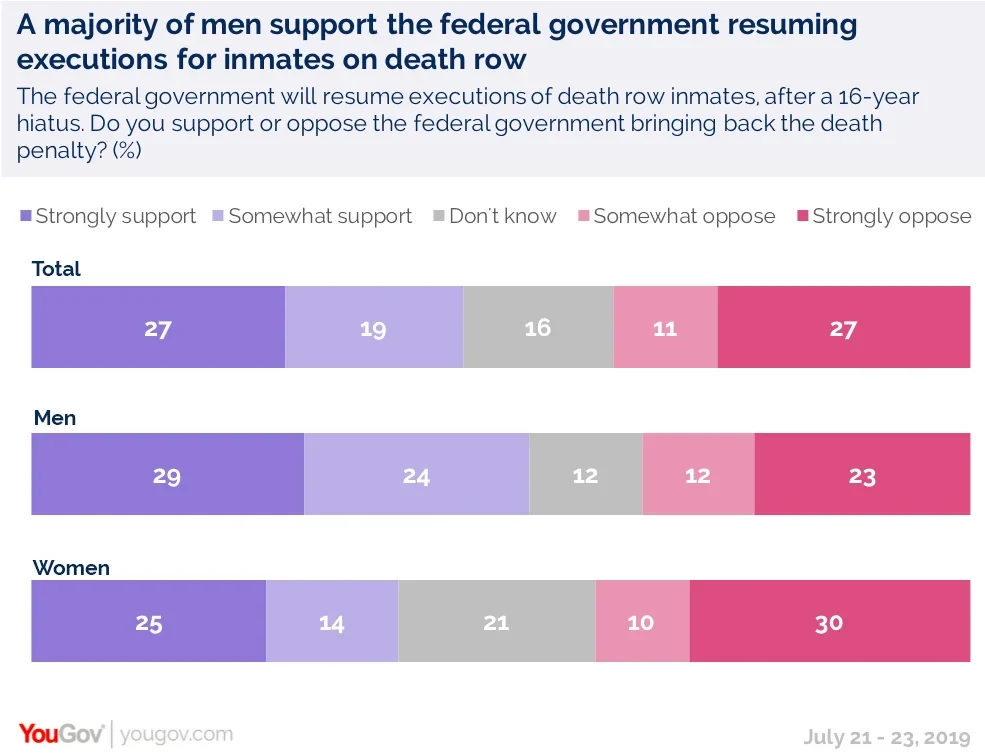 In the past 31 years, the federal government has only executed three people. As the moratorium lifts, the federal government has announced plans to execute five federal inmates, all of whom have been convicted of murdering children.
According to The New York Times, prosecutors are still seeking the death penalty in some federal cases. The gunman who killed nine African-American churchgoers in 2015 and the Boston Marathon bomber have both been convicted and sentenced to death.
Do you support or oppose the federal government resuming executions? Sign up to be a member of our panel and weigh in on news issues that matter to you.
Related: These are the most notorious serial killers in America
Image: Getty