Senator Elizabeth Warren received good news this weekend: she now leads in polls in Iowa and New Hampshire. Meanwhile, former Vice President Joe Biden had to contend with unproven charges from the sitting President, who was reported to claim that Biden was responsible for corruption in Ukraine.
In the latest Economist/YouGov Poll, Warren is the best-liked candidate among Democratic primary voters, and hardly any Democratic voters would be "disappointed" if she became the nominee. In addition, a larger share of Democratic voters now view Warren as likely to defeat Donald Trump.



A majority of Democratic voters say the three frontrunners — Warren, Biden, and Vermont Senator Bernie Sanders — could defeat the President. Less than half of Democratic primary voters say any of the other Democratic candidates would win.

The public overall isn't convinced as yet that any Democrat would defeat the President, and it divides evenly on whether Donald Trump or a Democrat will win in 2020 (although when asked how they personally would vote, registered voters give the unnamed Democrat a 10-point lead, 49% to 39%, over the President). But those overall electability totals are influenced by the very small number of Republicans who believe a Democrat — any Democrat — can win. Only 8% of Republicans think Biden or Warren could win the election. One in 10 (11%) of Republicans say Sanders can.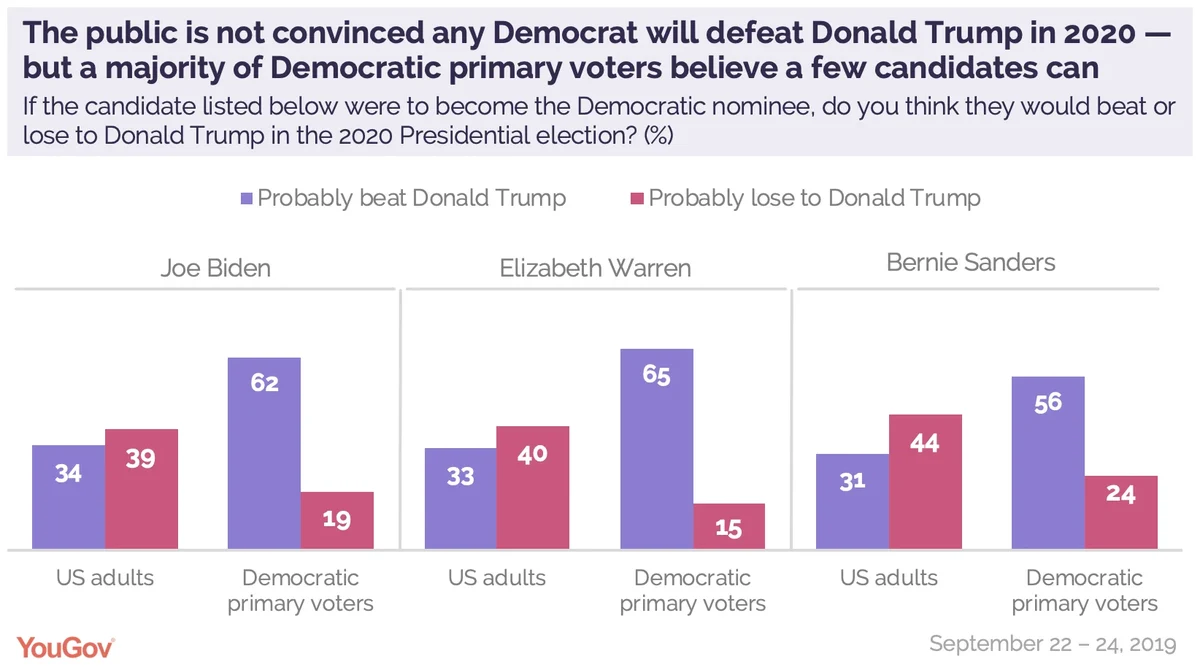 A majority of Democratic voters are considering supporting Warren, and she is the only Democratic contender for whom that is the case. Just five candidates are being considered by as many as a quarter of the voters. Besides Warren, Biden, and Sanders, that group includes South Bend Mayor Pete Buttigieg and California Senator Kamala Harris.

As for the first choice of all those who say they will likely vote in a 2020 Democratic primary or caucus, Biden and Warren are once again tied, just as they were immediately after the last Democratic debate. But there are indications that underscore Warren's position and her potential.he does especially well with many of those who historically have been more likely to vote in Democratic events: liberals, college graduates, and those paying a great deal of attention to the campaign.

Democratic voters are still making up their minds. Only 27% — one in four — say they are considering supporting only one person. The typical Democratic voter has three candidates in mind. One in three of those who say Warren is their first choice say they are also considering Biden, Sanders, Buttigieg and Harris. But even more currently favoring Biden and Sanders say they are also considering supporting Warren.

Warren's major advantage is how few Democratic voters she has alienated. Only 7% would be disappointed if she became the nominee. One in five (22%) would be disappointed with a Biden nomination and 16% would be disappointed with a Sanders win. Pete Buttigieg is the only other candidate whose nomination would distress fewer than 10% of Democratic voters. Just 8% say they would be disappointed if he won the nomination.

Warren is disliked by only a small percentage of Democratic voters, while three-quarters have a favorable opinion of her. That's the best favorable-unfavorable ratio for any of the leading contenders.

Nearly as many Democratic voters like Biden and Sanders as like Warren. But each of those men's unfavorable ratings are nearly twice as high as Warren's. Buttigieg and Harris also have higher unfavorable ratings.

Read the full toplines and table results from this week's Economist/YouGov poll here.

Image: Getty