Republicans remain staunchly committed to supporting President Donald Trump, even as the House impeachment inquiry continues. The latest Economist/YouGov Poll finds most Republicans believe that even if the president withheld military aid to Ukraine in order to get that country's newly elected president to investigate corruption allegations against the family of former Vice President Joe Biden, that action would not rise to the level of an impeachable offense. In other words, a quid pro quo wouldn't justify impeachment in the minds of Republicans.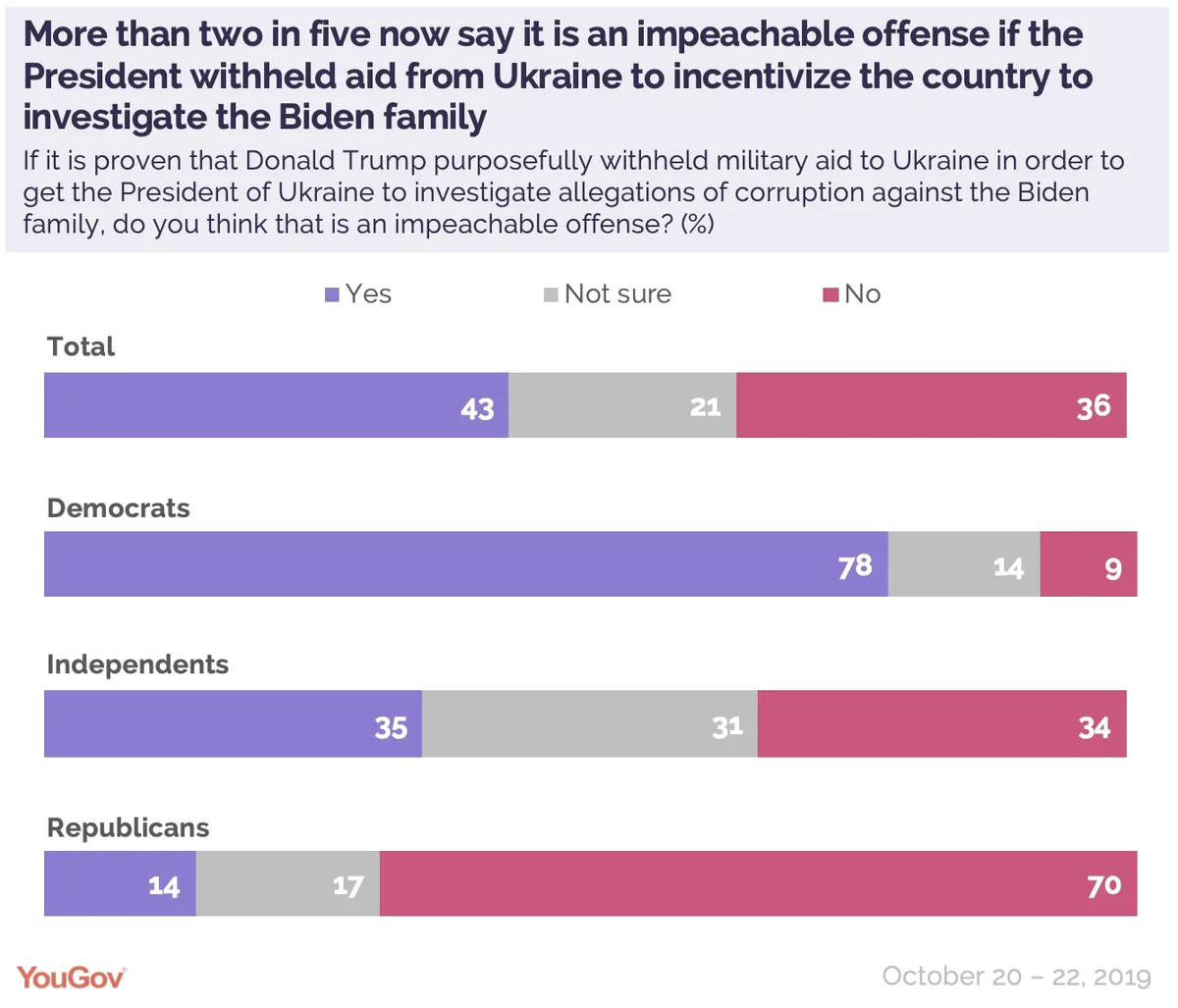 Democrats think differently, and Independents are divided.
Most Republicans don't believe there was a quid pro quo, however. Only 17 percent of Republicans say the President did ask Ukraine to investigate the Bidens in return for US assistance. The overall public thinks he did, 44 percent to 33 percent One in four aren't sure.
The GOP public remains opposed to impeachment. Only 9 percent think that the House of Representatives should impeach the President; 8 percent think that if the House does impeach do, the President should be removed from office.
As in other recent Economist/YouGov polls, public sentiment narrowly favors both those outcomes, in favor of impeachment by the House (44 percent to 40 percent), and removal by the Senate (45 percent to 41 percent). Impeachment support is driven by an overwhelming percentage of Democrats in favor (82% support impeachment and removal), with a close division among Independents.
There is one change in the GOP opinion. Republicans have altered their opinion of the President's relationship with his advisers, and are more likely to see him going it alone than there were in June. By more than five to one, Republicans say that the President's advisers give him good advice, but they now say he doesn't follow that advice. That's something the rest of the public has believed for a while.
The President's personal lawyer, Rudy Giuliani, is probably one adviser whose advice the President does follow. Several government officials have testified that Giuliani ran a "shadow policy" in Ukraine. The public doesn't view Giuliani favorably – by 46 percent to 33 percent they have an unfavorable opinion of him -- but Republicans remain positive about the former New York City Mayor by more than three to one, 66 percent to 19 percent.
The President's recent decisions may have troubled some – but not all – Republicans. Like most Americans, Republicans regard the Kurds in Syria as friendly to the United States. However, by nearly three to one, Republicans approve of the US troop withdrawal. Even those Republicans who see the Kurds as friendly approve of the withdrawal. Overall, Americans disapprove 51 percent to 30 percent. [The poll was completed before the President's Wednesday announcement of a ceasefire in Syria.]
There is less overall and GOP support for sending US troops to Saudi Arabia, something the President has promised to do.
President Trump's initial decision to hold the 2020 G-7 summit at his own golf course, now revoked, is another action the public objects to, and nearly two in three approve the change of venue –a decision made after much public uproar. By 45 percent to 25 percent Republicans found the original decision appropriate; by more than two to one, 55percent to 23 percent, the country overall did not.
Republican support for the President during the impeachment inquiry also means criticism of those running the inquiry. By 57 percent to 8 percent, Republicans have an unfavorable opinion of Representative Adam Schiff, chair of the House Intelligence Committee. 57 percent say the "Deep State" is working to overthrow the President, and 76 percent regard impeachment as a "type of coup."
Read the full toplines and tables results from this week's Economist/YouGov poll here.
Image: Getty