Most Democratic voters aren't mourning California Senator Kamala Harris's departure from the Democratic race. A majority (53%) in the latest Economist/YouGov Poll say it was good that she bowed out, and Democratic voters aren't unhappy with who remains in the race. Most Democratic voters say the remaining candidates reflect the Democratic Party — and the country as a whole — at least somewhat well.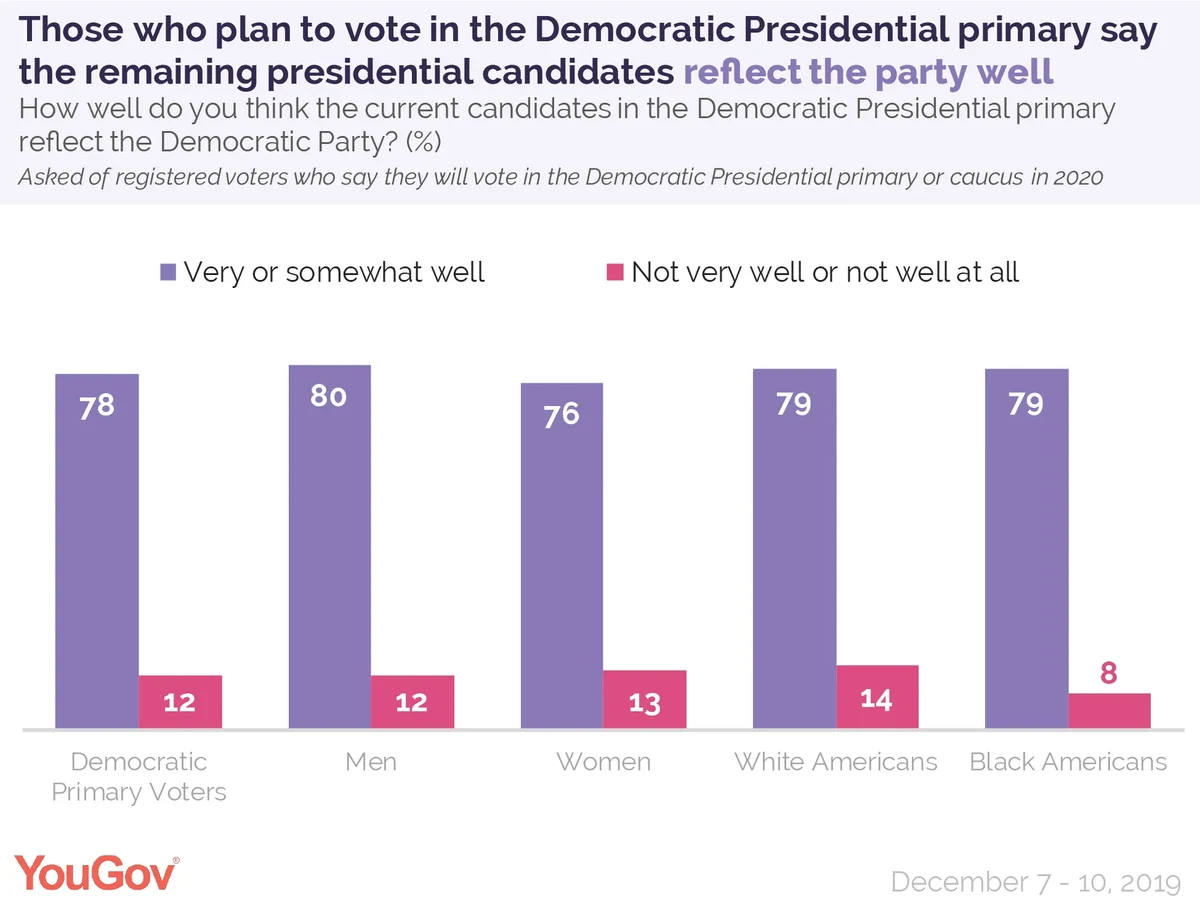 Black Americans and women — groups that may have identified more with Harris — agree.
The candidate in the lead of the Democratic horserace is at the top because of enormous support among black Democratic primary voters. Nearly half of Black Americans (49%) in the poll say former Vice President Joe Biden is their first choice for the nomination, nearly four times as many as name Massachusetts Senator Elizabeth Warren as their top choice (13%). Biden has led the field for several weeks now, returning to the position he held before the rise of Warren in early fall. His support from African-Americans is key to his position, as he trails Warren slightly among white voters (24% say Warren is their first choice, compared to 19% who name Biden).
In this week's poll, there is also a gender gap, with Warren ahead among women, but in third place among men, behind both Biden and Vermont Senator Bernie Sanders. South Bend Mayor Pete Buttigieg is nearly as popular as Sanders with white voters, but just 2 percent of Black Americans say he is their first choice. A sizable gender gap exists between white men and white women, too. White men prefer Biden, Sanders, and Buttigieg over Warren; white women are twice as likely to choose Warren as they are to pick each of the three leading male contenders.
Three candidates, former Housing and Urban Development Secretary Julian Castro, businessman Tom Steyer, and Colorado Senator Michael Bennet each score 1 percent, while the rest of the field has yet to register with voters.
Black Democratic voters — despite their support for Biden and their belief that the current field represents the party and the country — are more likely than Democratic primary voters as a whole to want additional candidates to enter the field. A third of Black Americans say this (32%), compared with less than a quarter of all Democratic voters (23%).
A few candidates' potential nominations could divide the Democrats: one-third of Democratic voters would be disappointed if Hawaii Representative Tulsi Gabbard (35%) or self-help author Marianne Williamson (34%) were to be nominated, but neither is among the leaders. Three in ten (30%) would be troubled if Michael Bloomberg won the nomination. Those three candidates are the only ones who receive negative evaluations from Democratic voters: Williamson (37% unfavorable, 20% favorable); Bloomberg (45% unfavorable, 38% favorable); and Gabbard (44% unfavorable and 25% favorable).
Liberal Democratic voters (a majority of the party) are even more likely to be concerned by these three being nominated. Just one in five would be disappointed if any of the four leaders Biden, Warren, Sanders, Buttigieg) won the nomination, but moderate and conservative Democratic voters are more worried about Sanders and Warren.
Democratic voters have consistently preferred a candidate who can win to one who agrees with their positions on most issues. But there is more interest in a candidate who takes policy positions voters like among certain groups: younger voters, Democratic primary voters who think of themselves as independents rather than Democrats, and those who say they are ideologically moderate or conservative.
Those most concerned about having a winning nominee favor Biden first (30%) and Warren second (24%) for the Democratic nomination; just 11% in this group choose Sanders. Those most concerned about policy agreement rank Sanders first with 24%, while 19% choose Biden and 17% pick Warren.
Related: On the brink of impeachment, President Trump holds onto a good economy
See the toplines and table results from this week's Economist/YouGov poll
Image: Getty