(Week of 3/10/2012) A majority of GOP voters are following the presidential campaign very closely — and they need to. In the latest Economist/YouGov Poll, most registered voters who usually vote in GOP primaries say they have changed their minds at least once — and nearly one in four have changed their choice two times or even more.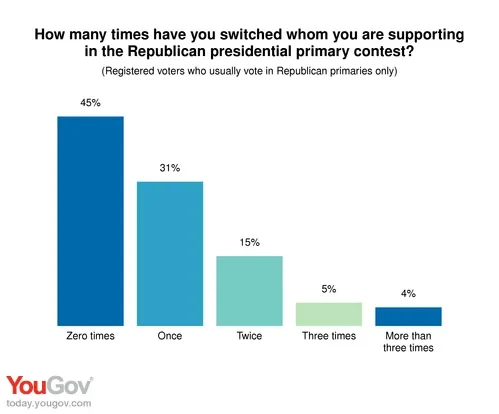 Those who have been most mobile are GOP voters who identify with the Tea Party movement, and several candidates with Tea Party support, like businessman Herman Cain, Texas Governor Rick Perry and Minnesota Congresswoman Michele Bachmann have left the race. Nearly 70% of Tea Party supporters have changed the candidate they support at least once. So have 59% of conservative GOP voters. On the other hand, fewer than half on non-Tea Party GOP voters say they have switched support.
This week's poll, conducted after former Pennsylvania Senator Rick Santorum's Kansas victory last Tuesday, finds the GOP contest tightening up once again — albeit with Mitt Romney maintaining the lead he re-established in recent weeks. Romney enjoys the support of 28% of Republican primary voters, while Rick Santorum follows with 24% and former House Speaker Newt Gingrich is not far behind with 21%. Once again, Texas Congressman Ron Paul trails.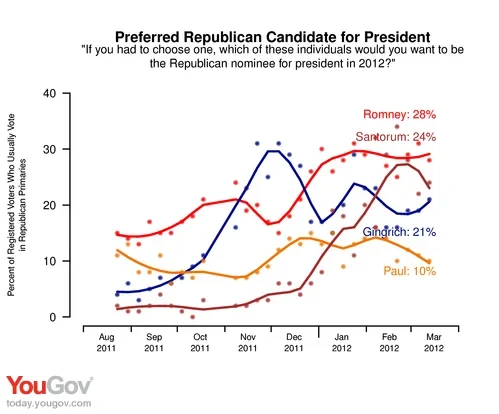 Romney fares poorly with the 38% of GOP voters who see themselves as part of Tea Party. He also fares poorly in the South and among self-described conservatives.
Perhaps all the movement in support in the last few months indicates the unwillingness of many Republican voters to be content with their choices. This week, although 47% are satisfied, a slightly larger percentage are not or aren't sure. In the early part of the campaign Tea Party voters were more satisfied than other GOP voters, but that is no longer the case.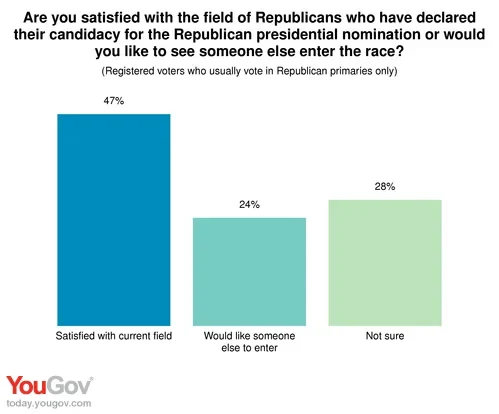 GOP voters are attentive to the Republican primary contest. But their party's campaign activity may also be making Democrats pay attention. In this poll, over three quarters of those who say they usually vote in Democratic primaries are following the current campaign somewhat or very closely.
Among all adults, in all cases this race would be the President's to lose. But as with Republican voters, more think Romney could win that think either Santorum or Gingrich could.
In the actual head-to-head matchups between the GOP candidates and President Obama, none of the GOP candidates beat the President, at least if the election were being held today. But Romney (and Santorum) run better than do Gingrich or Texas Congressman Ron Paul.
But there is a difference between thinking someone could win and liking them. Santorum is the best liked of the remaining GOP contenders, with 71% of GOP voters having a favorable view of him. Mitt Romney is not too far behind at 67%, but Newt Gingrich clearly suffers from a likeability problem among the Republican electorate – only 58% of GOP voters view him favorably.