(Week of 4/14/2012) Former Pennsylvania Senator Rick Santorum's exit from the Republican nomination contest met with general satisfaction from most (though not all) Republican primary voters. This weekend's Economist/YouGov Poll found just over two-thirds of GOP voters relieved or satisfied that Santorum had quit the race. The rest were mostly dissatisfied with Santorum's decision.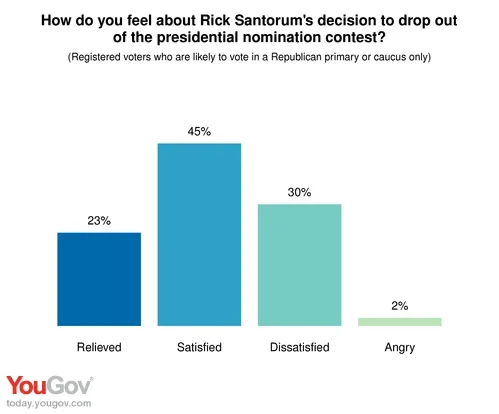 Only 2% said they were angry about Santorum's withdrawal, which ended the competition between likely nominee Mitt Romney and his most formidable challenger. But nearly half of Republican voters don't think the remaining candidates—former House Speaker Newt Gingrich and Texas Congressman Ron Paul — should also leave the race right now. They'd like them to stay in until Romney earns enough delegates to clinch the nomination, something unlikely to happen for at least several weeks.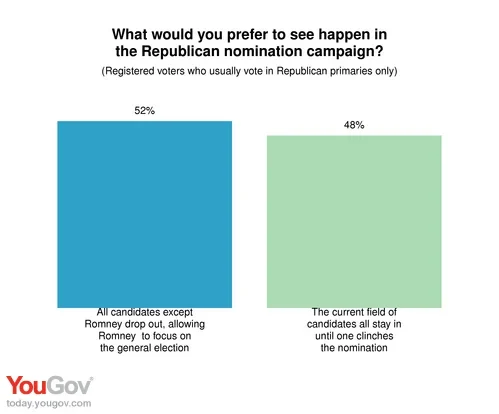 In fact, not too much has changed in the week since Santorum's withdrawal. Most GOP voters still view Romney as something other than a conservative, nearly half say Romney says mostly what he thinks people want to hear and not what he really believes, and nearly a third still have an unfavorable opinion of him. And while
the vast majority of GOP voters say they will vote for Romney against President Obama, many Republicans voters still don't prefer him as their party's nominee. Romney has picked up considerable support in the last week, but half of GOP voters still are unsure or continue to want someone else.