(Week of 4/28/2012) This week's Economist/YouGov poll finds President Obama returning to a small lead of 48%-43% over likely GOP challenger Mitt Romney among registered voters. In last week's poll, Obama and Romney were locked in a dead-heat, with Romney ahead by one point (47%-46%).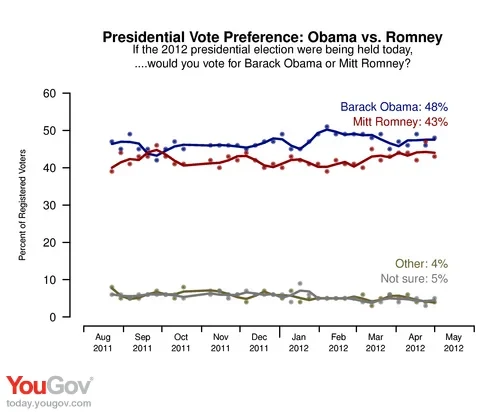 The divisions within the American electorate this year appear very similar to the divisions in the last presidential race. Indeed, 88% of Obama supporters report having voted for Obama in the 2008 election, while 87% of Romney supporters report that they cast their ballots for John McCain.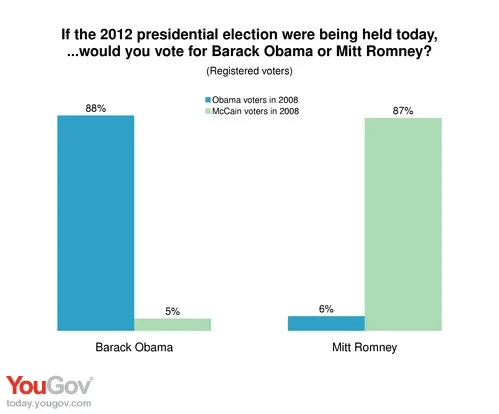 The generational divide in American politics has been a topic of conversation among pundits in recent weeks, and this poll shows that the divide is real. Among young people (18-29 years of age), Obama leads Romney by over twenty percentage points; among older citizens (over 65 years of age), Romney leads Obama by ten.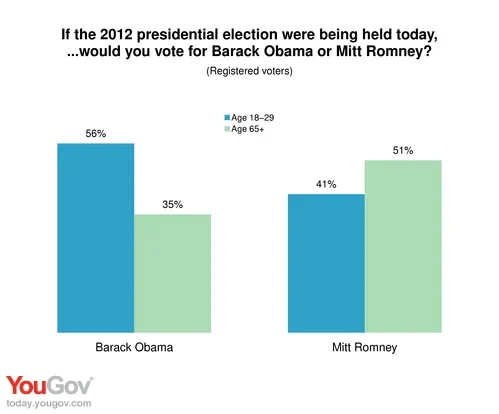 The poll for this week also shows the President's approval rating up slightly, to 46%. 49% disapprove of the President's performance in office.