March marks the anniversary of when the World Health Organization declared COVID-19 a "global pandemic" and much of the United States began quarantining and enforcing social distancing protocols. One year later, a Yahoo News/YouGov poll reveals the degree to which coronavirus has directly affected Americans, as well as the racial disparities in hospitalizations and deaths.
The new poll, which was conducted March 4 – 8, reveals that nearly two-thirds of Americans (64%) have either been infected with coronavirus themselves (9%) or have a family member (39%) or close friend (39%) who was infected. As of March 11, there were more than 29 million cases and 528,000 deaths officially reported in the United States that were attributed to the coronavirus' spread.
One-third of Americans (37%) either had a close friend (24%) or family member (16%) hospitalized from COVID. Black (47%) and Hispanic Americans (52%) are much more likely than white Americans (33%) to report knowing someone who went to the hospital because of the severity of their coronavirus condition. Respondents were able to select multiple options if they had different categories of people hospitalized (for instance, themselves and then a family member), so the sum of each option does not equal the total.
The same trend applies to the Americans who know someone who died from COVID-19. One-quarter of Americans (23%) have seen a close friend (19%) or family member (10%) die after contracting the coronavirus. Black Americans (34%) and Hispanic (45%) are, again, much more likely than white Americans (23%) to have been impacted by the pandemic in this way.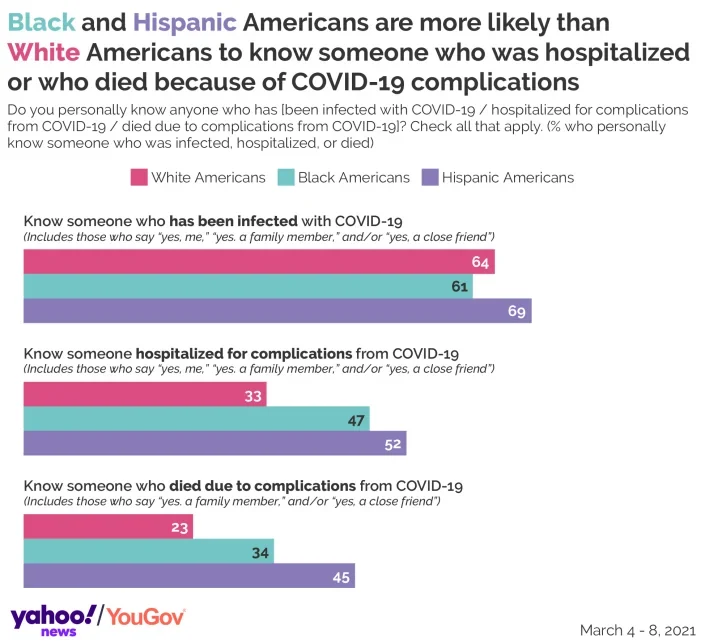 See the toplines and crosstabs from this Yahoo News/YouGov Poll
Methodology: The Yahoo News survey was conducted by YouGov using a nationally representative sample of 1,629 U.S. adults interviewed online from March 4 to 8, 2021. The respondents all participated in a prior Yahoo News survey conducted either March 10-11, 2020, or March 25-26, 2020, and were contacted to participate. This sample was weighted according to gender, age, race and education based on the American Community Survey, conducted by the U.S. Bureau of the Census, as well as 2020 presidential vote (or non-vote) and voter registration status. Respondents were selected from YouGov's opt-in panel. The margin of error is approximately 3.4 percent.
Image: Getty