(Week of 7/14/2012) The presumptive Republican nominee currently is seeking a running mate, and may announce his choice soon. But Americans admit they know little about some of the most often-mentioned contenders. And many in this week's Economist/YouGov Poll claim that, whomever Mitt Romney picks, the choice will have little impact on how they would vote. But the choice matters more to some of the voters Romney needs most.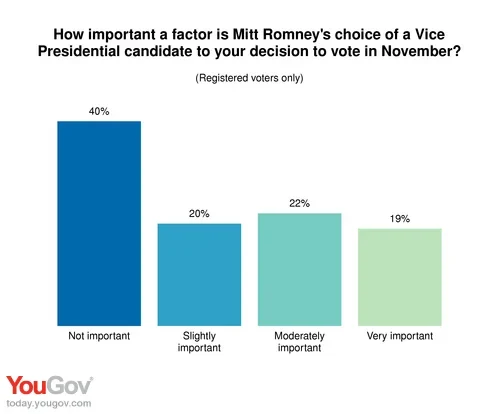 Only 19% of registered voters say the vice presidential choice is very important in their vote choice. But those who care the most include some in the GOP base who Romney struggled to gain during the primary season. 31% of Tea Party followers say the vice presidential choice will matter a lot.
One in four voters who say they now plan to vote for Romney could also be very affected by his choice, another indication that he still needs to shore up support within his party. Obama voters are much less likely to say the VP choice matters.

But there is no consensus about who that nominee should be. 34% of Republicans believe former Secretary of State Condoleezza Rice is the most qualified, but nearly as many say that they don't know which of the potential nominees (Rice, Minnesota Governor Tim Pawlenty, Louisiana Governor Bobby Jindal, Ohio Senator Rob Portman and Florida Senator Marco Rubio) best fits that description.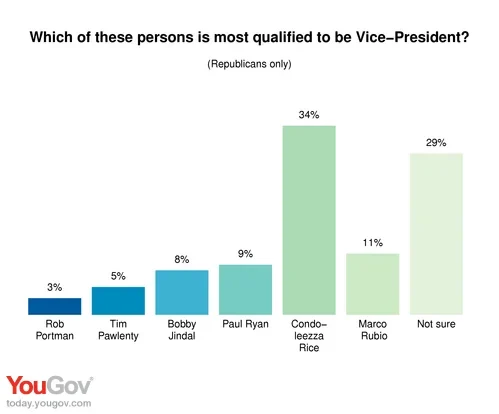 There is still relatively little knowledge about all the possibilities — except of course, for Rice. 85% of Republicans know she has been U.S. Secretary of State. Slightly more than half of Republicans (54%) know Jindal is a Governor, while less than half place Ryan in the U.S. House (42%), Rubio in the Senate (44%), and Pawlenty in the Governor's office (48%). Far fewer Republicans — 24% — know that Portman is a Senator.
But when asked who Romney will wind up selecting as his running mate, Marco Rubio leads Rice, at least among Republicans. Nearly one in five Republicans think Rubio will be the nominee, and just 10% think Romney will pick Rice.