(Week of 2/23/2013) One of the most intractable judgments held by Americans is that the economy is still on the downslide. Despite the slow drop in unemployment and the rise of the stock market, 39% in this week's Economist/YouGov Poll say the economy is getting worse. Just 25% say it is getting better.
Economic assessments improved during the first part of the President's first term, but negative assessments soared in mid-2011. In 2012, as the President campaigned for his re-election, those negative percentages dropped somewhat. But there have been spikes in concern following poor jobs reports and during times of fiscal uncertainty, and that appears to be happening again this week, with the lack of progress in Washington - so far - avoiding the automatic spending cuts due to begin this Friday.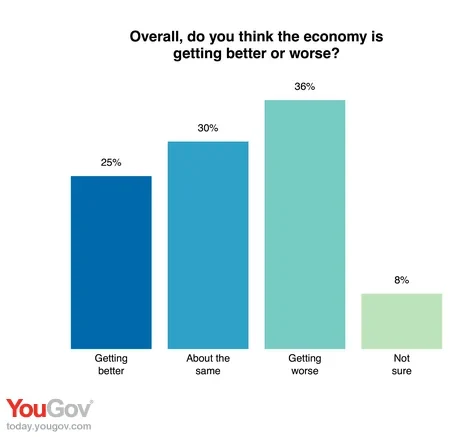 However, economic assessments are not just a financial issue, but also a partisan battleground. The difference in the way Republicans and Democrats view the economy suggests they see two different nations. Democrats are four times as likely to believe the economy is improving as to think it is worsening; Republicans are more than 16 times as likely to say things are getting worse than to see improvement.
Those with higher incomes are more likely to be Republican, so it may come as no surprise to find that higher income Americans in this poll (those with yearly family incomes above $100,000) are more negative about the economy than those whose incomes do not exceed $40,000. Those with higher incomes are ten points more likely than those with lower incomes to think the economy is worsening.
College graduates are more positive than those without a college degree; younger Americans more hopeful than senior citizens are, even though the impending spending cuts exempt Social Security payments.