(Week of 5/11/2013) With additional parts of the Affordable Care Act set to go into effect next year, this week the Republican-controlled House of Representatives will once again attempt to repeal the bill. This week's Economist/YouGov Poll finds just over a third of Americans – which includes 69% of all Republicans – desire a repeal of the bill.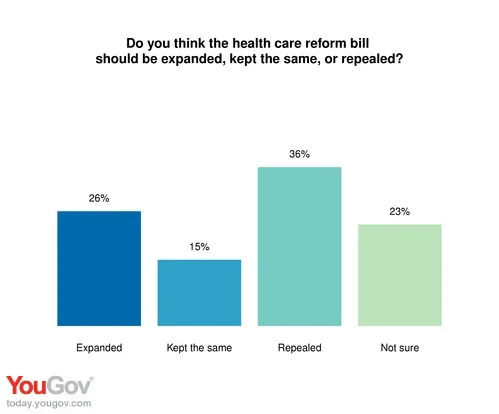 A larger share of the public would keep – or even expand – the bill's reach.
One thing continues to be true, as it has been since before the bill was passed in 2010: Americans expect to pay more for health care (in taxes or in insurance costs) with Obamacare, and aren't really sure how the plan will influence their own health care. 55% think their health care costs will rise.
As for the quality of care, 36% think their personal care will get worse; just over four in ten report that they expect no change, and only 12% say things will get better for them.
Again, many of these answers are partisan. For example, seven out of ten Republicans say their own health care will worsen. But 38% of independents and 13% of Democrats think the same.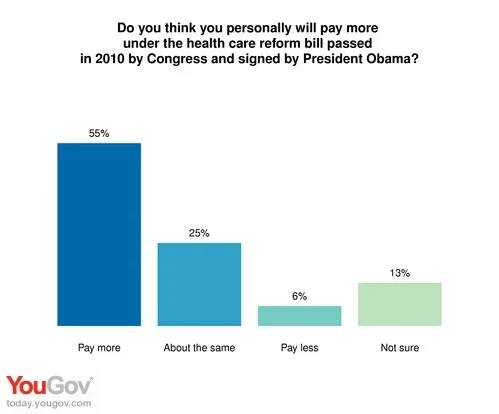 Less than half the country recognizes that the Supreme Court upheld the constitutionality of Obamacare last year; 21% believe the Court declared that it was not constitutional, and another 31% aren't sure one way or the other. Only 44% of Republicans knew the Court upheld the plan (though only 50% of Democrats knew either). And when it comes to the government's responsibility to make sure Americans are provided health care coverage, Americans are divided: 44% think the federal government should see to it that everyone has health care coverage; 43% think this is not a role for the government.
One health care question where there is overwhelming agreement is whether Congress should try to exempt members and staff from the new health care rule requiring coverage for all, and fining those who do not comply. Just 47% in the latest Economist/YouGov Poll are aware of this attempt by Congress to exempt themselves, but by more than 20 to one Americans think that attempt is wrong.
This is not an issue that divides by party: 85% of Democrats, 92% of Republicans, and 89% of independents want Congress to follow the same rules as the rest of the country.