Americans are increasingly reluctant to take an active role in the world, while perceptions of Iran are improving after the country's leadership has made efforts to reach a nuclear agreement with the US.
As the American public has moved away from confrontation – opposing the wars in Iraq and Afghanistan and military involvement in Syria – the possibility of negotiations with Iran over the dismantling of its nuclear program has changed perceptions of Iran. In the latest Economist/YouGov Poll, they say they support personal presidential engagement with that country.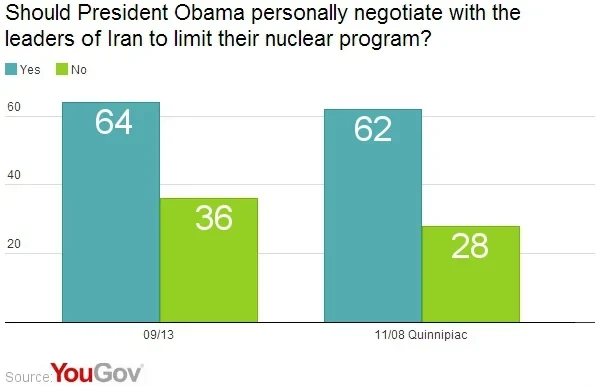 Americans favored presidential discussions with Iran in a poll conducted just after his election in 2008, and they still do. There is bipartisan consensus that the President should be personally involved: majorities of both Democrats and Republicans are in favor. This Economist/YouGov Poll was conducted after Friday's phone conversation between the President and Iranian President Hassan Rouhani.
As for how to negotiate, about as many support a specific reward as favor a particular threat. One in four want to threaten harsher economic sanctions, while just about the same percentage would reward Iran with the easing of sanctions. One in four would also offer the resumption of diplomatic relations.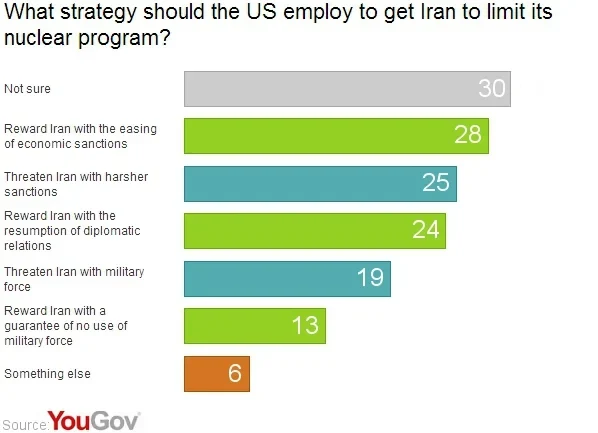 Democrats are more likely to offer the carrot in negotiations; Republicans are more willing to threaten the stick. Nearly a third overall aren't sure how to handle Iran.
Americans still don't trust Iran: half regard the country as at least somewhat of a threat. But just 13% call it an immediate and serious threat to the United States. In 2009, there was somewhat more concern about Iran. In September of that year, 21% saw Iran as an immediate threat; more than six in ten felt it was somewhat of a threat. This week, Republicans (72%) are more likely than Democrats (43%) to regard a threat from Iran as at least somewhat serious
However, the overture from Iran has softened some about the country – which has been viewed as an enemy by many since the seizure of 52 Americans in Teheran in 1979 and the subsequent break-off of diplomatic relations between the two countries. In fact, just two weeks ago, 52% of respondents in an Economist/YouGov Poll viewed Iran as an enemy. This week, while few call Iran "friendly" towards the United States, the number thinking it is an "enemy" has dropped 16 points, to 36%.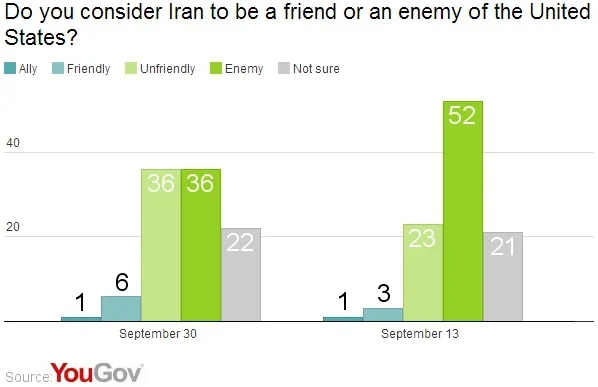 As for the President, he fares better with the public in their judgment of him following the U.S.-Iran presidential phone conversation than he does when Americans assess his handling of the situation in Syria, where just a few weeks ago he seemed ready to order U.S. military action there. Only 31% approve of his handling of the situation in Syria, while 48% disapprove. Opinion of his performance in dealing with Iran is at least evenly divided.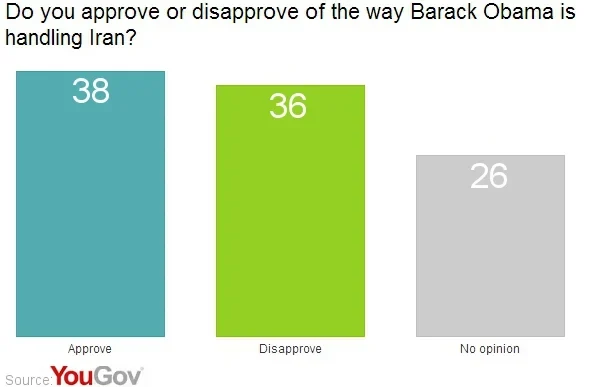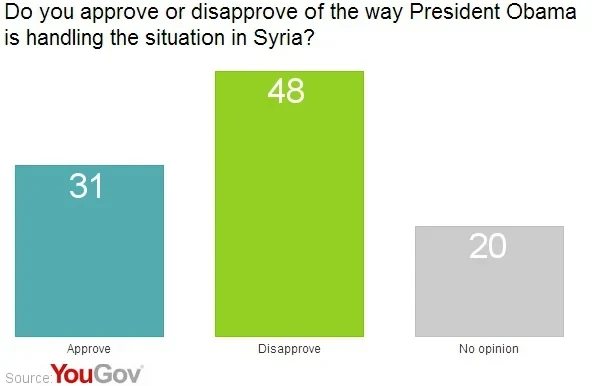 Americans overwhelmingly disapprove of using military force against Syria, and aren't sure what the President will do if Syria violates the United Nations Security Council resolution to eliminate Syria's chemical weapons. However, most do not think that the UN resolution ends the weapons crisis.
The President may be benefiting from his "talking strategy" with Iran as the American people have turned away from thinking that a confrontational approach would keep Americans safe. This week, 59% think that staying out of other countries' affairs is more likely to keep the U.S. safe from terrorism than confronting groups and countries that promote terrorism directly.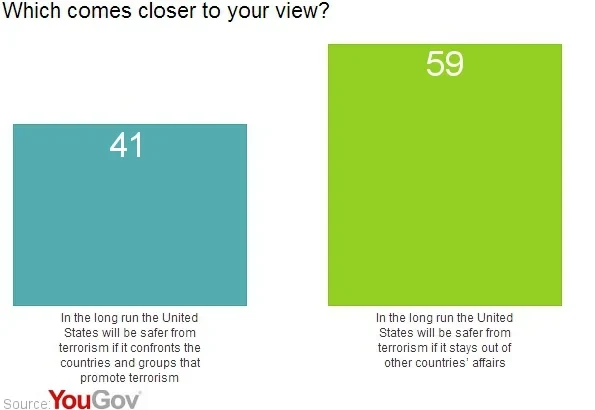 As recently as three years ago, more favored confrontation.
Image: Getty
Full results can be found here.
Economist/YouGov poll archives can be found here.