Two in three Americans support the death penalty, but many do not think it's an effective deterrent against serious crimes.
In recent years European drug manufacturers have refused to sell certain drugs to United States' corrections facilities to use for capital punishment, after US production of necessary drugs stopped and European law prohibits Europeans from assisting or aiding executions. This has led to a shortage of necessary drugs in the United States, causing increasingly desperate states to source the drugs from alternate (and potentially illicit) sources, or creating new drugs for execution, some of which go untested before use. Several inmates have brought lawsuits against states for using these untested drugs, while many courts have held up executions - effectively imposing a moratorium - until the proper cocktail of drugs can be secured by state governments.
According to the latest YouGov research, a majority of Americans (66%) favor the death penalty. Older Americans are more in favor of the death penalty than younger Americans, and Republicans (75%) and Independents (71%) tend to support the death penalty more often than Democrats (55%).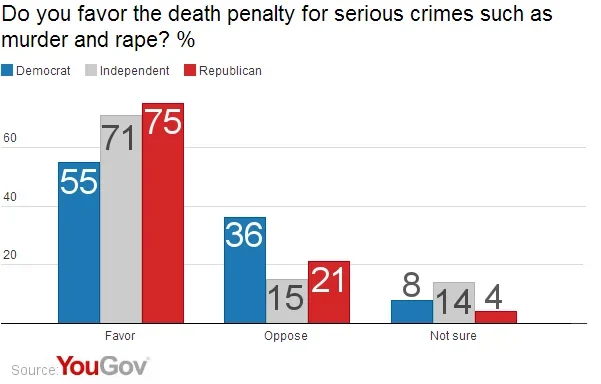 Though a majority of Americans support it, 45% of people do think that some innocent people have been executed within the last five years. This includes a majority of Democrats and those aged 18-29.
The death penalty may be supported as a punishment for murder and other serious crimes, but most Americans do not think it acts as a deterrent for commiting murder. Americans under the age of 45 tend to be the most skeptical of the deterrence value of executions, while older Americans think that it is more effective. Only Americans aged 65 and older are more likely to say that it deters murderers than not (45% to 39%).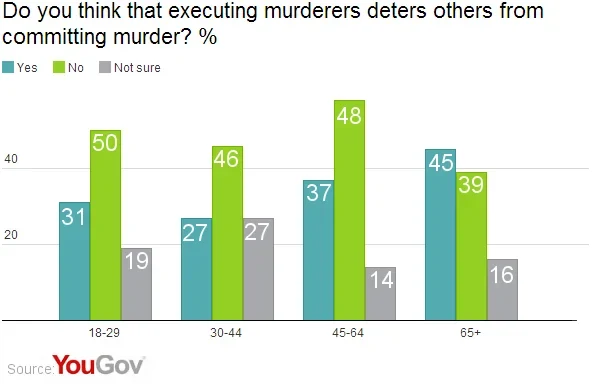 Of those who support the death penalty, people generally tend to approve of the methods which have been most commonly used in the United States in recent years. Lethal injection is the most popular form of execution with 82% of people saying that they approved of it as a method of execution, more than 20 percent ahead of the second place finisher, the gas chamber. Although lethal injection is the most widely used method of execution in the United States, there have been recent studies that lethal injection can cause an intense amount of pain for inmates. Death by firing squad is relatively divisive compared to the other methods as a majority of men (55%) approved of it, while only 29% of women did, and a majority of Republicans (58%) approve, while only 27% of Democrats do. 27% of Americans approve of beheading as a method of execution.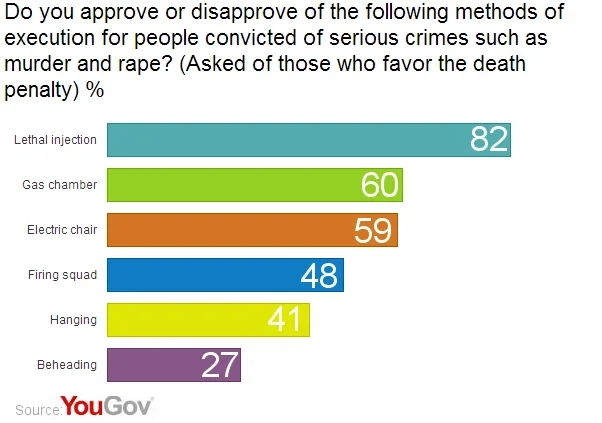 Though support for the death penalty varies greatly, even those who oppose the death penalty approve of allowing executed prisoners to donate their organs to other people. Democrats (72%) are more likely to approve of this than Republicans (66%).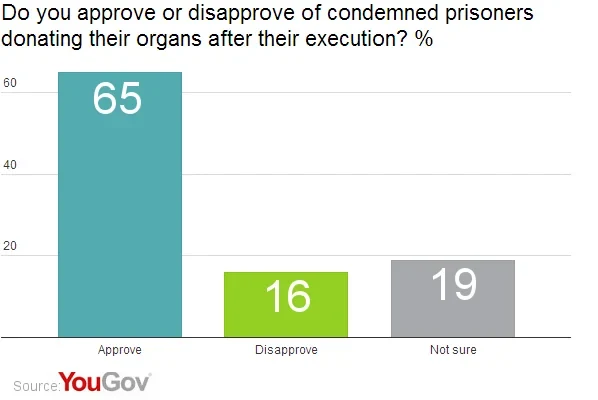 The death penalty has been abolished in 18 states and the District of Columbia but still exists in the majority (32) of states, though even in some of these 32 states the death penalty is rarely, if ever, used.
Full poll results can be found here.
Image: Getty Images