Nearly half of Americans oppose tying teacher pay to standardized test results, with many blaming our poor educational performance on parents, schools and the kids themselves.
The results of a recent international study comparing the education systems of various wealthy countries around the world contains little comfort for the United States. Though the performance of American students in three key areas – math, science and reading – has not gotten worse in recent years, it has not gotten better either. What's worse, the performance of most other countries – 40 of the 65 examined – has improved.
The latest research from YouGov suggests that, for Americans, there isn't an easy answer as to why we're increasingly falling behind.
Allowed to choose the three most important reasons why our students are struggling from a list of fourteen, the most popular responses are to say that parents don't help their children enough (30%), American kids are lazy (30%), school is too easy and kids aren't pushed (29%) and schools are poorly funded (27%). The least popular reason, that American students aren't as smart as foreign children, was chosen only 3% of people say is an important factor in lagging American performance.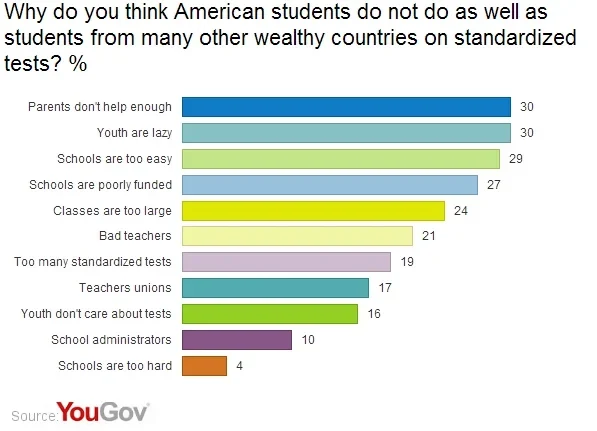 In general, though, Americans don't think that our children receive as good of an education as the children of other wealthy countries.
49% say that American children receive a worse education, while 22% say that the quality of education is roughly the same in the US as in other states – something largely supported by the PISA study, which says that the US isn't the worst country studied but is instead a little below average. 10% say that American children generally receive a better education.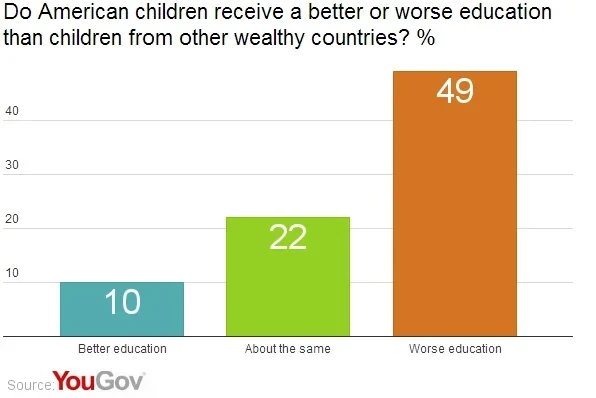 Asked whether teacher pay should be affected by the standardized test results of their students, 48% of Americans say that it should not. 28% of Americans support tying teacher pay to tests results, something which has been proposed by many education reformers and has actually been adopted in cities like Houston and states like Ohio.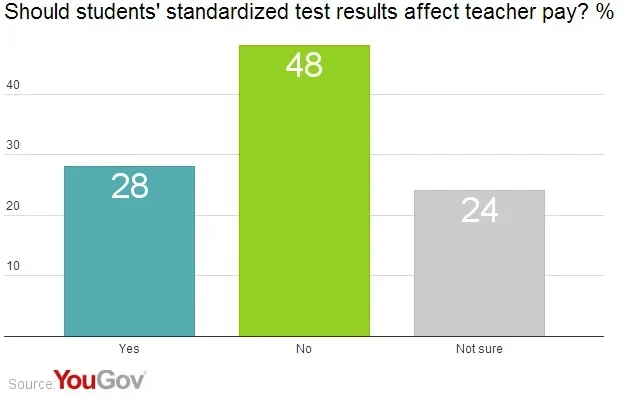 Support for tying pay to test results is highest among Republicans, but even Republicans tend to oppose the move, with 43% against it and 36% supporting it. Most Democrats (53%) oppose it, while only 21% support it.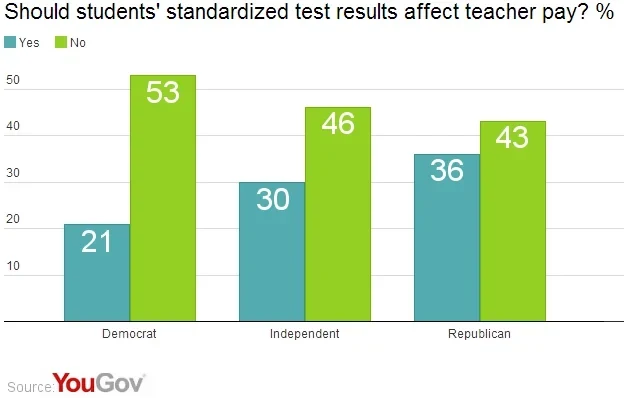 American students only do better than average when it comes to reading, though the reading score of 498 was not considered 'measurably' different from the average of 496. The US math and science scores were both a little less than the averages.
Full poll results can be found here.
Image: Getty Images