Most Americans agree that parents should be allowed to homeschool their children, but also believe that homeschool students should be tested and monitored by states.
Homeschooling has entered the news in recent weeks as now grown-up homeschoolers begin to talk about their experiences and call for closer regulation of homeschooling. Over the past forty years homeschooling has gone from a rare, often illegal, practise to one which legally educates around two million children. State laws vary widely, however, from Alaska which has very few rules governing homeschooling, to places like Massachussetts where parents wanting to homeschool their children are evaluated by officials as part of an approval process.
The latest research from YouGov shows that Americans widely support the right of parents to homeschool their children. 71% of Americans say that homeschooling should be allowed, while only 16% disagree and say it shouldn't be. Appropriately, support for homeschooling is lowest in the Northeast, where 61% of people support the right to homeschool and 21% say that it should be illegal. States in the Northeast generally have some of the strictest homeschooling laws in the country.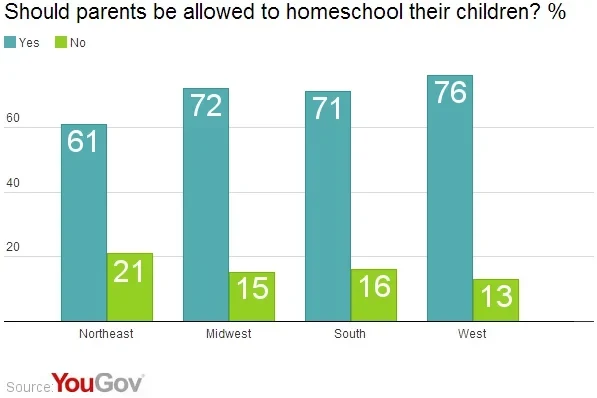 Many parents who decide to homeschool their children do so for religious and moral reasons, with homeschooling being particularly popular in conservative Christian circles. Others homeschool their children because they feel the quality of education at local schools is poor. Most Americans (56%) agree that the quality of 'moral education' for homeschooled children is better than would be at a public school, and many (36%) also say that the quality of 'academic education' is better for homeschooled children.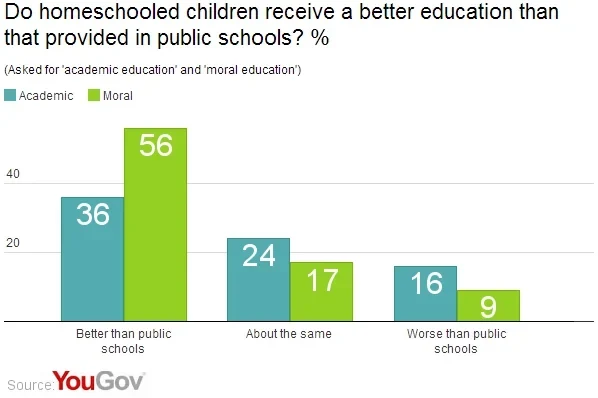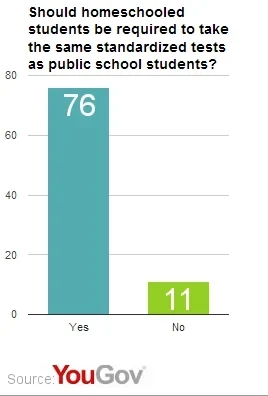 Nevertheless, most Americans don't agree with some of the homeschooling movement's more prominent activists, with most Americans (76%) wanting homeschooled students to take the same standardized tests that public school students take, something that is not the case across much of the country.
47% of Americans also want states to 'closely regulate' homeschooling, while 28% support 'loose' regulation. Only 13% don't think that homeschooling should be regulated at all. Significantly, partisan differences are limited. 63% of Democrats and 42% of Republicans want 'close regulation' of homeschooling. Only 8% of Democrats and 18% of Republicans don't think that homeschooling schould be regulated at all.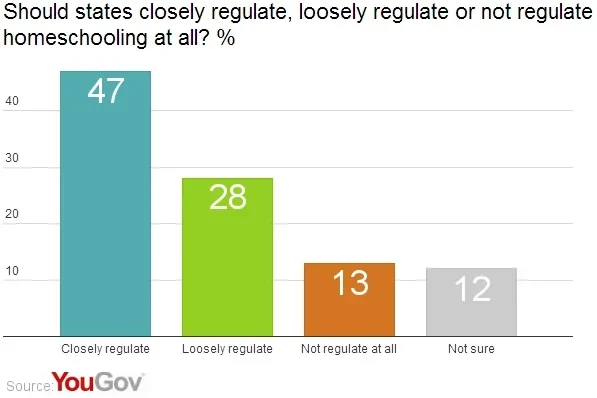 Homeschooling in other countries can often be much more difficult than it is in the United States. A German family living in Tennessee is currently fighting deportation back to Germany after they failed to win refugee status in the United States. They fled to the US after falling foul of German laws that prohibit homeschooling. Many European countries ban homeschooling while most others regulate it closely.
Full poll results can be found here.
Image: Getty Images