More than half of Americans have little to no confidence that Sochi will be safe from terrorist attacks, but most people still want the US to participate.
Americans like the Winter Games: more than two-thirds say they will watch at least some of next month's Olympics. But they will be watching the Games with many more concerns than just how well American athletes perform. The latest Economist/YouGov Poll finds most Americans have little confidence that the Games in Sochi, Russia will be safe from terrorism.
The bombings in nearby Volgograd have clearly affected American attitudes. But there are even more reasons for Americans to worry about the Olympics. There is little fundamental trust of Russia or of the Russian leadership. Only 19% of Americans have a favorable view of Russian President Vladimir Putin, and just 23% say Russia is a friend of the United States. If they had their choice, Americans would have set the Olympics someplace else than Sochi.
Only 15% think the choice of Sochi was a good one. In fact, of the three finalists for this year's Winter Games, only 8% would have picked Sochi as the Games' location. Americans would have preferred the International Olympic Committee to have chosen Salzburg, Austria as the host location. 55% favor Salzburg. Sochi finishes third, behind Pyeongchang, South Korea.
And while Americans will watch at least a little of the Games, they clearly would rather do it in the comfort of their own homes than in a venue in Sochi. Even if Olympic fans could afford the trip, only 22% of them would want to travel to Sochi to watch the Olympics in person.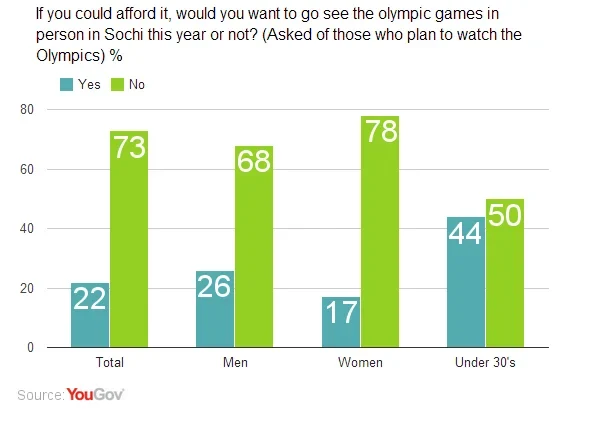 Men would be more willing than women to watch in person, but even two-thirds of them would stay home. Young adults – those under the age of 30 – are the most willing: four in ten of them would make the trip.
There are other reasons than terrorism not to travel to Sochi. More than two-thirds of Americans are aware of the new Russian laws that fine anyone caught "promoting homosexuality." President Obama and Vice President Biden will not attend the Games in person, and the official U.S. delegation will include a number of openly gay and lesbian athletes. Americans approve of both these decisions.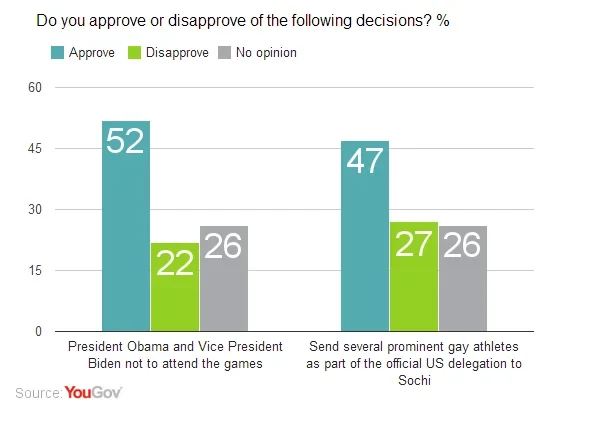 Typically, Republicans disapprove of almost any decision made by the incumbent Democrat: but they divide closely on the President's decision not to attend. 38% of Republicans approve, while 35% disapprove. However, half of Republicans disapprove of the decision to include prominent gay athletes in the U.S. delegation. Among the public overall, there is support for this action.
While Americans support the President's decision not to attend, they don't want the U.S.'s Olympic athletes to stay away. By more than three to one, they want Americans athletes to participate in the Games.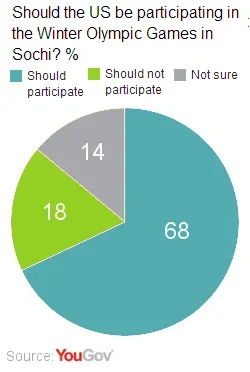 Those who do not want American athletes to participate cite safety concerns and the threat of terrorism as a reason not to attend. More than one in three note concerns about Russia's treatment of LGBT people. That reason is as important as the threat of terrorism among those 45 and younger when they cite reasons they believe the U.S. should pull out of the Games.
But despite the terror threat and concerns about athletes, Americans are still planning to watch. They will mostly root for American athletes, although nearly one in five likely viewers say that at least half of the athletes they will root for come from countries other than the U.S. For many Americans, the Olympics are both a competition among athletes and a competition among countries.
There are some favorite sports – figure skating is by far the favorite, with bobsled, ice hockey, ski jumping, snowboarding and speed skating all bunched in popularity.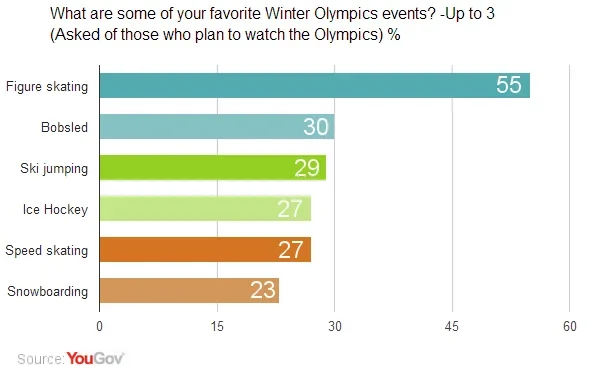 What gives figure skating its big lead is that it is overwhelmingly popular with women viewers, 76% of whom say it is one of their favorite Winter Olympics events. That is more than twice the percentage of men who cite figure skating. Men are nearly twice as likely as women to say that Ice hockey is among their favorites. The other top events for men involves speed and a significant amount of danger: the bobsled and ski jumping.
Snowboarding is especially popular with those under the age of 30; those 45 and older favor the bobsled more.
Image: Getty
Full results can be found here.
Economist/YouGov poll archives can be found here.
Join YouGov today! Your views can shape the news...