Half of Americans back the contraceptive mandate for employers, while just over a third of the public oppose it
Last week, the Supreme Court began hearing oral arguments in the lawsuit brought by Hobby Lobby against the 'contraceptive mandate'. As part of the Affordable Care Act, insurers are now required to cover contraception as a part of all policies – and companies are required to provide health insurance for their employees. Hobby Lobby is suing the government to block this, stating that forcing the company to purchase insurance policies that cover contraception for its employees would violate its religious rights – religious rights that, hitherto, have been largely unavailable for corporations.
The latest research from YouGov shows that just under half of Americans (49%) support the contraceptive mandate, while 37% of Americans oppose it. Democrats overwhelmingly back the law, with 73% in favor and only 13% against it. Independents are effectively divided, with 42% for and 40% against the mandate. Most Republicans (63%) oppose requiring employers to purchase insurance for their employees that covers contraception, but 31% do support the mandate.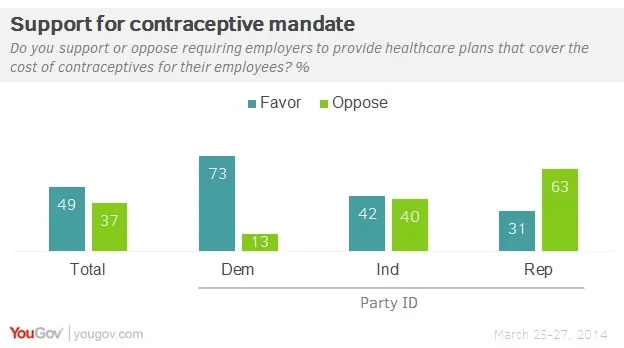 Support for the mandate within each party doesn't vary much according to gender. 30% of Republican men, and 34% of Republican women, support the mandate. Republican women (58%) are slightly less likely to oppose the contraceptive mandate than male Republicans (70%), however.
Among people who support the mandate, 22% support allowing an exemption for churches and other religious groups but most (65%) oppose any exemptions for these groups, let alone ordinary corporations.
Full poll results can be found here.
Image: Getty