The US is generally seen as less corrupt than other major countries, about on the same level as Britain - though Canada is seen as a bastion of honesty
Recent weeks have seen a spate of arrests for political corruption around the country. Charlotte Mayor Patrick Cannon resigned after his arrest for allegedly accepting bribes from real estate developers, and in California a State Senator who had touted an anti-gun trafficking bill was arrested: for gun trafficking. In Washington D.C., the current mayor was defeated in the Democratic primary for the 2014 mayoral election after federal prosecutors alleged that he knew of illegal campaign financing.
Corruption isn't by any means unique to the United States, however, and even with the ongoing crusade by federal authorities against corruption, Americans tend to think that we do well compared to Britain, and better than other major countries such as China and Russia.
The latest research from YouGov shows that most Americans think that Mexico (68%), Russia (66%) and China (58%) are more politically corrupt than the US. Just under half (48%) say that the US is as corrupt as Great Britain, though Americans do think that Canada is particularly honest, with 48% saying that Canada is less corrupt than we are.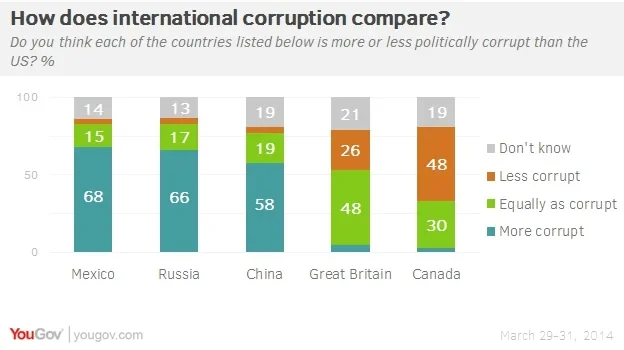 This is reflected in the rankings. When Americans are asked to rank these six countries - two of our neighbours and three other major countries - Americans say that we are the fourth most corrupt. Russia is viewed as the most corrupt, followed by China and Mexico. Canada is seen as the least corrupt, with Britain also being seen as less corrupt than the United States.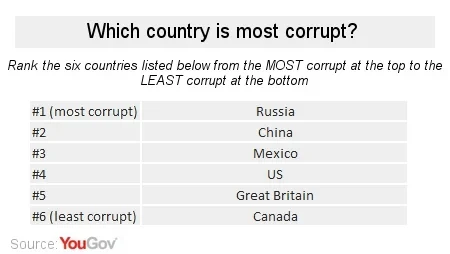 Full poll results can be found here.
Image: Getty