Only a third of Americans have strong feelings about the Koch brothers, but half of liberals view them very unfavorably
Senate Majority Leader Harry Reid is determined to make conservative megadonors the Koch brothers, Charles and David Koch, an issue in the 2014 midterm elections. From the Senate floor he accused Republicans of being "Addicted to Koch", and he recently faced outcry from his GOP colleagues for joining with Nancy Pelosi to screen an anti-Koch Brothers film at the Capitol Visitor Center.
But while the Koch brothers' political network spent $400 million to advance conservative causes and candidates during the 2012 campaign season, a new YouGov survey finds that many Americans still don't know how they feel about them, and only a minority of those who do have strong negative feelings.
When asked their opinion on the Koch brothers 43% of Americans respond "don't know". The remaining responses are, on balance, unfavourable (22% favorable to 35% unfavourable). But only about a third have strong feelings: 8% very favorable and 24% very unfavorable. Opinions of Harry Reid (26%-48% unfavorable), recorded in last week's Economist/YouGov poll, are actually much more negative.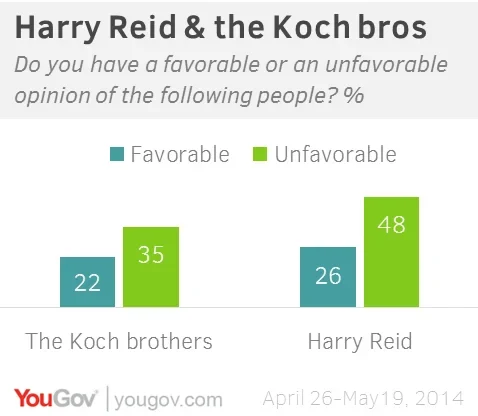 There is one group for which feelings about the conservative billionaires are much more strongly held, however: self-described liberals. About half (48%) of liberals have very unfavorable opinions of the Koch brothers, nearly twice the number of moderates (25%) who feel the same way.
Asked to explain their feelings about the Kochs, people who dislike them overwhelmingly cite their wealth and influence on politics. In the words of one respondent: "They are plutocrats trying to steal our country away from the people."
However, the survey also found that the Koch brothers are little or no more well-known than George Soros, a liberal billionaire gave over $23 million towards defeating George W. Bush in 2004, and Soros is actually viewed slightly more negatively (17% favorable to 38% unfavorable) than the Kochs.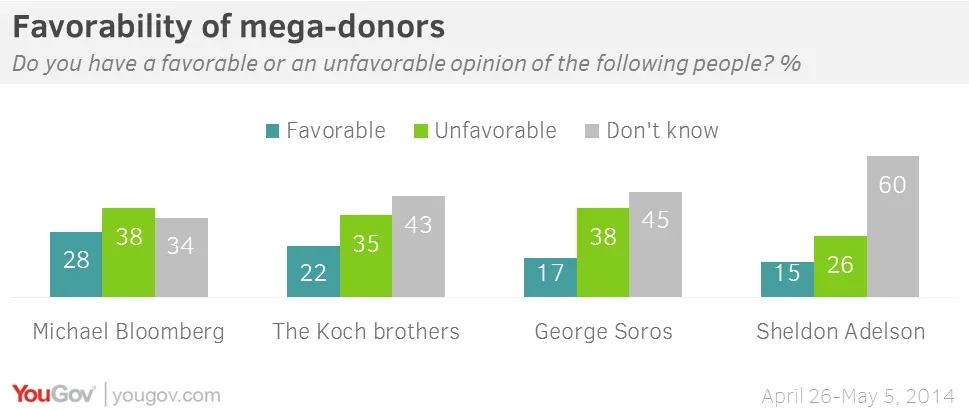 Another conservative maga-donor, Sheldon Adelson, was much less well-known among all groups (60% don't know). Michael Bloomberg, who has donated millions to democratic groups and causes, is the best-known of all four (only 34% don't know). But Bloomberg's three terms as New York City mayor and his outspoken advocacy on issues like obesity and gun control have helped make him a national political figure in his own right, likely accounting for much of his notoriety.
Image: Getty