Memorial Day is seen as a day to relax at home with family and friends, but younger Americans are increasingly likely to not know veterans of the last century's major wars
SIx in ten Americans view Memorial Day Weekend – especially Republicans, people in the Midwest, those with higher incomes – as marking the unofficial start of summer. And for many Americans in the latest Economist/YouGov Poll, it's a time to stay at home, spend time with family, maybe do some chores and perhaps have a barbeque.
Only 6% plan on traveling this weekend. And just 9% are visiting gravesites, the actual purpose of the original Memorial Day.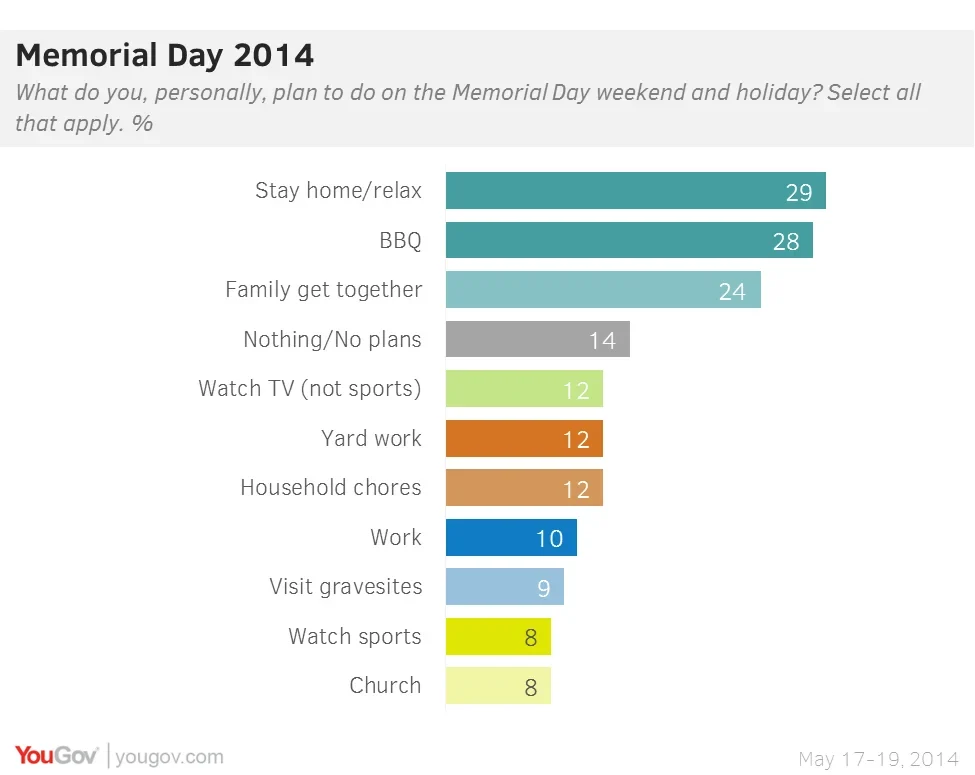 Those 65 and older are more likely to say they will go to a cemetery this weekend: 16% of senior citizens say they will. Younger adults are much more likely than older adults to plan on watching TV and to go to the beach.
Memorial Day began as Decoration Day a few years after the Civil War, and on that day (May 30) the graves of the Civil War dead were decorated with flowers (ostensibly the date was set because flowers would be in bloom throughout the country by late May). After World War I, the day was expanded to cover the dead of all wars. In 1971, Memorial Day was declared a National Holiday by Congress, and was celebrated on the last Monday in May.
Today, only one in four Americans know someone killed in a war, though three in four know someone who is a military veteran. And for the largest number, that veteran is someone who served during the Viet Nam War.
More than half of those 65 and older know someone who died in the military – in fact, they are much more likely than people younger than them to know someone who served in all the wars the U.S. has been involved in the last century, except for the most recent wars in Iraq and Afghanistan.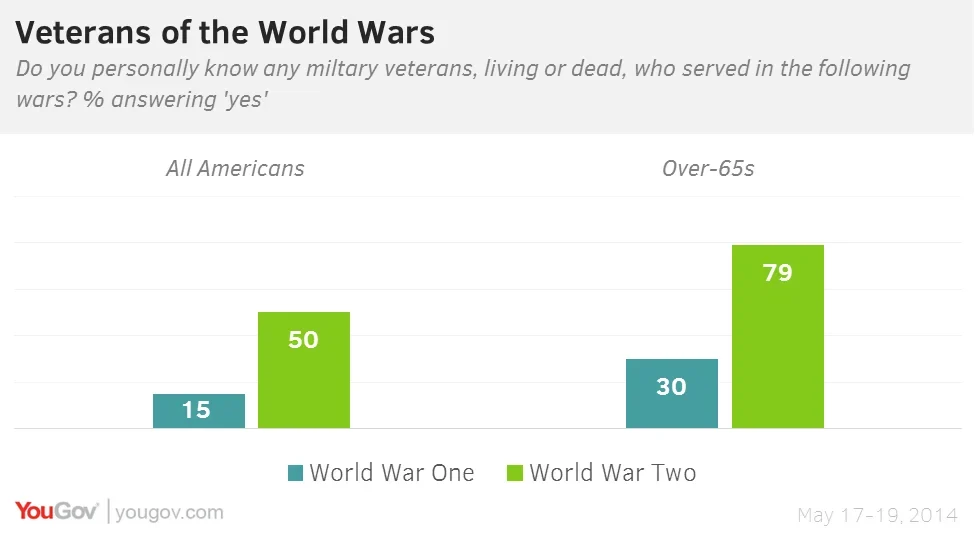 Most Americans are happy with the current set of federal holidays – 56% would eliminate none of them. Zero percent would eliminate Memorial Day. The only two current federal holidays that more than one in ten would consider eliminating are Columbus Day (the second Monday in October) and the newest federal holiday, Martin Luther King Day (the second Monday in January). There are large differences on whether either should be eliminated by political party – and by race.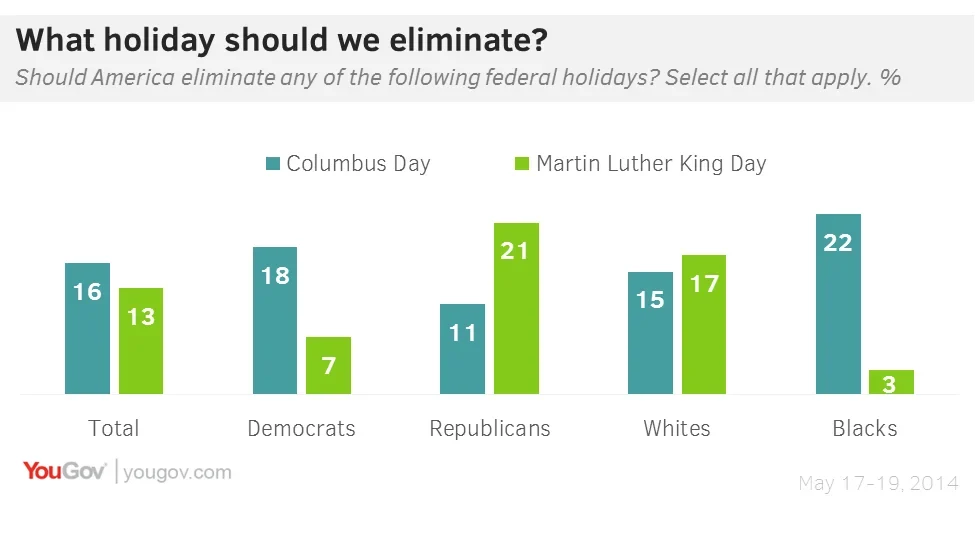 However, most in all groups would eliminate no holiday.
And there isn't much consensus on whether any holidays should be added. The poll asked specifically about Easter, which 43% would make a federal holiday, and 46% would not. And I places like Australia, Ireland and Great Britain, Easter Monday is a holiday.
But only 16% could come up with any other days they would want to make federal holidays. Some in this group mentioned Patriots' Day, Election Day or Good Friday, but others suggested days to honor the birthdays of other individuals – or even themselves!
Image: Getty
Full results can be found here.
Economist/YouGov poll archives can be found here.