Most Americans might approve of the arrest of an 89-year-old alleged former Auschwitz guard, but a significant minority don't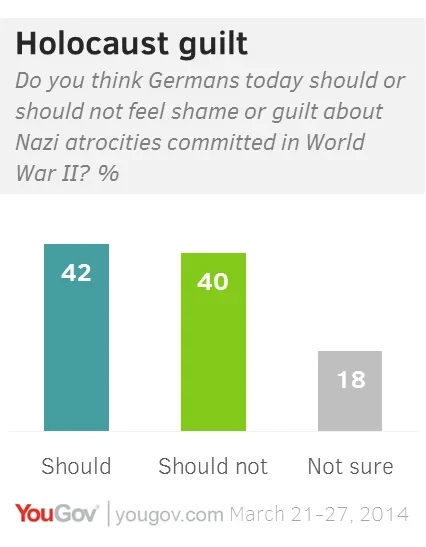 Last week 89-year-old Philadelphia resident and former tool-and-die maker Johann Breyer was placed under arrest. The German government has filed for his extradition, saying that during his time in the SS in the Second World War he had served in the 'death's head' battalion at Auschwitz, participating in the murder of hundreds of thousands who were gassed or starved at the death camp. Breyer has been facing legal troubles for over twenty-two years, since the Justice Department first tried to strip him of his citizenship and expel him from the United States.
The latest research from YouGov shows a split over the legacy of the Holocaust to this day. Americans are essentially evenly split over whether or not Germans today should feel shame and guilt over the Holocaust, with 42% saying that Germans today should feel guilt over Nazi atrocities while 40% say that they should not.
Looking closer to home, there is also a split over whether or not it was right to arrest the 89-year-old Pennsylvania man suspected of having been an SS guard at Auschwitz. Overall, 53% of Americans support his arrest while 31% oppose it. Opposition to his arrest is highest among under-30s, who only narrowly approve (46%) rather than disapprove (42%) of his arrest. Support for the arrest becomes clearer among older Americans, reaching a peak among over-65s, 62% of whom think it was right to arrest Johann Breyer.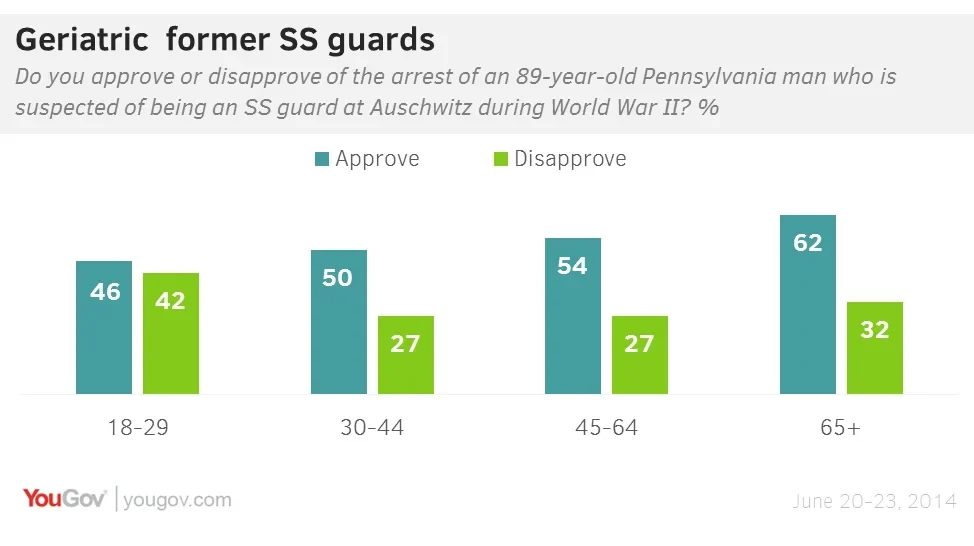 Over the past decade the German government has ramped up efforts to bring former Nazi war criminals and genocidaires to justice, seeking to convict them for their crimes before they die a natural death. Most recently the German government convicted an Ohio man, John Demjanjuk, in 2011 for having been a guard at Sobibor.
Full poll results can be found here.
Image: Getty