Americans are most likely to trust neither party when it comes to Iraq, and George W. Bush and Barack Obama share the blame for the current crisis
The takeover of parts of Iraq by the Islamist group ISIS (Islamist State of Iraq and Syria), which also had been fighting in Syria against the Assad regime, may have brought the U.S. back into Iraq, but that is not a place Americans want to be. The Administration's decision to send U.S. advisors back into gets just 43% support in the latest Economist/YouGov Poll, with nearly as many disapproving of the action.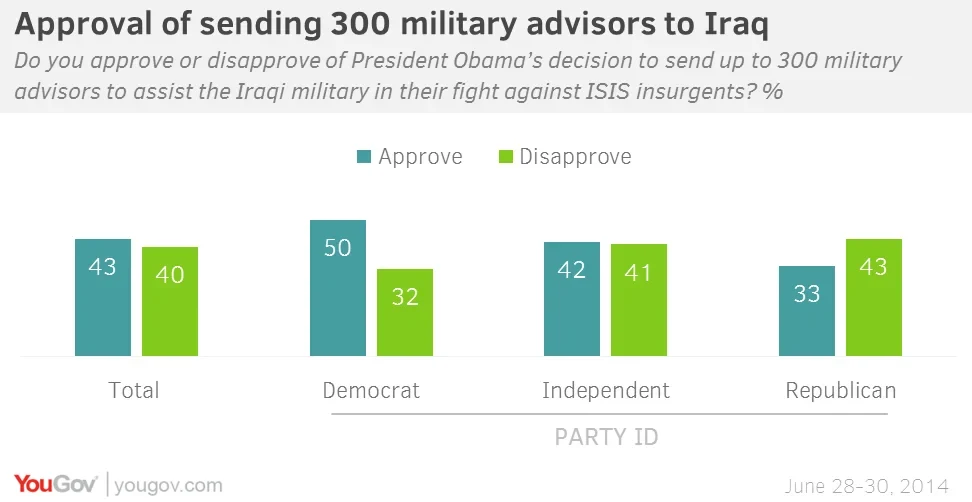 There is a partisan reaction, as there have been towards so many decisions by the Obama Administration. But a significant percentage in each party react differently from most of the partisan colleagues: a third of Republicans support sending advisors back to Iraq while a third of Democrats oppose the American presence.
Republicans are more likely than Democrats to support other actions in Iraq, although their support is still minimal. There is almost no support for sending U.S. ground troops. Fewer than one in ten favor sending U.S. troops to fight alongside Iraqis. But 40% of Republicans support drone strikes and 36% would favor other air strikes. Democrats have less interest in both of these actions. Only 20% of Democrats favor air strikes, and just 29% would support using drones in Iraq.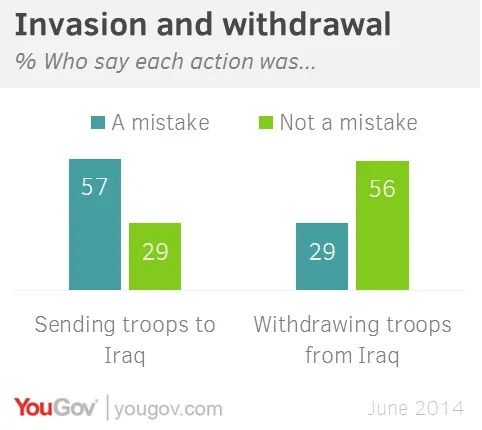 In fact, Americans continue to regard sending troops in 2003 as a mistake. That is a different assessment from the one they have about the 2011 U.S. withdrawal. That, most continue to say, was not a mistake
These measures haven't changed in the years since the Economist/YouGov Poll began asking the questions.
The war is Iraq has yet to give either party a political advantage. Nearly as many Americans say they trust neither party to deal with Iraq as say they trust the Republicans or the Democrats combined.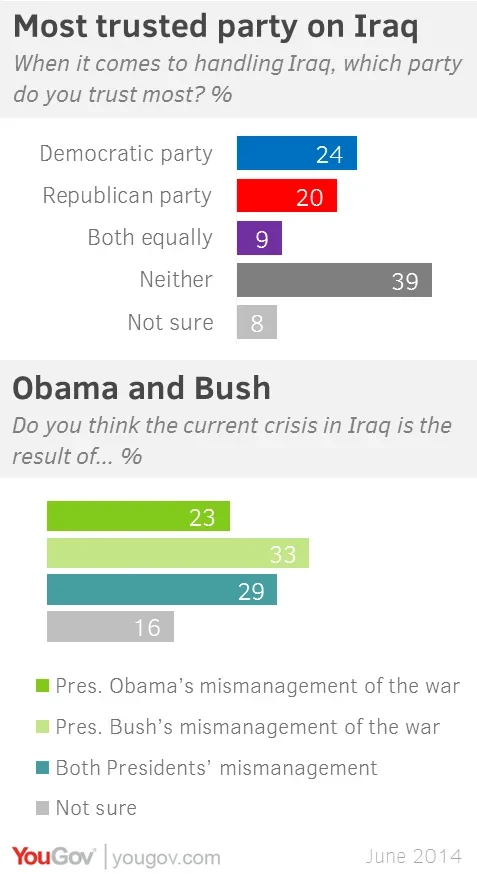 And few people in both parties are likely to believe Iraq is a good political issue for their party. Only 14% of Republicans say Iraq is an issue that can help Republicans politically; only 10% of Democrats think it is an issue that will help them.
Clearly, blame for what is happening in Iraq is shared. More people say President Bush's management of the war is the cause of the current crisis than say President Obama's management is, but 29% put the blame on both Presidents equally, including 33% of independents and 28% of Republicans.
44% agree with the statement: "The Obama Administration has done an inadequate job of cleaning up the mess the Bush Administration made in Iraq." Those who disagree object to one or both of that statement's component parts. But those objecting are much more Democratic than Republican, and many of the explanations people give when asked why they gave the answer they did was that the situation in Iraq in 2009 was impossible for the Obama Administration to fix.
Kurdish independence
In recent days, the city of Kirkuk was retaken from the ISIS rebels not by the Iraqi Army but by soldiers from the Kurdish-administered area in the north of Iraq. Kirkuk is not part of Kurdistan, but the Kurdish-government has said it does not intend to return Kirkuk to Iraqi control. There is a movement for Kurdish independence, but it is not something Americans pay attention to: only 38% have even heard that the Kurdish region might want independence from Iraq.
Those who have heard about the Kurdish independence movement are very supportive of it: should Kurdistan declare independence, 56% of the attentive group would want the U.S. to recognize the country, 17 points higher than the percentage overall. Similar percentages overall and among those aware of the situation oppose U.S. recognition of a free Kurdistan.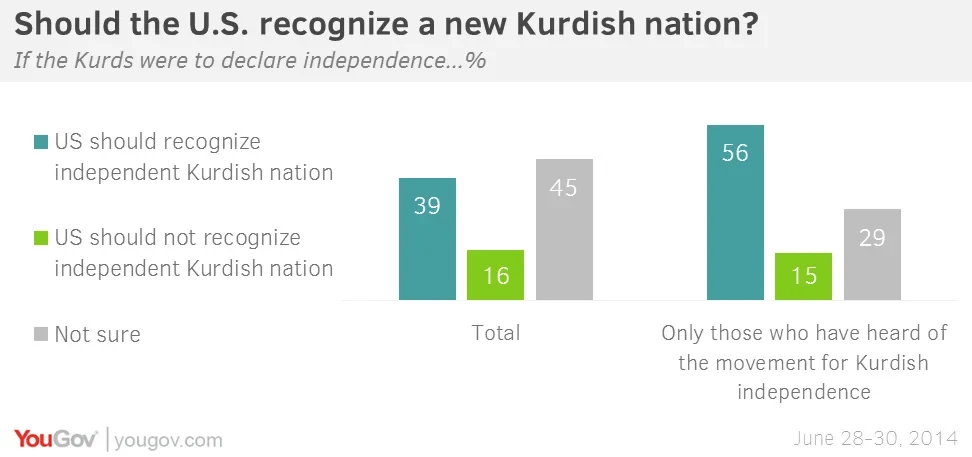 There is little overall consensus about whether Kirkuk should be returned to Iraqi control: the public divides evenly on the question. But among those with some knowledge of the situation in Kurdistan, 60% say the Kurds should keep Kirkuk.
Image: Getty
Full results can be found here.
Economist/YouGov poll archives can be found here.