Americans expect greater bloodshed in the Israeli-Palestinian conflict, but the public still tends to support an independent Palestinian state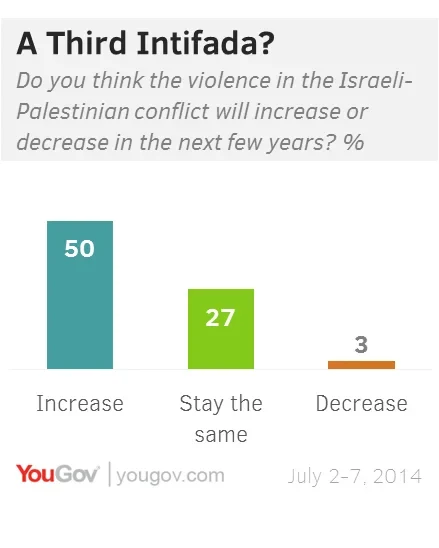 The situation in Israel and Palestine has deteriorated greatly in the past couple of weeks, stoking fears that a third 'intifada', or popular Palestinian uprising, may be starting. The latest round of bloodshed began after three Israeli teenagers were kidnapped and killed by Hamas members as they tried to hitchike back to their home in a West Bank settlement. After their bodies were found in Hebron, a Palestinian teenager in Jerusalem was kidnapped and burnt alive by Jewish extremists, sparking rioting in Jerusalem and across the country.
The latest research from YouGov shows that half the country thinks that violence in the Israeli-Palestinian conflict will increase within the next few years. 27% say that the conflict will be as bloody as it currently is, while only 3% think that violence will decrease.
Independent Palestine
Looking at who Americans tend to sympathize with in the conflict, we see that a plurality of the population (37%) sympathize most with the Israelis and only 9% sympathize most with the Palestinians. 24% say that they support both equally, and 30% just aren't sure. These attitudes at largely unchanged from late last year, when 36% sympathized with Israelis and 8% with Palestinians.
Who your sympathies lie with are a strong indicator of whether or not you support an independent Palestinian state. Americans tend to support (35%) rather than oppose (25%) a Palestinian state, but among people whose sympathies lay mainly with the Israelis most (54%) oppose a Palestinian state in the West Bank and Gaza, while only 21% of the pro-Israeli public support it. 58% of people who sympathize equally with both sides want an independent state and only 15% oppose Palestinian independence. Unsurprisingly, 92% of pro-Palestinian Americans support an independent state while a statistically negligible number oppose it.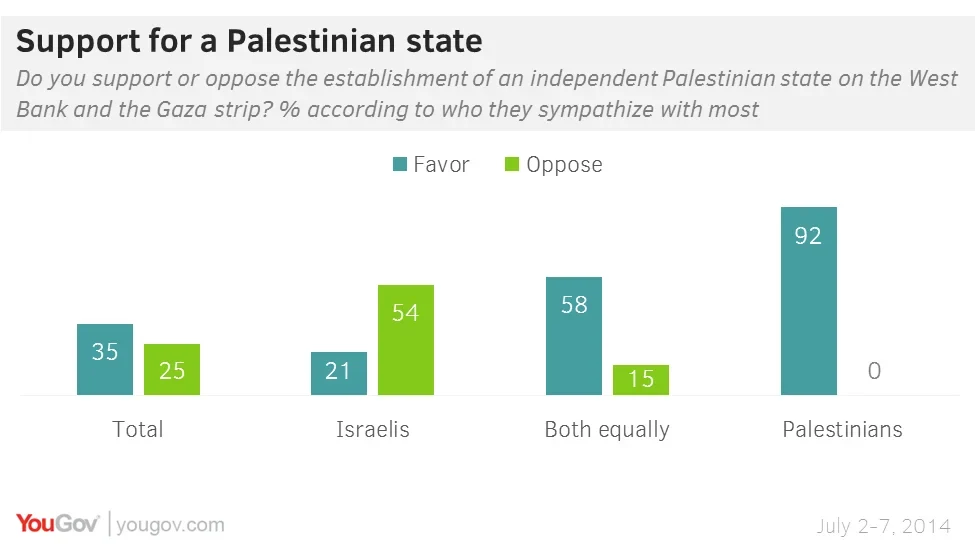 The chances for any peace deal between Israel and Palestine creating a state in the West Bank and Gaza are almost non-existent now, however. Though all parties are formally committed to the process, the former chief American mediator for the process who stepped down last week has said that the process is 'dead' and that continuing Israeli settlement activity in the West Bank was largely to blame.
Full poll results can be found here.
Image: Getty