When judging closed, open and jungle primaries, Americans favor "open" most of all – but Republicans are opposed to crossover voting
Senator Charles Schumer published an op-ed in the New York Times this week, calling for an end to "partisan primaries" and the introduction of a non-partisan "top-two" primary system nationwide. A top-two system would allow two candidates from the same party to run against each other in the November general election. It's also known as a "jungle primary" or a "blanket primary", and a variety of the system was recently introduced in California.
Schumer argues that partisan primaries, which pit Democrats and Republicans against members of their own party for a single spot on the ballot, are partly responsible for the polarization of Congress because of the power it gives to voters from the "extremes" of either party. Reactions to the op-ed have been mixed, with some analysts commending the New York Democrat for drawing attention to problems in the primary system – but arguing the top-two system he recommends is not the best way to fix them.
A YouGov poll conducted at the end of June suggests Americans like the idea of a primary where a voter gets to choose which party's primary to take part in on voting day, but are less enthused about a top-two jungle primary system, which would get rid of partisan primaries altogether. The closed primary, which only allow declared members of a party to participate in that party's primary, are only marginally more popular than the jungle primary.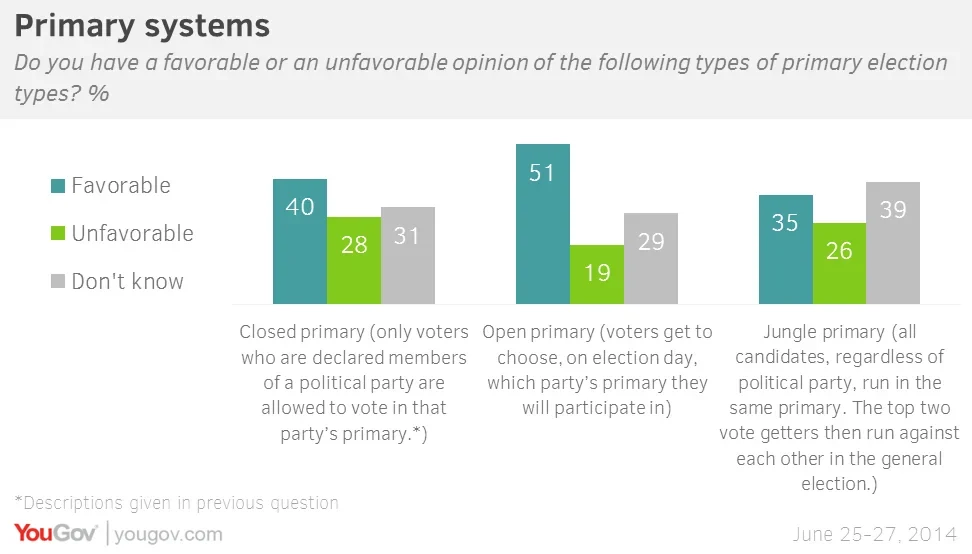 Following a short description of each primary type, 51% have a favorable opinion of the open primary and only 19% have an unfavourable opinion, compared to 40-28% for a closed primary and 35-26% for a jungle primary.
Many voters don't know how they feel about these systems – perhaps understandably given that only around four in ten respondents say they have ever participated in a closed or open primary and only one in six have participated in a jungle primary.
Mixing it up
While most Republicans have favorable views of open primaries, they are especially likely to say voters should not be allowed to vote in primaries for parties they are not affiliated with – something known as crossover voting – when asked specifically about it. Democrats want crossover voting allowed.
It doesn't appear to matter to partisan voters who is crossing over. By 49-30% self-identified Democrats say non-Democrats should be allowed to vote in a Democratic primary, and by 50-28% they say non-Republicans should be allowed to vote in a Republican primary. Republicans, on the other hand, tend to say non-Republicans should not be allowed to vote in Republican primaries (by 46-36%) – and neither should non-Democrats be allowed to vote in Democratic primaries (by 43-36%).
Independents, unsurprsingly, tend to think primaries should be open to voters not affiated with the party in question. Overall, Americans take the same position.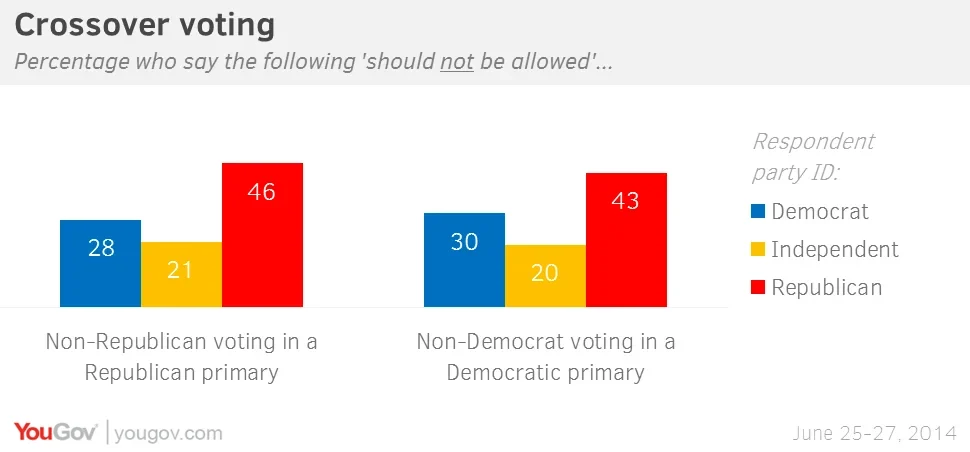 In June, Senator Thad Cochran's surprise victory in the Mississippi Republican Senate primary run-off against Chris McDaniel brought attention to the impact crossover voting can have. Cochran's victory has been credited to his campaign's successful efforts in getting black Democrats to turn out in the primary and vote for him over his challenger, whom the senator portrayed as a radical.
Toplines of the poll results can be found here
A full demographic breakdown can be found here
Image: Getty