Most Americans think the country is too easily offended by sex and nudity, and they tend to think that nudity should neither be encouraged nor discouraged
Dating Naked is a new 'reality' TV show that first hit the airwaves this summer on VH1. The format of the show is a generally predictable adaptation of traditional dating shows: a group of attractive, young people are set up on dates, to see if sparks begin to fly. This show has a twist, however: the contestants are naked the entire time. As if the premise wasn't controversial enough, the show is facing trouble after VHI forgot to blur out the private parts of contestant Jessie Nizewitz, who is now suing VH1 for $10 million. VH1's troubles may not end there, however, as it is against the rules to broadcast graphic material that may offend their viewers.
The latest research from YouGov shows that most Americans (52%) do think that as a country we are too easily offended by matters relating to sex or nudity, while 31% disagree and say that Americans aren't too easily offended. Republicans are outliers on this issue, as 53% disagree, with only 34% of Republicans saying that Americans are too easily offended by sex and nudity. Most Democrats (63%) and independents (52%) think that the country is too quick to take offense over sex and nudity.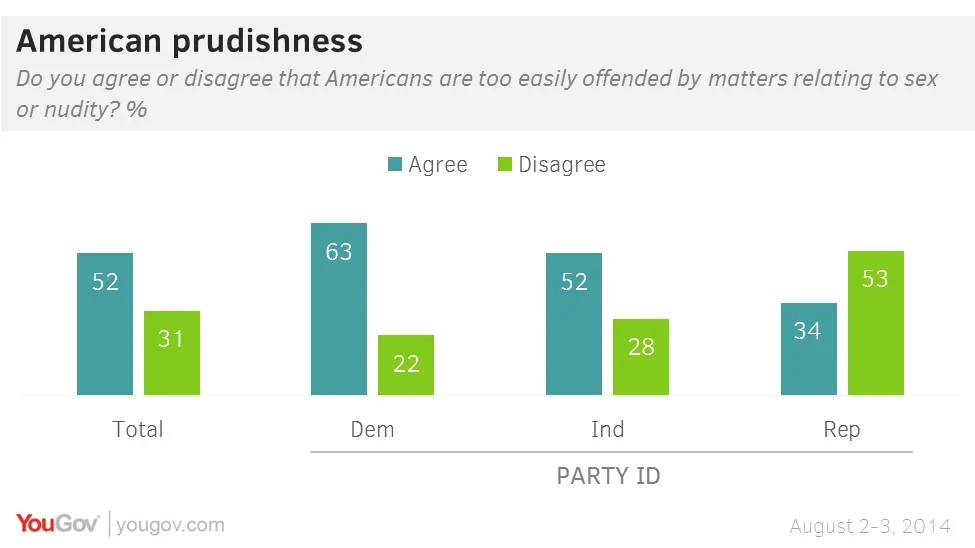 Asked whether nudity should be encouraged or discouraged, Americans tend to be ambivalent, saying that it should neither be encouraged nor discouraged. There is a notable gender divide, though, when it comes to this question. 18% of men think that nudity should be encouraged, while 22% think that it should be discouraged. Among women, 38% say that nudity should be discouraged and only 6% say that it should be encouraged.