Despite the proliferation of online and mobile banking options, Americans expect brick-and-mortar bank branches, and location is key when Americans choose their primary bank account.
A third of Americans (33%) who use branch based banking picked their primary bank account for proximity to their home. A larger 41% of New Yorkers, most of whom don't have a household car, also choose their bank for proximity.
Closeness to the office, or readily available ATMs (like Chase at Duane Read pharmacy) are also key reasons for picking a particular financial services brand to bank with and again particularly important to mostly car-less New Yorkers.
How did you chose your primary checking account?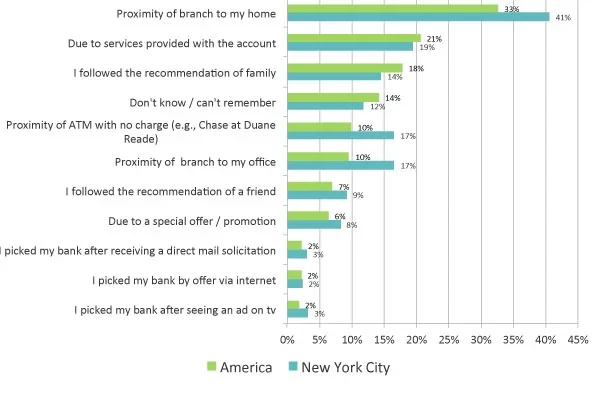 Only a very small percentage of Americans are currently opting for online only banking (7%), with the vast majority opting for branch based (43%) or combined branch and online banking (44%).
Family recommendations (18%) and types of service provided (21%) are also key drivers for those using a branch-based bank. In total, advertising, direct mail and online solicitations were cited as the main reason for choosing a bank account for only 6% of Americans.
Americans keep close tabs on their finances, checking their bank accounts regularly. Nearly half (45%) of Americans who bank electronically check their online accounts as often as once a week and just under a quarter (22%) use mobile banking once a week.
New Yorkers take full advantage of their rich bank branch infrastructure with 22% using a bricks and mortar branch at least once a week compared to only 12% of Americans in general. Telephone calls are least popular with only 4% of Americans attempting to communicate with their bank weekly by phone.
The NYC data is supplied by YouGov Citybus, city specific Omnibus research.
Find the full results here

Image courtesy of Press Association