Idris Elba is the top choice for the next Bond and Stephen Hawking is a front-runner for the next Bond villain
The new James Bond movie Spectre began filming on Monday last week. The 24th outing of the Bond franchise will see Daniel Craig reprise his role as the British spy in a new movie that will see the return of the shadowy organization of SPECTRE and, perhaps, the fan favorite villain of Ernst Blofeld.
When Americans were asked in an open-ended question who they think should be the next James Bond after Daniel Craig, the most popular choice was Idris Elba. The 42-year-old British actor and sex symbol made his name as the star of Luther and as a Baltimore drug kingpin in The Wire. If he were to play Bond he would be the first non-white actor to take on the role. Fellow Brits Benedict Cumberbatch, of Sherlock fame, and Jason Statham who has a long history of playing tough guys were also particularly popular. Many refused to even consider another James Bond and just want Daniel Craig to keep on playing Bond.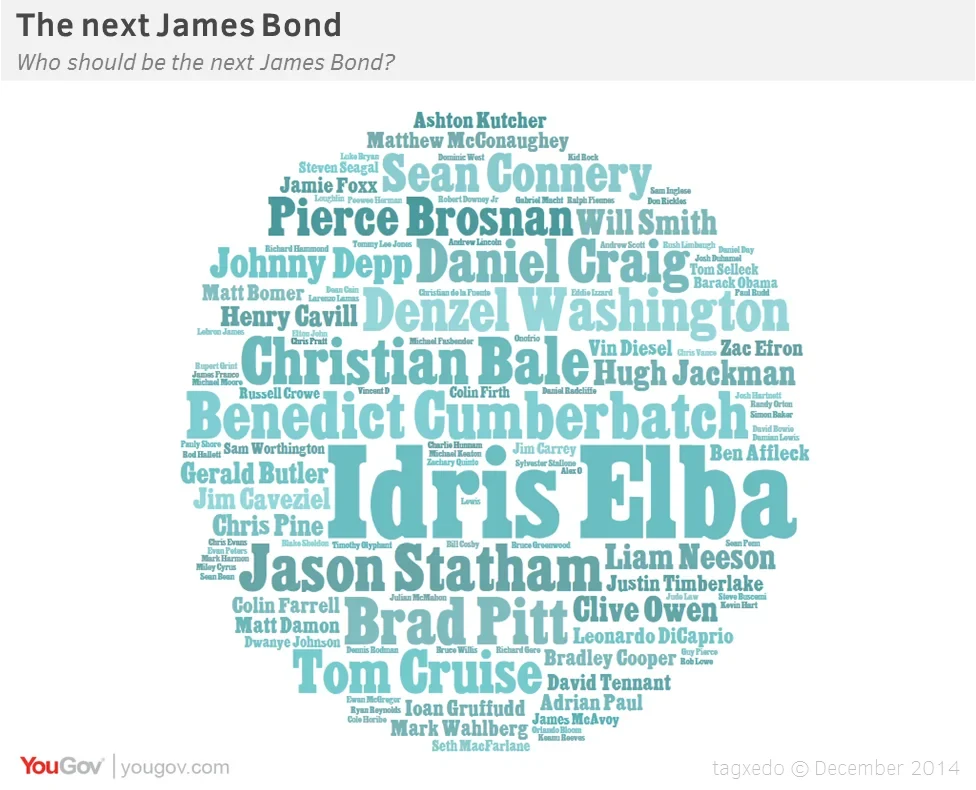 Out of the past James Bonds, Sean Connery is still clearly number one. 50% of the public say that Connery is their favorite, followed in a distant second by Pierce Brosnan (19%) and Roger Moore in third place (17%). In fact, Daniel Craig (11%) only beats the two-time Bond Timothy Dalton (2%) and only non-British Bond, George Lazenby (1%). In the UK, Daniel Craig is nearly as popular as Sean Connery, particularly among younger Britons.
In a recent interview with Wired magazine, prominent physicist Stephen Hawking said that his ideal acting role would be as a villain in a Bond movie, as his wheelchair and computer generated voice would be perfect for the role of a Bond 'baddie'. When Americans said who should be the next villain many agreed with Hawking and his name did come at the top of the list, along with Jack Nicholson. The famed scientist and grizzled Hollywood star face stiff competition in the form of Austrian actor Cristoph Waltz, however, who has cut out something of a niche as playing civilized yet chilling villains and is rumored to have a role in Spectre.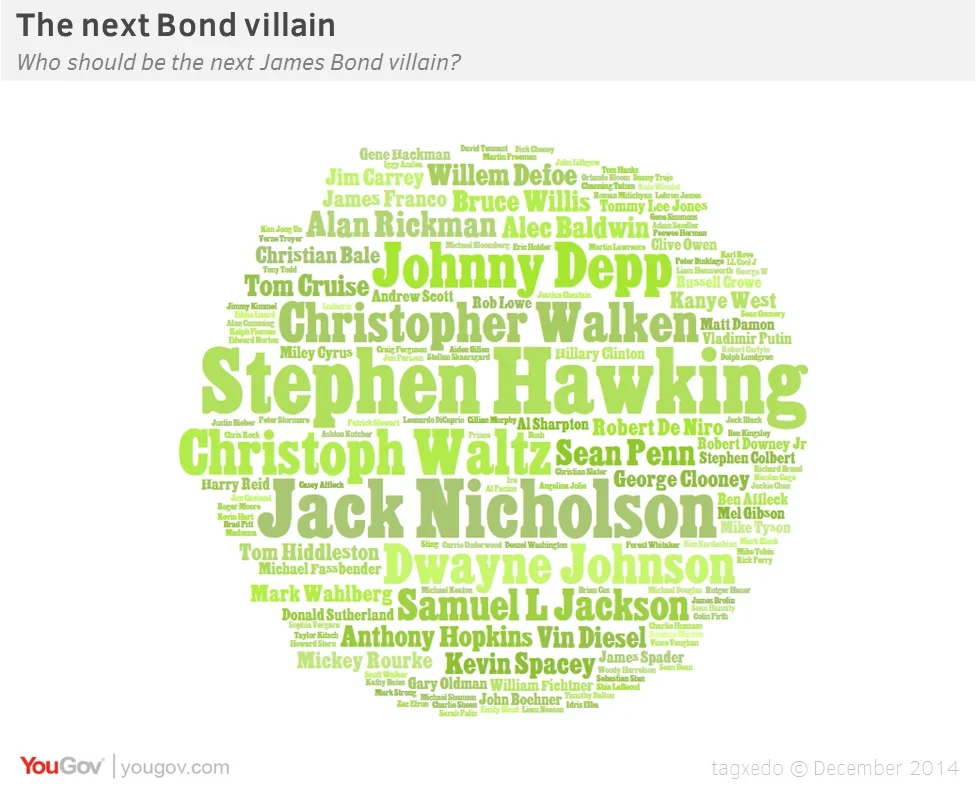 20% of Americans say that they have watched every Bond movie, black Americans (31%) and people with incomes over $80,000 a year (29%) being the most likely to have seen every single one.
Full poll results can be found here.