Racism and bullying are the topics the most likely to offend social media users.
Americans on social media consider racist (29%) and bullying (21%) posts the most offensive, while less than one in ten find sexist (8%), homophobic (8%) or overly personal posts (9%) to be the most personally offensive. A scant 5% were most incensed by political posts.
Parents of younger children (under the age of 18) are no more likely to find bullying posts the most offensive compared to those without younger children, but they are more likely (34% compared to 27%) to be offended by overtly racist comments. Women (11%) are more likely most offended by sexist posts compared to only 4% of men.
Racist and bullying posts are most likely to get a social media member permanently disconnected by other community members. 33% of social media users claim that they would un-friend or un-follow somebody guilty of racism; this number is consistent amongst both whites (35%) and blacks (35%) although more than half of black social media users (53%) found racist posts the most offensive.
31% would discontinue a connection after a bullying comment or 28% for homophobic comments.
Although political remarks are rarely likely to cause social media users to un-friend or un-follow - only 7% said they would pull the plug on an online friendship after a political comment – they do inspire the most rejoinders. 41% said they would likely comment or reply to a political post. A bullying post is also likely to arouse comment, 34% thought they would comment or reply.
The most common reaction to offensive posts is simply to ignore them. This number is highest for overly personal (57%), sexist (52%) or homophobic (52%). People are most inclined to talk offline about overly personal posts (16%) or bullying (15%).
Reaction to Offensive Social Media Posts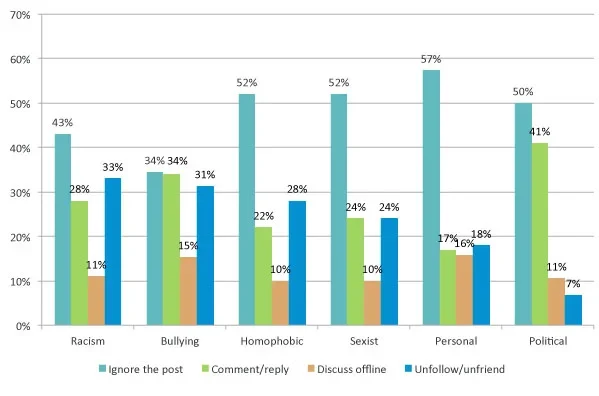 For further information about Omnibus results, and for details about methodology and Omnibus services, please email omnibus.us@yougov.com.
Find the full results here.

Image courtesy of Press Association