Negative opinions of Bill Cosby are still slowly growing, and nearly a quarter of those who still have a favorable opinion of him also believe the rape accusations against him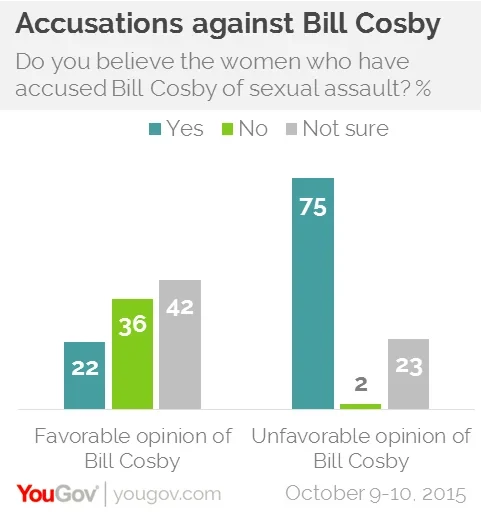 Ebony magazine tackled the thorny issue of Bill Cosby in its latest issue, with a controversial front cover depicting the Huxtable family with broken glass obscuring the face of Bill Cosby. When The Cosby Show first aired in the fall of 1984 popular depictions of black Americans, let alone successful black Americans, were few and far between in national entertainment. The editor of Ebony, Kierna Mayo, said that the issue asks the question "can we, should we, separate the man from the fictional character...?"
YouGov's latest research shows that Bill Cosby continues to fall in the public's esteem. Last November most Americans (51%) still had a favorable opinion of the star, but now, only 11 months later, only 22% still have a favorable opinion of the disgraced comic. Just under two-thirds of the nation (64%) have an unfavorable opinion of Bill Cosby. Black Americans (40%) are still the most likely to have a favorable opinion.
Among the 22% of Americans that have a favorable opinion of him, nearly one quarter (22%) actually believe that he raped a number of women. 36% think the accusations are false, while 42% aren't sure either way. Among people who dislike Bill Cosby opinion is a lot more straightforward - fully 75% of these Americans believe that he is a rapist.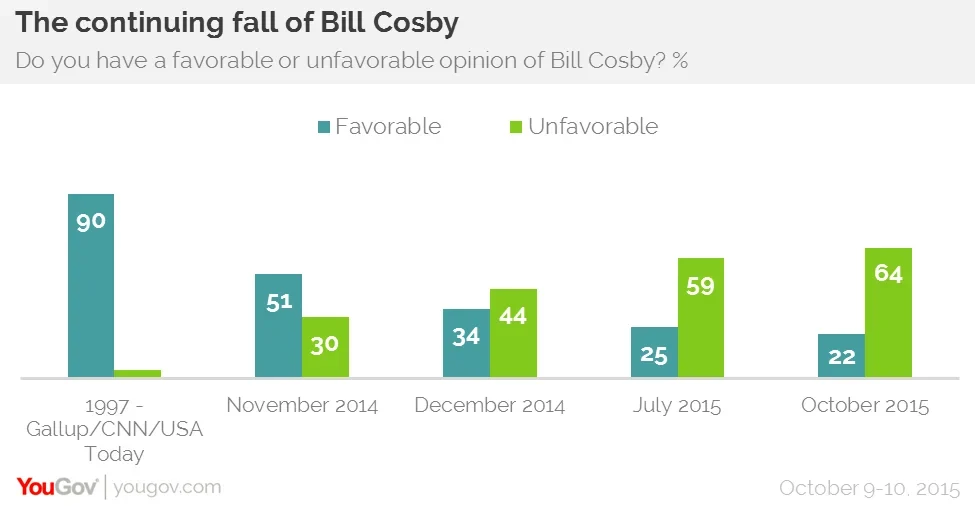 To answer Ebony magazine's question, most Americans appear unwilling to separate the character from the man. 56% of Americans say that the allegations of sexual assault make them less interested in watching the past performances of Bill Cosby.
Full poll results can be found here and topline results and margin of error here.