Most white Americans think blackface for Halloween is acceptable, something most black Americans disagree with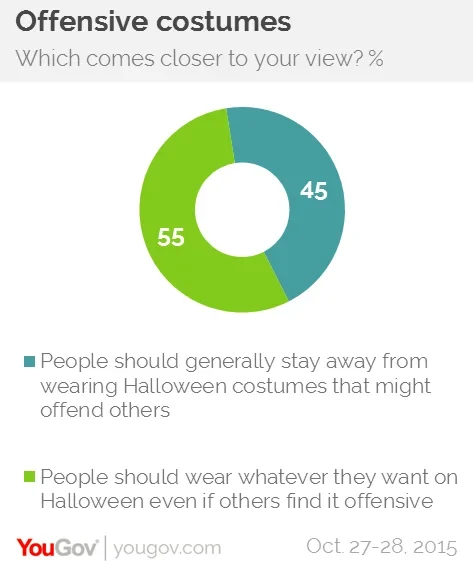 Halloween is not only the season for trick-or-treating, pumpkin treats and raucous parties, but also the season for news stories highlighting the offensive costumes that some people considered to be acceptable. Famously, model and actress Julianne Hough faced widespread criticism after she put on blackface for her Halloween costume in 2013.
The latest research by YouGov/HuffPost shows that Americans narrowly say that people should wear whatever they want on Halloween, even if others find it offensive (55%). 45% of the country say that people should shy away from offensive costumes. White people (60%) are more likely than other Americans to say that offensive costumes are acceptable.
When it comes to blackface in particular white people also say that it is acceptable, at least at Halloween. 52% say that it is OK, while 33% of white Americans think that it is unacceptable. Most black Americans (55%) think that it is unacceptable, but 27% of black Americans do say that white people putting on blackface is acceptable at Halloween.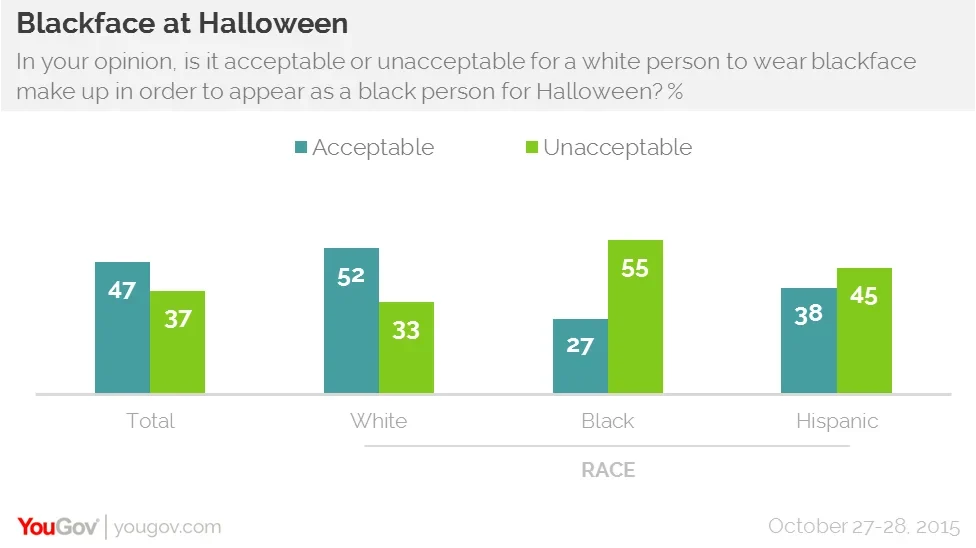 Most Americans (63%) say that dressing up as a transgender person at Halloween is acceptable, but most Americans (53%) say that it is unacceptable for people to wear a costume that includes a realistic-looking firearm or other weapon.
Full poll results can be found here and topline results and margin of error here.