Most Americans view the attack on Planned Parenthood as an act of terrorism and many believe the actions of pro-life groups encourage violence against abortion clinics
One week ago Robert Dear killed three people, including a police officer, at a Planned Parenthood clinic in Colorado Springs. Dear had previously vandalized a Planned Parenthood clinic in Charleston and had praised the 'Army of God', a group of anti-abortion activists linked to numerous attacks and killings. The National Abortion Federation reports that since the first killing of an abortion provider in 1993, 11 people have been murdered and there have been 26 attempted murders.
The latest research from YouGov/HuffPost shows that most Americans (52%) view the attacks on Planned Parenthood as an act of terrorism. There is a significant partisan divide on the issue, however, as while two-thirds of Democrats say that it was an act of terror half of Republicans say that it was not a terrorist attack. Independents tend to say it was a terrorist attack 50% to 32%.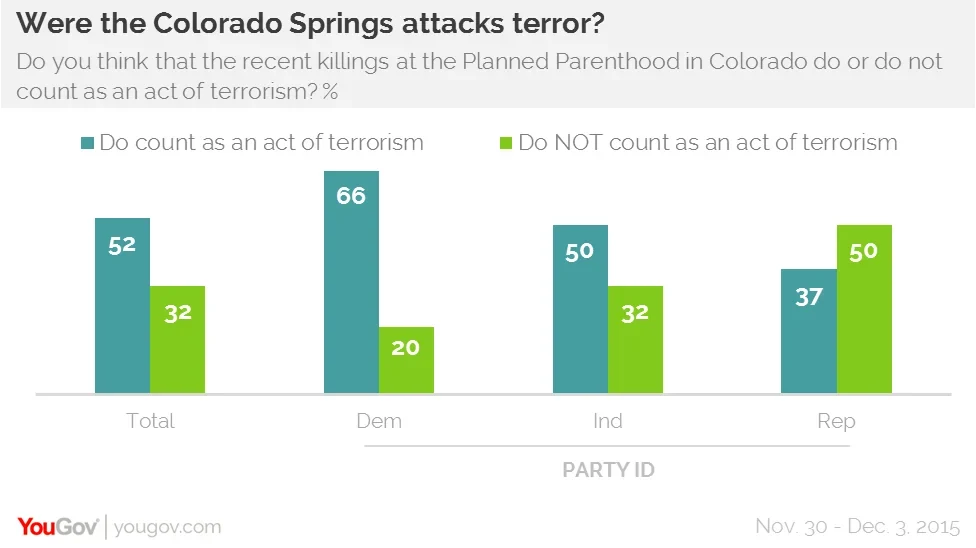 In the wake of the attacks the strident language of certain pro-life groups has faced greater scrutiny, with some arguing that their actions have encouraged violence against abortion providers, not just in Colorado Springs but also numerous other less deadly attacks.
Half of Americans (49%) say that they think that the actions of anti-abortion groups do encourage violence at abortion clinics while only 27% say that they do not. Once again there is a notable partisan divide, but Republicans are somewhat more divided. 37% of Republicans believe that the actions of anti-abortion groups encourage violence while just under half (47%) say that their actions do not encourage violence.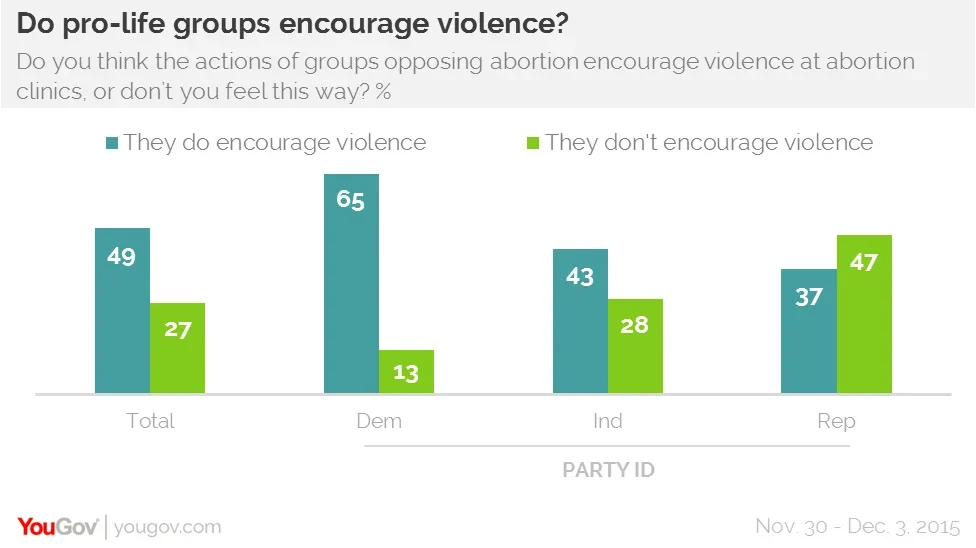 Nevertheless, the vast majority of Americans (89%), including people fully opposed to abortion, view violence against abortion providers as unacceptable. Only 8% of people who say that abortions should always be illegal say that violence is morally acceptable while 82% say that it is morally unacceptable.
Full poll results can be found here and topline results and margin of error here.