Charlie Sheen tops Santa's naughty list and Adele the nice list in 2015 according to most Americans
As Santa finishes his preparations for Christmas 2015, his naughty and nice lists are almost certainly complete. By now the list of boys and girls who will receive nice presents, and the naughty children who will receive coal, is set in stone. Americans have their own opinions on which prominent celebrities from 2015 should be on his naughty list, however.
YouGov's latest research shows that Charlie Sheen (75%), followed closely by Bill Cosby (73%), should be at the top of Santa's naughty list for 2015 according to most Americans. Kanye West (61%) and Caitlyn Jenner (55%) are the only other people who most Americans think should be on the naughty list. Adele (60%), Taylor Swift (also 60%) and Serena Williams (57%) were the only people who most people thought should definitely be on his 'nice' list.
Tom Brady, who was sanctioned by the NFL this year for his involvement in 'deflategate' was narrowly viewed to be naughty (37%) rather than nice (29%). Nearly half of Americans (46%) think that Mark Zuckerberg has been 'nice' in 2015 after his announcement that his fortune will be dedicated to philanthropy, but 20% still put him on the nice list. Daniel Snyder, who owns the Washington Redskins and is routinely derided as either the worst man involved in the NFL or the worst team owner ever, is also the most man Americans are most unsure about (78%).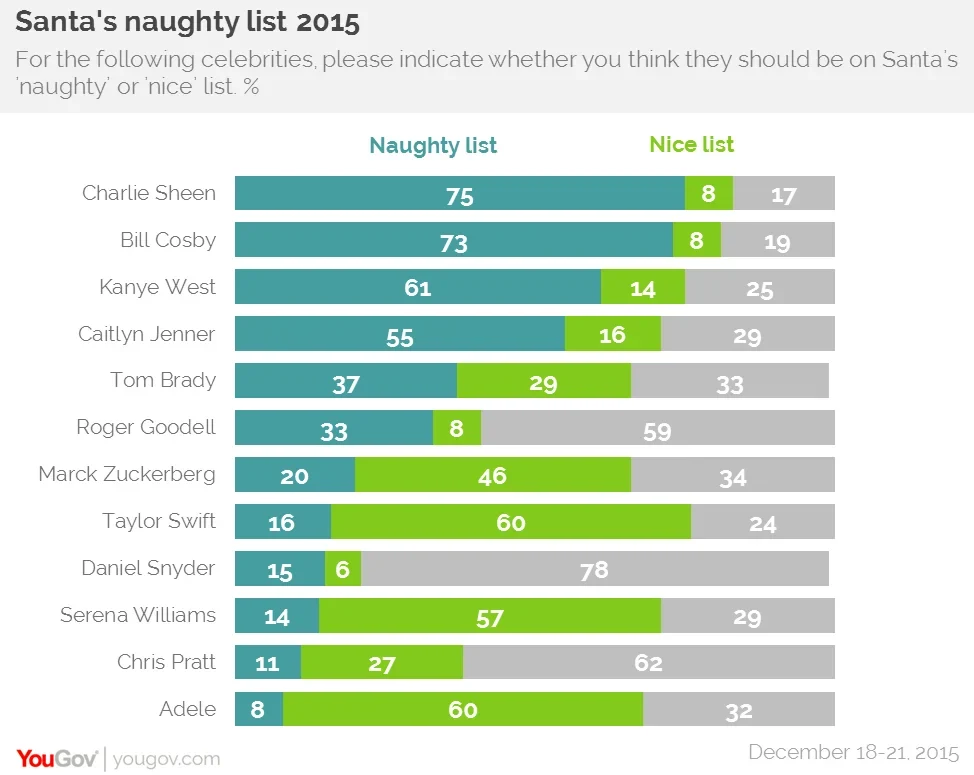 When it comes to themselves only 9% of Americans say that they should be on Santa's naughty list, while 70% say that they should be on his nice list. People in households earning over $100,000 a year (11%) are the most likely to say that they should be on Santa's naughty list. Over-65s (3%) were also much less likely than under-65s (10%) to say that they were 'naughty'.
Full poll results can be found here and topline results and margin of error here.