Women are more than twice as likely than men to have been victims of sexual harassment at work - and to think that sexual harassment is 'very common'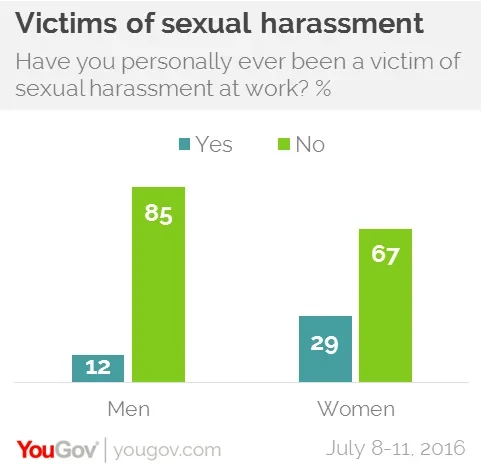 Last week news emerged that Gretchen Carlson, a former anchor for Fox News, had filed a sexual harassment lawsuit against the head of the network, Roger Ailes. In the complaint she describes a workplace where she faced repeated sexual harassment and one in which Ailes pressured her to have sex with him. Roger Ailes, and her former colleagues at Fox News, firmly deny the allegations in the lawsuit.
YouGov's latest research shows that women (29%) are significantly more likely than men (12%) to say that they have been a victim of sexual harassment. Of people who say that they were victims of sexual harassment, 37% said that they either reported the harassment to managers or pursued legal action.
This divide carries over to perceptions of how common sexual harassment is. Overall, 27% of Americans say that sexual harassment in the workplace is 'very common', but while 37% of women think that it is very common only 17% of men agree. Although only 16% of women say that sexual harassment is 'not very' or 'not at all' common, 37% of men think that sexual harassment is at least somewhat rare.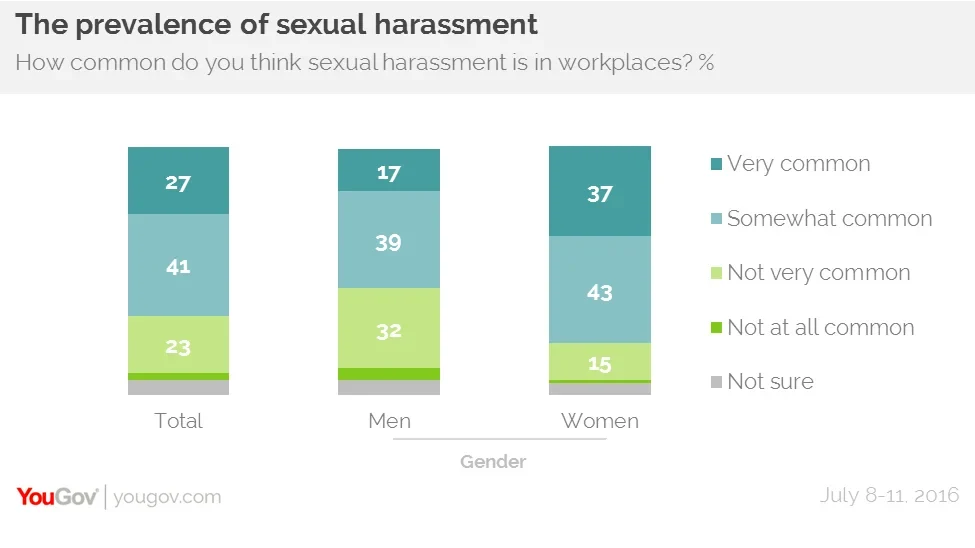 Asked specifically about Gretchen Carlson's accusations, nearly half the country (46%) say that they are not following the story, and 63% of the country aren't sure whether the allegations are true or not.
For full poll results and margin of error see here.